Riot Games has released the full list of streamers who will be hosting their own official Valorant Champions 2022 watch party streams.
The biggest names in Valorant, including Tyson "TenZ" Ngo, Michael "Shroud" Grzesiek, Tarik "Tarik" Celik, and Shahzeb "ShahZaM" Khan will all be co-streaming the event.
North American fans have a wide selection of streamers to choose from during Valorant Champions 2022. Jacky "Stewie2K" Yip, Sam "s0m" Oh, Spencer "Hiko" Martin, Yassine "Subroza" Taoufik, Andrej "babybay" Francisty, and Melanie "mel" Hoi-San Man will also be broadcasting the matches live on their respective streams.
Co-streaming helps a game ride on the fanbase of big streamers to expand its reach. In the case of Valorant, gamers have flocked to their favorite streamers, tuning in to their unique perspective on the game and lively discussions about each match.
More importantly, it encourages community-building around a loyal, dedicated fan base. With streamers from different VCT regions hosting their own watch parties, fans can gather and cheer their team on together.
Here's a list of every official Valorant Champions 2022 watch party stream announced by Riot.
---
Valorant Champions 2022 watch party list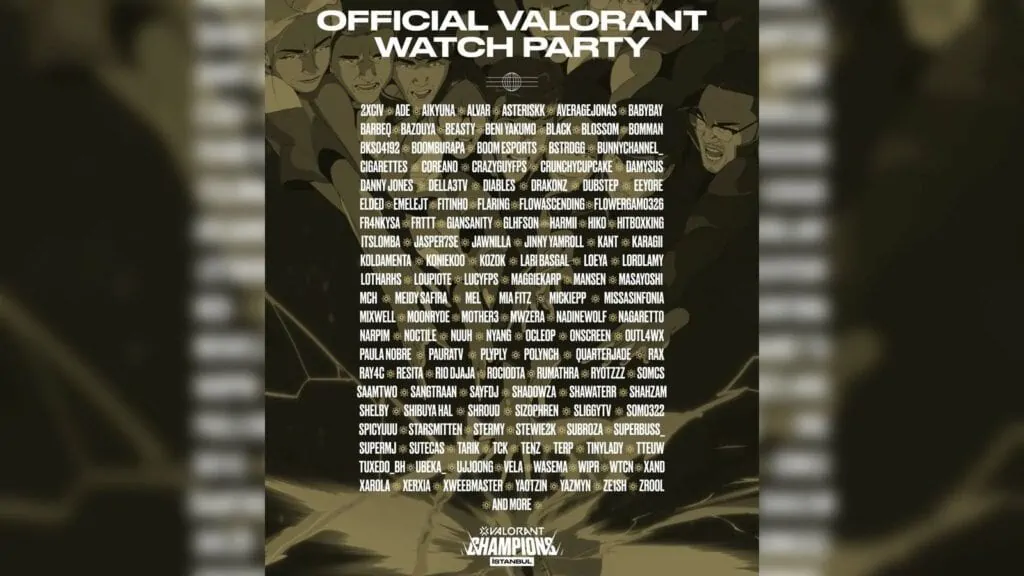 The tournament features a selection of streamers from different regions. Team Secret's Filipino player Jayvee "DubsteP" Paguirigan, ex-M3 Champions' Russian star Ayaz "nAts" Akhmetshin, along with former Team Liquid's British coach Connor "Sliggy" Blomfield are set to host their own official watch parties.
If you're looking for more familiar faces, watch party regulars like G2 Esports' Oscar "mixwell" Cañellas Colocho and Team Liquid's Jonas "AverageJonas" Navarsete are also on the list.
A fan favorite watch party streamer, Kyedae "Kyedae" Shymko, will not be co-streaming this time around.
However, there are still more than 128 co-streams for fans to choose from, so go ahead and take your pick!
Alternatively, you can catch all Valorant Champions 2022 matches on the official Valorant Twitch and YouTube channels when the tournament's group stage kicks off on August 31.
For more information on the match schedule and format, you can check our full Valorant Champions 2022 explainer.
READ MORE: Valorant coach says using Chamber may actually make players worse