Ayaz "nAts" Akhmetshin has officially parted ways with M3 Champions and is now in search of new opportunities.
Earlier this month, Gambit Esports also formally released the roster, which means that nAts and his former teammates have been unrestricted free agents for a while now.
The former M3 Champions star's decision comes just after the team's loss in the VCT EMEA Last Chance Qualifier, where they came excruciatingly close to qualifying for Valorant Champions.
It also marks the end of an overall disappointing year for the talented roster, following their failure to make a single international appearance.
"Sometimes we have to make tough decisions," he said. "So it would be honest to announce that I'm not an M3C player anymore. I'm deeply grateful to my team for these years. But now it's time for changes."
---
---
NAts is now a free agent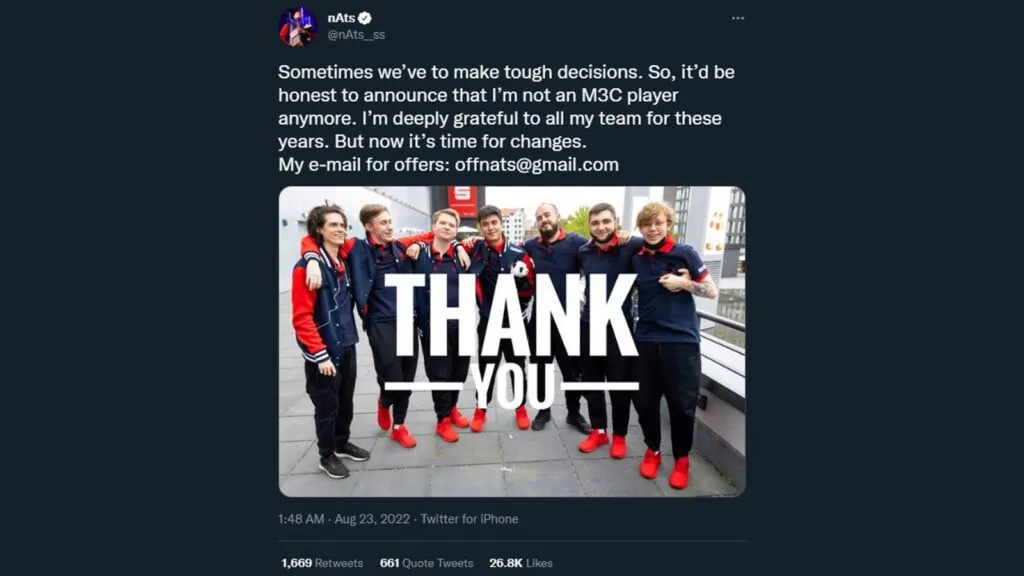 The 20-year-old is considered one of the best sentinel and controller players in the competitive Valorant scene. His ability to anchor sites on defense with Cypher helped Gambit Esports reach the top of the EMEA region in 2021.
Elsewhere, his Viper lurk plays played a significant role in Gambit Esports' successful VCT Stage 3 Masters Berlin championship run.
With nAts holding down the backline, Gambit Esports were considered one of the top teams heading into the VCT 2022 season, after coming in as the runner-up of Valorant Champions 2021.
However, Russia's February invasion of Ukraine soon threw a spanner into the works. With the ban on Russian organizations in the competitive circuit, Gambit Esports decided to allow its Valorant roster to compete under the independent banner M3 Champions in the VCT 2022 season.
But the team ultimately struggled to find the same form and consistent performances they needed to advance to both Masters events, falling short in the EMEA playoffs in both stages.
Changes made ahead of the VCT EMEA LCQ, including the removal of longtime duelist Nikita "d3ffo" Sudakov and the addition of former NAVI player Yaroslav "Jady" Nikolaev, saw them show up to the LCQ in resurgent form.
The team looked impressive in their first three matches of the VCT EMEA LCQ, defeating Acend, OG LDN UTD, and Team Liquid in the upper bracket. However, a rematch with Team Liquid did not go their way, and they fell 1-3 in the grand final.
With Riot Games' new partnership program set to reshape the competitive Valorant scene next year, nAts may have set his eyes on a spot on a franchised roster.
M3 Champions had originally hoped to stay together, according to Timofey "Chronicle" Khromov, but the roster's chances of remaining as five apparently hinged on qualifying to Champions.
Chronicle bid farewell to nAts saying, "Wish you only the best. Who knows, maybe we will meet again in the future."
M3C Valorant roster
Timofey "Chronicle" Khromov
Bogdan "Sheydos" Naumov
Igor "Redgar" Vlasov
Yaroslav "Jady" Nikolaev
Semyon "purp0" Borchev (substitute)
Andrey "Engh" Sholokhov (head coach)
The rest of the roster have yet to announce their plans for the future.
READ MORE: Paper Rex and Riot unveil massive Champions mural, and it's absolutely bonkers