The official esports governing body of South Korea, the Korea e-Sports Association (KESPA), unveiled its 19 picks for the South Korean League of Legends team.
These candidates could potentially form the starting lineup of the Asian Games 2022 in Hangzhou, China, which will take place from September 23 to October 8, 2023 later this year.
According to the blog post, each role has been narrowed down to three to four preliminary players, chosen by the National Team Performance Improvement Committee. The appointed national team leader and representative, Kim "kkOma" Jeong-gyun, former T1 and Dplus KIA head coach and team director, also had a say in the selection.
The selection has been meticulously chosen based on a set of comprehensive criteria that take into account both primary and secondary review indicators. Here are the players on the shortlist.
---
---
Preliminary South Korean LoL player selections for the upcoming Asian Games
Top Lane
Jungle
Mid Lane
Bot Lane
Support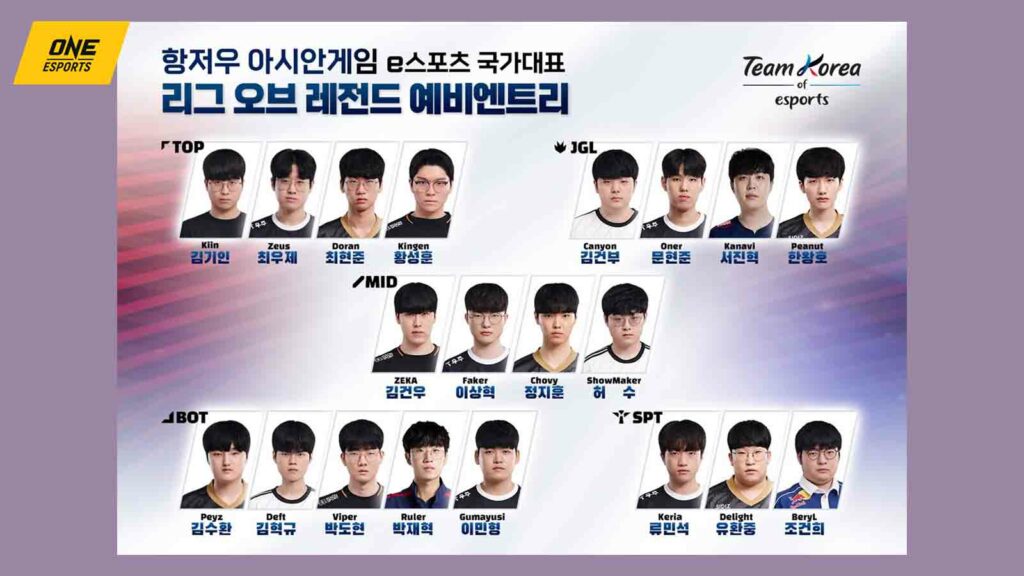 The Asian Games player selection is a challenging task, with tough decisions to be made for each position.
T1's Zeus and Gen.G's Doran are both strong contenders for the top lane, while the jungle position could come down to JD Gaming's Kanavi or Gen.G's Peanut.
The mid lane choice could be between T1's Faker or Gen.G's Chovy, while the bot laner position may be filled by LPL Spring 2023's MVP, JD Gaming Ruler, or LCK Spring 2023's MVP Gen.G Peyz.
The decision of which support player to choose highlights the complexities of this process. While KESPA may consider T1's Keria, who was named the Player of the Game in the LCK Spring 2023 season, there could be concerns about his lack of synergy with bot laners he hasn't played with before.
On the other hand, Gen.G's Delight has shown excellent synergy with his team and Peyz. No matter, selecting the final two players for each role in the Asian Games will be a challenging decision that demands careful evaluation.
Based solely on statistical performance (KDA, KP%, DMG%, and gold per minute) over the past two seasons, these players stood out as the best performers and could potentially be a top pick.
ONE Esports' South Korea League of Legends dream team for Asian Games 2023
| | | |
| --- | --- | --- |
| POSITION | PLAYER | CURRENT TEAM |
| Top lane | Zeus | T1 |
| Jungle | Kanavi | JD Gaming |
| Mid lane | Chovy | Gen.G |
| Bot lane | Ruler | JD Gaming |
| Support | Keria | T1 |
The finalized team will carry the expectations of an entire nation as they face off against the most formidable opponents from other countries. During the 2018 Asian Games in Jakarta-Palembang, Korea and China clashed in the League of Legends finals best-of-three series. Both teams entered the series as the dominant forces of the tournament, but China ultimately emerged victorious, defeating South Korea with a 3-1 score.
During the Asian Games 2018, KT's top laner Kiin, Gen.G's current head coach, Go "Score" Dong-bin and Peanut were the junglers, T1's mid laner Faker, JD Gaming's bot laner, Ruler, and Team Liquid's support Jo "CoreJJ" Yong-in were the representatives of the South Korean national team.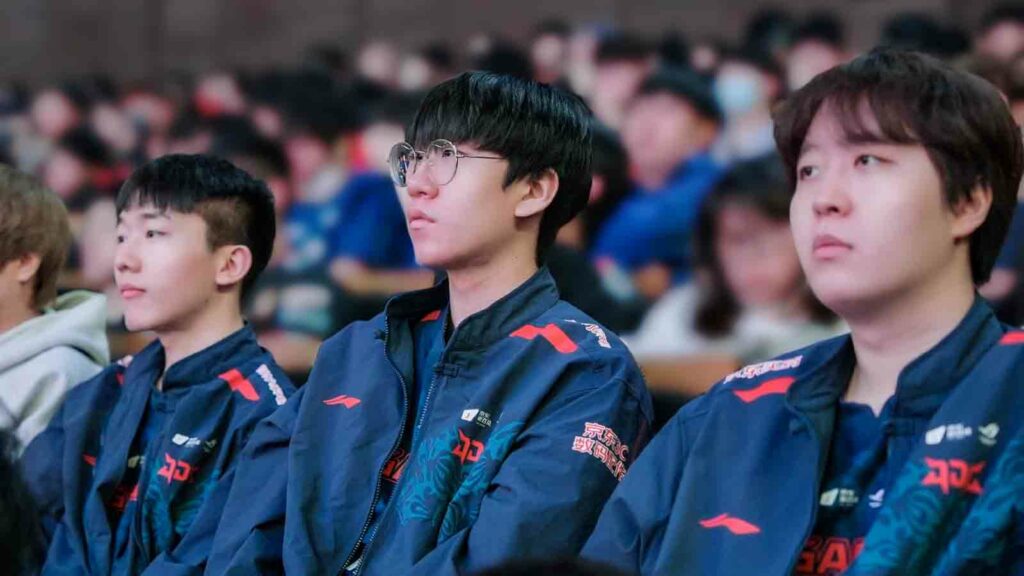 The primary review indicator looks at the past two seasons, including the upcoming 2023 Mid-Season Invitational (MSI), and considers players who are 16 or older and actively playing in the League of Legends Champions Korea (LCK), League of Legends Pro League (LPL), League of Legends EMEA Championship (LEC), and League of Legends Championship Series (LCS) leagues.
Secondary review indicators will be used to evaluate all the players with stats such as, KDA (Kill/Death/Assist ratio), kill participation (KP%), number of unique champions used, damage percentage (DMG%).
As the Asian Games draw near, the committee will finalize their decisions, selecting two players for each role, with a total of ten players.
Follow ONE Esports on Facebook and Twitter for more LoL news, guides, and highlights.
READ MORE: Criteria used to select Korean League of Legends Asian Games team is so strict, most of us would fail