T1 Oner is finally talking about his muscles, and we're all for it.
Just a month ago, Mun "Oner" Hyeon-joon became T1's newest fitness freak when his trainer Paul Cho posted photos of him flexing his back muscles. T1 CEO Joe Marsh also supported Oner's progress by reposting the photo, saying that he's getting ready to cosplay his signature champion, Lee Sin.
During a post-match press conference, the T1 jungler finally opened up about the viral gym photos and why he started getting interested in fitness.
---
---
T1 Oner reveals why he's been spending time at the gym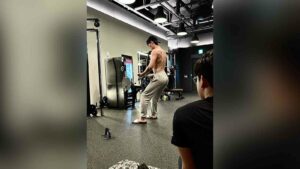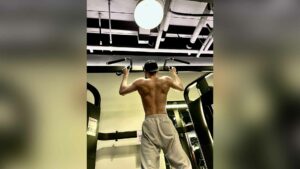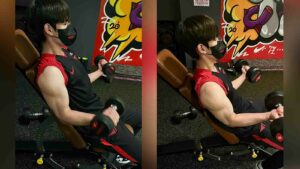 Oner mentioned there were numerous reasons why he began going to the gym. On top of dealing with back pain, the player was motivated by seeing other fit people on social media.
As for the biggest reason, the T1 jungler's answer was plain and simple. "Ultimately, I get to look good," he said, according to an Inven Global translation.
Clocking in almost a month of working out, Oner is confident that his physical endurance is a lot better than his teammates who don't work out. He also said that he enjoys shoulder exercises the most.
It also looks like the gym rat's sessions are also luring in other teammates. In his most recent photos, Oner is doing bicep cable curls while a person who looks to be top laner Choi "Zeus" Woo-je is sitting nearby.
Oner isn't the only T1 player who has a love for fitness. Lee "Faker" Sang-hyeok practiced yoga in a Nike video while Lee "Gumayusi" Min-hyeong said in an exclusive interview that he usually jogs for 30 minutes before a match.
If you'd like to see more esports players who also love hitting the gym, here are 7 esports pros with incredible body transformations.
Follow ONE Esports on Facebook and Twitter for more LoL news, guides, and highlights.
READ MORE: T1 Oner is getting ripped, team CEO hints at potential Lee Sin cosplay