Only one word fits Cloud9's LCS Spring 2023 performance: domination.
The North American team showed excellence all throughout the first split of this year's League of Legends Championship Series (LCS). C9 claimed the top spot on the regular season standings and breezed their way through the playoffs' winners bracket.
Exhibiting consistency, Cloud9 also reigned supreme against Golden Guardians during the LCS Spring 2023 finals held at PNC Arena in Raleigh, North Carolina.
---
---
Cloud9 wins championship title against Golden Guardians at LCS Spring 2023 finals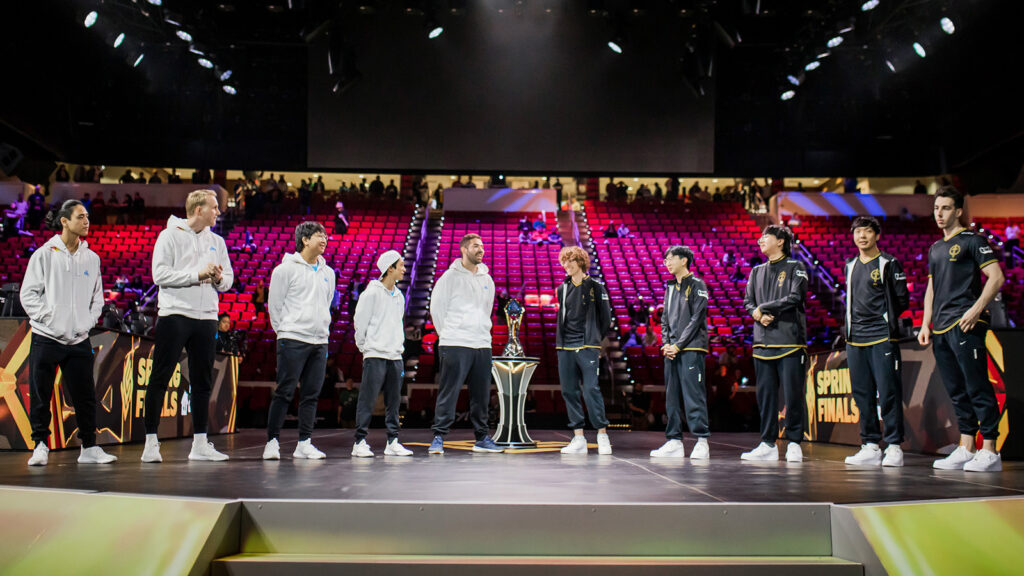 Golden Guardians was off to a good start during the early game in game one, picking up three kills by the 5-minute mark. Thanks to jungler Kim "River" Dong-woo's Sejuani and his Glacial Prisons, the team gradually built up its lead on objectives and gold by taking down three turrets and over 7,000 gold advantage.
GG looked ready to end the game after securing three dragon buffs and one Baron Nashor buff, but Ibrahim "Fudge" Allami refused to give up without a fight.
In an intense battle around the Baron Nashor pit, the top laner popped off on his Olaf, destroying three of Golden Guardians' members. Cloud9 slowly worked their way back to the game by claiming crucial monster buffs and taking down four GG players during a clash at the Baron Nashor cave, with Fudge scoring a triple kill to end game one.
---
---
Golden Guardians bounced back in game two with a clean victory, led by Kim "Gori" Tae-woo's triple kill using Ahri during the early game.
---
---
In game three, LCS Spring 2023 MVP Kim "Berserker" Min-cheol dominated on Lucian with impressive use of The Culling, the champion's ultimate ability. The efforts of the C9 bot laner helped the team immensely, reaching match point at 2 – 1.
---
---
Keeping their momentum, mid laner Jang "EMENES" Min-soo locked in one of his signature picks, LeBlanc, once again in game four. The mid laner started snowballing within the first three minutes, claiming first blood in a 1v1 fight against Gori's Galio.
Slowly but steady, Cloud9 claimed jungle and map objectives to win the game and end the series 3 — 1.
With their LCS Spring 2023 finals victory, Cloud9 now has six LCS championship titles to its name. The team will receive US$100,000 and will represent North America at Mid-Season Invitational in May.
---
Follow ONE Esports on Facebook and Twitter for more LoL news, guides, and highlights.
READ MORE: Exclusive: If you want to be a better jungler, don't play solo queue says EG Inspired