South Korea is gearing up to put together its national teams to compete in the upcoming 19th Hangzhou Asian Games that will be held from September 23 to October 8, 2023.
The Esports National Performance Improvement Committee of Korea just revealed its selection criteria and esports teams, who will represent the country in five out of eight sports events, namely League of Legends, FIFA Online 4, Hearthstone, PUBG Mobile, and Street Fighter 5.
The selection process for League of Legends players comprises of many primary and secondary review indicators, and they're surprisingly stringent.
---
---
Here's what pro League of Legends players will need to fulfil for the upcoming 2023 Asian Games
The primary review indicator takes into consideration the review period of the last two seasons, including the upcoming 2023 Mid-Season Invitational (MSI).
It will likewise consider those aged 16 or older, active in the LCK, LPL, LEC, and LCS leagues.
The secondary review indicator is a common denominator used to assess all positions and includes factors such as KDA, kill participation (KP%), number of champions used, and more.
| | |
| --- | --- |
| SECONDARY REVIEW INDICATORS | DESCRIPTION |
| KDA | Kill/Death/Assist ratio |
| KP | Kill participation (percentage of team's kills) |
| Number of champions | Number of unique champions used by a player |
| DMG% | Percentage of damage dealt by a player in the team |
| DPM | Damage per minute |
| GDPM | Gold difference from relative laner per minute |
| 14 CSD | Creep Score difference before 14 minutes |
| 14 DPG | Damage per gold after 14 minutes |
| Team Gold | Proportion of gold in the team after 14 minutes |
| Team DMG | Weight of damage within the team after 14 minutes |
Due to regular patch and meta changes, the committee will regularly re-establish and re-select the criteria to minimize evaluation errors, and has reduced the index review period from four to two years. The weight of the most recent season is taken into account during the selection process.
They will choose a minimum of three to four preliminary players for each position, with the final selection consisting of two, bringing the total number to ten.
Using current data available, the South Korean Asian Games team's roster may include JD Gaming jungler, Seo "Kanavi" Jin-hyeok and bot laner, Park "Ruler" Jae-hyuk, as well as T1 support, Ryu "Keria" Min-seok.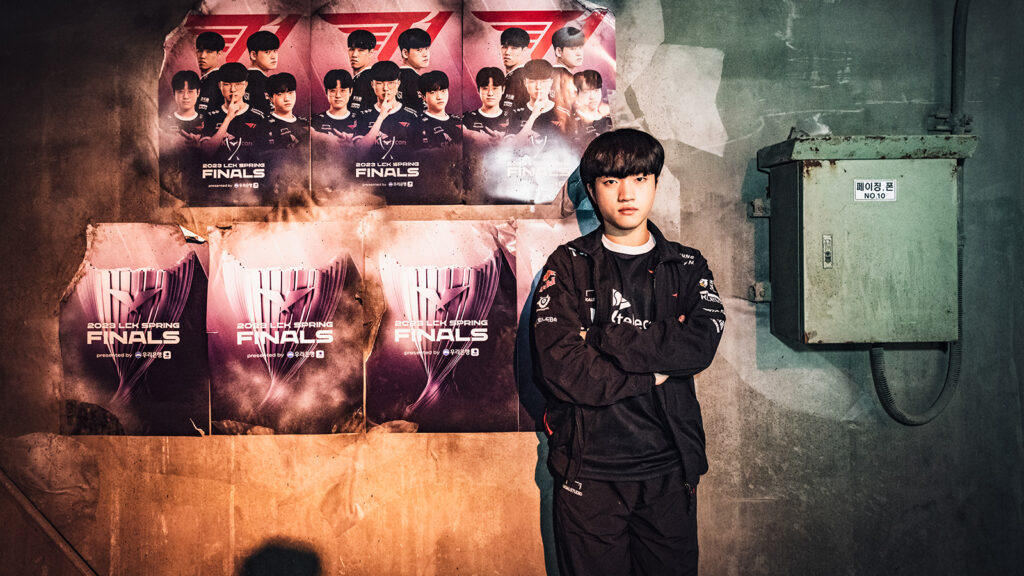 The committee has appointed Kim "kkOma" Jeong-gyun, former SKT T1 and DWG KIA head coach and team director, as their team leader and representative. He would be replacing his predecessor, BRION's head coach, Choi "Edgar" Woo-beom, who led the 2018 team.
In the 2018 Asian Games Jakarta-Palembang, Korea and China competed in the League of Legends finals best-of-three series. Back then, it was only considered as an "Official Demonstration Sport".
Both Korea and China came into the series as the dominant force of the tournament. It was a very close match, but China ultimately came out on top, beating Korea with a score of 3-1. T1's midlaner Lee "Faker" Sang-hyeok, and , Jian "Uzi" Zihao, the now retired and former bot laner for Royal Never Give Up and Bilibili Gaming, had participated in the match.
South Korean roster for the 2018 Asian Games Jakarta-Palembang
| | | |
| --- | --- | --- |
| PLAYER | POSITION | TEAM AT THAT TIME |
| Kim "Kiin" Gi-in | Top | Freecs |
| Go "Score" Dong-bin | Jungle | KT Rolster |
| Han "Peanut" Wang-ho | Jungle | Kingzone DragonX |
| Lee "Faker" Sang-hyeok | Mid | T1 |
| Park "Ruler" Jae-hyuk | ADC | Gen.G Esports |
| Jo "CoreJJ" Yong-in | Support | Gen.G Esports |
Follow ONE Esports on Facebook and Twitter for more LoL news, guides, and highlights.
READ MORE: MSI 2023: Schedule, results, standings, format, teams, where to watch