T1 lost to Gen.G Esports, 1-3, in the League of Legends Champions Korea (LCK) Spring 2023 playoff finals.
The outcome of the game surprised most analysts and fans, with the exception of Lee "Jonnastrong" Jin-sae, the only observer who predicted Gen.G to win.
In the post-game press conference, T1's head coach Bae "Bengi" Seong-woong and bot laner Lee "Gumayusi" Min-hyeong discussed the series, sharing their thoughts and feelings about the match.
---
---
T1 falls short and secure fourth consecutive runner-up finish in a row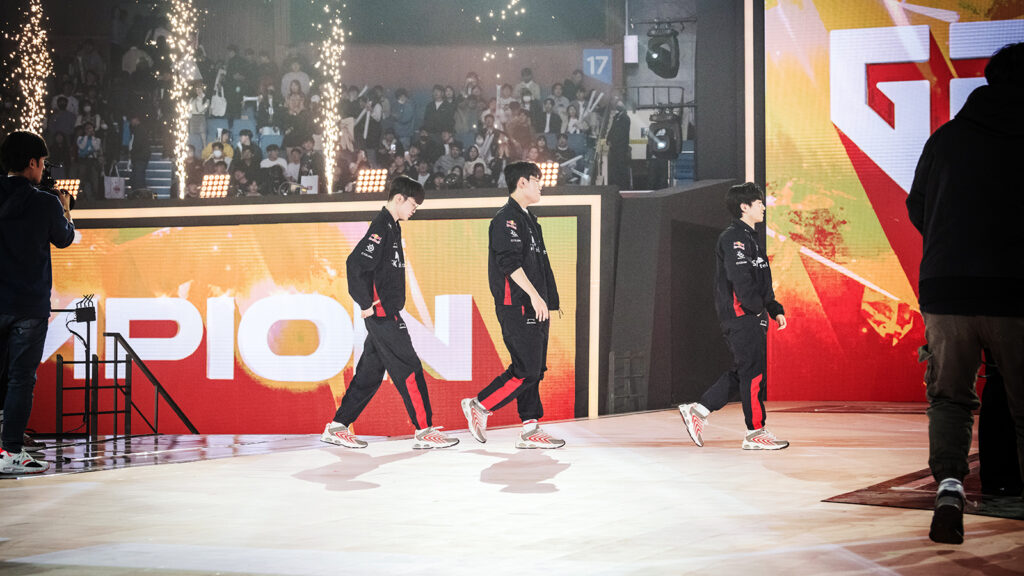 Gumayusi felt perplexed, citing how everyone around him consistently predicted that they would win, but they end up losing in big finals matches.
He described himself as being "confused, scattered, and overwhelmed by many thoughts." And he's not just talking about now.
T1's "finals struggles" seem to have started after they finished second to LPL's Royal Never Give Up (RNG) in the Mid-Season Invitational 2022. Although they had performed well throughout the tournament, they were unable to overcome RNG in the final series, and lost in the grand finals.
They had another opportunity to prove themselves during the LCK Summer Split 2022, but got swept by Gen.G, finishing second again. This trend continued at the League of Legends World Championships 2022, where they lost in the grand finals to fellow LCK underdog team, DRX, 3-2.
In the LCK Spring 2023 playoffs finals match, T1's poor teamwork and rushed plays opened up opportunities for Gen.G to take advantage of their mistakes, ultimately leading to their defeat.
---
---
Gen.G had played aggressively, with standout performances from top laner Choi "Doran" Hyeon-joon and rookie playoffs MVP bot laner Kim "Peyz" Su-hwan.
This appears to be a pattern for T1, who puts up exceptional performances during regular seasons or group stages, only to falter in crucial moments — a phenomenon that has both fans and Gumayusi perplexed.
Bengi added that the team will need to break free from their constraints in the future and emphasized the importance of playing calmly and leisurely during bigger matches.
When asked about their plans for the MSI 2023, he expressed his desire to do his best and hopefully, show a different side of the team.
Follow ONE Esports on Facebook and Twitter for more LoL news, guides, and highlights.
READ MORE: MSI 2023: Schedule, results, standings, format, teams, where to watch