It's confirmed — we won't ever see the Worlds 2022 DRX squad together ever again.
Today, DWG KIA announced that former DRX star Kim "Deft" Hyuk-kyu will be joining them for the LCK 2023 season, replacing Seo "deokdam" Dae-gil in the bot lane.
Just one week ago, the organization announced that it had parted ways with deokdam, Jang "Nuguri" Ha-gwon, Noh "Burdol" Tae-yoon, athletic director Kim "kkOma" Jeong-gyun, coach Lee "Zefa" Jae-min, and head coach Yang "Daeny" Dae-in.
DWG KIA players who remain on the roster are jungler Kim "Canyon" Geon-bu, mid laner Heo "ShowMaker" Su, and support Kim "Kellin" Hyeong-gyu, whose contracts expire next year in 2023.
---
---
Deft teams up with Worlds 2020 winner DWG KIA for LCK 2023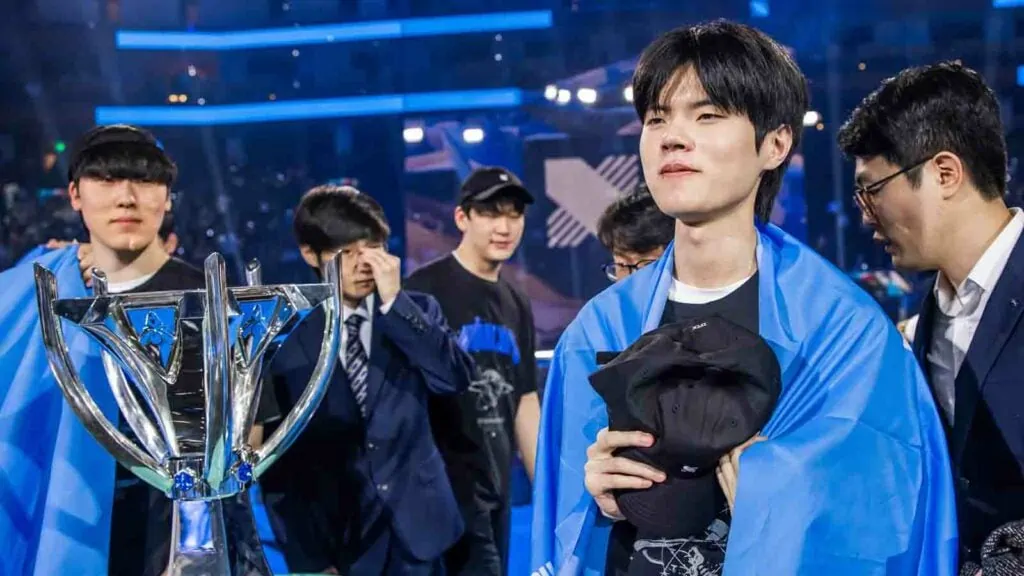 During the Worlds 2022 finals post-match conference, the 26-year-old was asked about whether he would continue competing. He had finally achieved his dream of winning the League of Legends World Championship after 10 years, with many fans deeming it as his "last dance."
"How I feel right now is that if I can play next year, then I'm going to play," he replied.
Today, it has been confirmed that the veteran, like former schoolmate Lee "Faker" Sang-hyeok, is not hanging up his mouse just yet.
"Please send lots of love and support for Deft, champion of the 2022 World Championship. Thank you," DWG KIA wrote on Twitter.
Just a day before on November 22, DRX announced that its contracts with all its players had expired, making them free agents. Their storied Worlds 2022 run saw them make history as the first Play-Ins team to reach a Worlds final. As LCK's fourth seed, they barely scrapped through regional finals to secure a spot at the international tournament.
During the playoffs, DRX narrowly defeated Worlds 2021 winners Edward Gaming 3-2, before upsetting tournament favorites Gen.G 3-1 in the semifinals. In one of the best Worlds finals ever to be played, they managed to overthrow T1 3-2 in the finals to claim their first-ever world championship.
| | |
| --- | --- |
| DWG KIA ROSTER FOR LCK 2023 | ROLE |
| Kim "Canna" Chang-dong | Top lane |
| Kim "Canyon" Geon-bu | Jungle |
| Heo "ShowMaker" Su | Mid lane |
| Kim "Deft" Hyuk-kyu | Bot lane |
| Kim "Kellin" Hyeong-gyu | Support |
On his new team, Deft will now join forces with Worlds 2020 winners Canyon and ShowMaker. DK has also added Kim "Canna" Chang-dong, who previously played for T1 and NS RedForce.
They signed a one-year contract with DK. All player contracts will expire on November 20, 2023.
READ MORE: After 2 years, Viper leaves Edward Gaming to return to his former LCK team