Blacklist International dynamic duo has won it all — but Mobile Legends isn't the only thing on their minds.
Johnmar "OhMyV33nus" Villaluna and Danerie "Wise" Del Rosario have led their teams to three MPL PH championships and a world title at the M3 World Championship. They are also known for pioneering the UBE strategy, now adopted by teams worldwide.
In an exclusive AMA with ONE Esports, in partnership with Samsung, they shared insights about their favorite foods, memorable esports moments, and their most extravagant purchases.
---
---
OhMyV33nus and Wise AMA with ONE Esports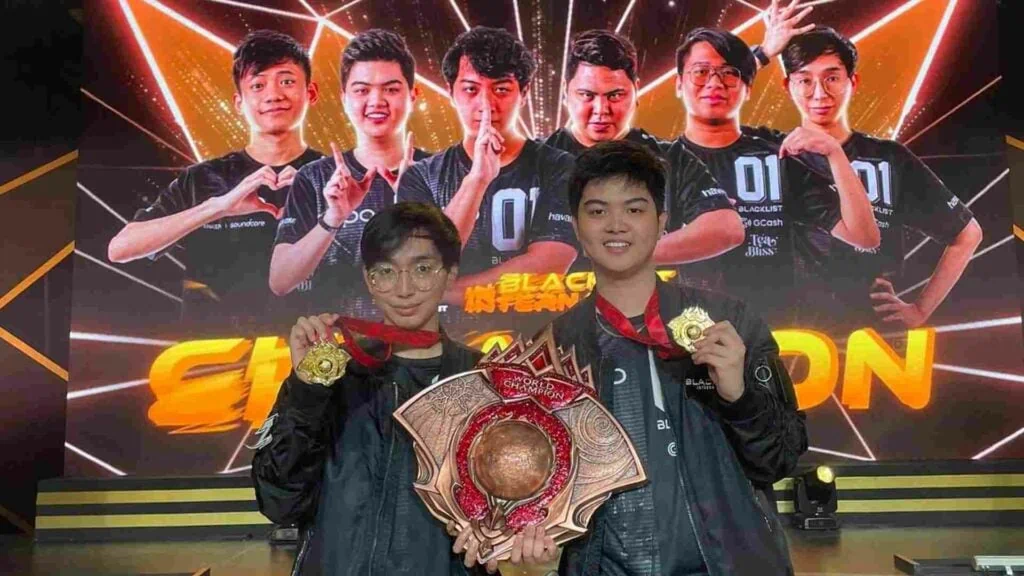 What is the most valuable or luxurious item you have ever purchased?
Wise: The most expensive thing I have bought is my gaming PC because I really want something that will really last. It costs around PHP250k (US$4000).
OhMyV33nus: I'm not a materialistic person, so I think the most expensive thing I have bought is something in a video game.
How do you handle negative comments and criticism received online?
V33nus: We just ignore them.
Wise: I feel that haters have something to say regardless.
OhMyV33nus: Yeah even though you protect yourself and fight for what is right, people have something to say. So we might as well just ignore them and just focus on our work and supporters.
Which player do you believe deserves to be honored and inducted into the Hall of Legends in the upcoming season?
V33nus: I won't be surprised if the next Hall of Legends will be someone from ECHO or Bren Esports, because they are dominating the pro scene lately and they were veterans in the league.
However, I'm still hoping that it's still from Blacklist, like Salic "Hadji" or Kiel "OHEB" Soriano.
What is the most memorable and heartwarming interaction you've had with one of your fans?
V33nus: The most memorable moment I had was during the M4 World Championship. There were fans from all over the world who flew to Indonesia to support us.
Wise: Same. We also have a supporter who came with us to a Harry Styles concert. That was memorable.
What is your all-time favorite dish or cuisine?
V33nus: My favorite is Totcho, specifically my grandmother's recipe.
Wise: Kare-Kare.
If you could create your own MLBB hero, what would be its appearance and skills?
V33nus: I want to see an assassin who can heal teammates and has the mobility of Joy.
Wise: I want to see a female tank who can jungle and be effective whatever the meta.
What do you do in your free time outside of MLBB?
V33nus: I stream and play other games.
Wise: I usually just play music when we're not practicing.
What is your favorite song of all time, and why does it hold such significance for you?
V33nus: I have none in particular because my music taste changes drastically from time to time. But some of the notable artists I love right now are Beyonce and Paramore.
Wise: Anything by Harry Styles. I also love classical music. I have no particular favorite song.
Is there any player outside of Blacklist International that you might like to team up with?
V33nus: Kairi "Kairi" Rayosdelsol because I want to learn about the Indonesian meta.
Wise: I have no problem with my team, but if ever I'm not a jungler I'd love to play with Karl "KarlTzy" Nepomuceno or Kairi.
Which hero do you think deserves more love in the game and why?
V33nus: Floryn, but I believe she is now popular. At first, I also underestimated her, but the coach of Fire Flux Impunity recommended I try out the hero. I liked the hero and tried her in MPL and succeeded.
Wise: I really miss Yi Sun-Shin. He has not been popular for the longest time.
---
---
In your opinion, who is the greatest MLBB player of all time and why do they stand out from the rest?
V33nus: The first person that comes to my mind is KarlTzy, because he is still active in the league and is still a dominant player.
Wise: I agree because he is still young. I was not yet playing the game, and I already knew about him back then. He also had an impact on every team he has been with.
Are you guys a dog or cat person? Why?
V33nus: I'm a cat person, but lately I have been having allergies to dust and cat fur. So even though I love cats, I distance myself because of allergies.
Wise: We have a pet cat, but lately my heart is yearning for a dog.
What movies do you enjoy, and have you watched anything recently that left a lasting impression on you?
OhMyV33nus: We're more on Kdrama and anime. The latest we've been watching is What's Wrong with Secretary Kim.
Wise: If the movie has an antagonist, my blood boils.
OhMyV33nus: We really love feel-good movies with no antagonists.
Could you share a moment from your esports career that will always remain unforgettable for you?
V33nus: There are so many unforgettable moments, but I think the most unforgettable is when we won in MPL PH Season 7.
Wise: Season 7 for me was the stepping stone where we got our confidence. Personally, I thought at first that we won't be able to win because of what happened to us in the previous seasons with ONIC PH.
V33nus: We were also down 3-1 in the grand final against Execration, but we were able to come back. That's why it's so memorable.
If you were to become an MLBB hero right now, which hero would you choose, and what traits or abilities make them appealing to you?
V33nus: If Wise will become an MLBB hero, I would love to see him as Gusion.
Wise: V33nus as Rafaela is nice.
As pro players, do you still find time to watch MLBB streamers and content creators in your free time?
V33nus: We still watch from time to time. we still need to be up to date in the current meta so we put in time to watch other MLBB tournaments because we learn a lot from there as well.
Which sneaker do you consider the most treasured among your collection, and what sneakers are currently on your wish list?
Wise: Most of our shoe collection was given by our supporters. My most treasured shoe is the Balenciaga shoes my supporter gave me.
V33nus: All of my boots. I'm not really into shoes, but I would buy expensive boots if given the chance.
Wise: I refrain from buying new shoes because I have recently just bought a new one. If ever given the chance, I'd love to buy a Golden Goose sneaker.
Is there a skin that you absolutely must use when you play a particular hero? Any skin that you feel gives you an advantage?
Wise: When I play YSS, the Collector skin is very smooth to play with.
V33nus: For me, it's Galaxy Dominator Estes skin. That's why I use that skin more than the Blacklist International Estes skin. It just feels so smooth.
What is the most expensive piece of furniture you have purchased for your new mansion?
V33nus: The 85 inches TV that Wise bought me, the dining table, and the Chandelier. The TV was PHP 125,000 (about US$2,226), I do not want to discuss the price of the table, and the chandelier is around PHP50,000 (about US$890).
V33nus: The table is made of acacia wood. My mindset is that it's important to eat together with family, so If I'm going to buy a dining table, I want something that will last a lifetime.
Who's the funniest player in the gaming house?
V33nus: For me, Kenneth "Yue" Tadeo is the funniest. Even though he is not joking, he just emits good vibes.
Wise: Mark "ESON" Gerardo was the funniest when he was still in the boot camp. Everything he says is funny.
Follow ONE Esports on Facebook, Instagram, and TikTok for MLBB esports news, guides, and updates.
READ MORE: This Thai pro plays Mobile Legends with his feet — and he's representing his country