Updated on December 20, 12:04 p.m. (GMT+8): Added logos to screenshots.
Filipino celebrity and certified Genshin Impact whale Alden Richards struck again after showing off his C6 Kamisato Ayato.
The actor instantly fell in love with the 5-star Hydro character and Kamisato Ayaka's older brother, and even changed his avatar to a photo of Ayato with the matching Battle Pass namecard "Travel Notes: Lyratum" which can only be obtained by purchasing the Gnostic Chorus Battle Pass.
In addition to unlocking all of the character's constellations, his Ayato was well-equipped with the 5-star weapon, Haran Geppaku Futsu.
Alden Richards' Genshin Impact account boasts C6 Kamisato Ayato with a matching Haran Geppaku Futsu weapon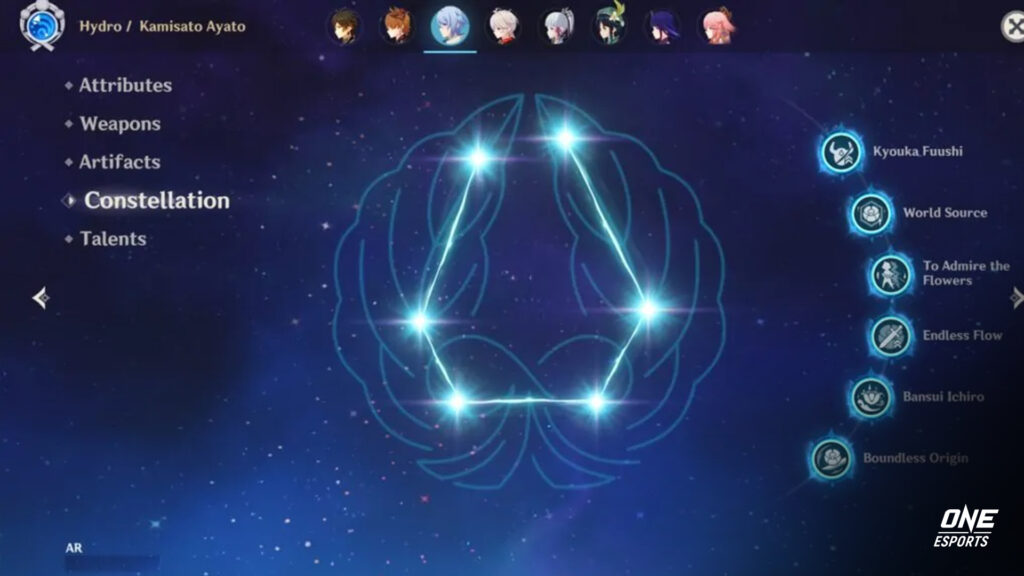 Alden has completely maxed out Ayato's constellation, which forms a symbol similar to a kamon or a Japanese crest.
Constellations are upgrades that improve a character's set of talents. Each newly-acquired Genshin character starts at constellation 0. Players can only unlock each constellation by acquiring another copy of the character which they have to roll for, up to a maximum of six.
In his C6 form, Ayato becomes an overpowered swordsman, creating two more illusions of himself that deal massive damage through his elemental skill, Kamisato Art: Kyouka.
Kamisato Ayato constellation
CONSTELLATION NAME
EFFECT
1. Kyouka Fuushi
Shunsuiken DMG is increased by 40 percent against opponents with 50% HP or less.
2. World Source
Namisen's maximum stack count is increased to 5. When Kamisato Ayato has at least 3 Namisen stacks, his Max HP is increased by 50 percent.
3. To Admire the Flowers
Increases the Level of Kamisato Art: Kyouka by 3.
The maximum upgrade level is 15.
4. Endless Flow
After using Kamisato Art: Suiyuu, all nearby party members will have a 15% increased Normal Attack SPD for 15s.
5. Bansui Ichiro
Increases the Level of Kamisato Art: Suiyuu by 3.
The maximum upgrade level is 15.
6. Boundless Origin
After using Kamisato Art: Kyouka, Ayato's next Shunsuiken attack will create 2 extra Shunsuiken strikes when they hit opponents, each one dealing 450 percent of Ayato's ATK as DMG.
Both these Shunsuiken attacks will not be affected by Namisen.
Taking into consideration that it takes 180 wishes to guarantee a player's desired 5-star character, which also includes the game's 50/50 pity mechanic, they would have to spend an estimated US$500.
Since there are a total of six constellations, we multiply the estimated value of US$500 by six. And so in order for Alden to get a C6 Kamisato Ayato, he spent at most US$3,000 in a worst-case scenario.
The noontime show host also has complete constellations of other 5-stars: Arataki Itto, Eula, Kaedehara Kazuha, Kamisato Ayaka, the Raiden Shogun, Xiao, Yoimiya, Yae Miko, Zhongli, Tartaglia, and Venti.
---
---
How much does it cost to get a full R5 5-star weapon in Genshin Impact?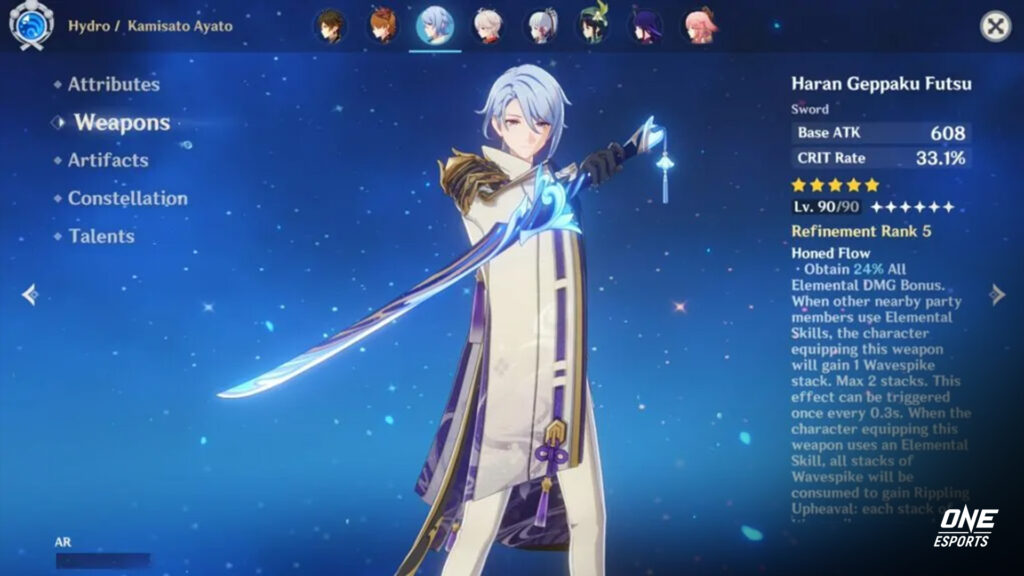 To guarantee a single copy of your desired 5-star weapon, you need to spend about 240 wishes in the weapon banner. To get four more copies of the same weapon and level it up to Refinement Rank 5 (R5), a player needs to spend 1,200 wishes.
We then multiply 1,200 wishes by 160 Primogems (the cost of each wish), which gives us 192,000 Primogems for the cost of an R5 weapon. We divide the answer by 6,480 Genesis Crystals, which totals 30 top-ups, priced at US$95 per top-up.
In order to get a full R5 weapon in Genshin Impact, players need to spend an estimated cost of US$2,850.
Alden Richards has probably spent a total of US$5,850 or PH₱306,000 on his C6 Kamisato Ayato and R5 Haran Geppaku Futsu.
This estimated computation does not include the free Primogems that can be obtained through quests, the Masterless Starglitters that can be converted to Intertwined Fates, and the extra Genesis Crystals that come with certain top-ups.
It is also important to note that these are all estimated computations, Alden himself has yet to comment on how much he's actually spent in the game.
The young actor hasn't streamed Genshin Impact for years but is a very active player outside the spotlight. He is known for spending thousands of dollars on the game and is considered a massive whale by the community.
---
Follow ONE Esports on Facebook for more Genshin news, guides, and highlights.
READ MORE: From emo to Anemo, we dare this Wanderer cosplayer to throw wind blades at us