Since Kamisato Ayato's release in Genshin Impact, players have been obsessed with his flashy elemental skill, Kyouka.
When using Kyouka, the Yashiro Commissioner enters an anime-like stance, Takimeguri Kanka, and deals lightning-fast AoE Hydro slashes with every click. Basically, Ichigo Kurosaki's Tensa Zangetsu in the middle of a water park!
Since the stance registers its slashes as normal attacks, we've found the best team composition to maximize the attack speed of Ayato and his overpowered elemental skill.
How to increase the attack speed of Kamisato Ayato's Kyouka in Genshin Impact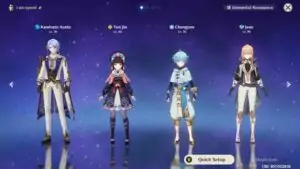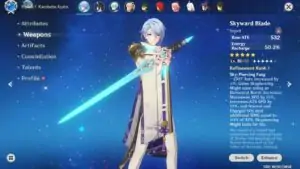 The attack speed composition for the Inazuman politician utilizes the skills and constellations of Yun Jin, Chongyun, and Jean.
These three characters can generate a 35% bonus and also provide elemental reactions such as Freeze and Crystallize.
To further amplify the speed bonus, equip Ayato equip with the 5-star sword, Skyward Blade, which grants an extra 10% bonus when using the wielder's elemental burst.
From Kyouka's initial output of 15-16 slashes in six seconds, it significantly goes up to 19-20 slashes with the team's 45% bonus.
If you don't have a C2 Jean on your roster, Liyue pirate Beidou is a solid 4-star substitute. Her 4th Ascension Passive, Lightning Storm, provides a 15% bonus when her elemental skill deals maximum damage.
| | | | |
| --- | --- | --- | --- |
| NAME | TYPE OF | DURATION | ATTACK SPEED BONUS |
| Skyward Blade | Item | 12 seconds | 10% bonus when using elemental burst |
| Chongyun's Steady Breathing | 1st Ascension Passive | 10 seconds | 8% bonus when inside Layered Frost field |
| Yun Jin's Decorous Harmony | Level 6 Constellation | 12 seconds | 12% bonus when under the effects of elemental burst |
| Jean's People's Aegis | Level 2 Constellation | 12 seconds | 15% bonus when Jean picks up an elemental orb/particle |
| Beidou's Lightning Storm | 4th Ascension Passive | 10 seconds | 15% bonus when Tidecaller deals maximum damage |
---
---
Order of skills and bursts
Since Kyouka only has an uptime of six seconds, it's always a good idea to stack bonuses first before popping the elemental skill.
Here's the optimal order of skills and bursts for Kyouka:
Ayato's elemental burst
Yun Jin's elemental burst
Jean's elemental skill or

Beidou's elemental skill (hold for the second charge)

Chongyun's elemental skill

Ayato's Kyouka
If you're still on the fence about recruiting Ayato for your party, you can check out his elegant character demo and prepare for his coming with our farming guide.
---
---
Follow ONE Esports on Facebook for more Genshin news, guides, and highlights.
READ MORE: 5 reasons why Kamisato Ayato should be your next Genshin Impact husbando