Have no fear, the Zhongli best builds are here.
Zhongli returns to Genshin Impact on his fourth banner run, and players are ready to spend their primogems and wishes on the Geo heartthrob.
The top-tier character is known for his diverse kit that allows for both DPS and support playstyles, but how do you actually build him?
Here's a quick guide of the Zhongli best builds in Genshin Impact, including a rundown of his best talents, weapons, and artifacts.
Zhongli's Talent overview in Genshin Impact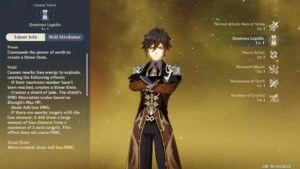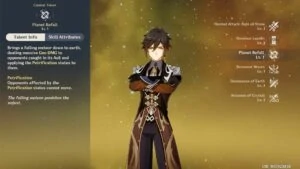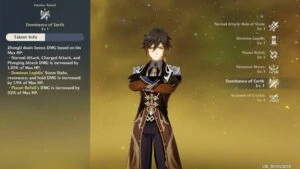 Here's a quick overview of all the talents that are mentioned throughout the Zhongli best build guide:
TALENT
TALENT INFORMATION
Elemental skill talent: Dominus Lapidis
Press: Creates a Stone Steele that deals AoE Geo DMG

Hold: Creates a Stone Steele and a jade shield that is based on Zhongli's max HP
Elemental burst talent: Planet Befall
Casts a meteor down to earth, dealing AoE Geo DMG and applying Petrify to all targets
Passive talent: Dominance of Earth (Unlocked at fourth ascension)
Zhongli deals bonus DMG based on max HP
– Normal, Charged, Plunging increased by 1.39%
– Dominus Lapidis DMG increased by 1.9%
– Planet Befall DMG increased by 33%
Best artifacts for Zhongli in Genshin Impact
Physical DPS Zhongli best build (Pale Flame)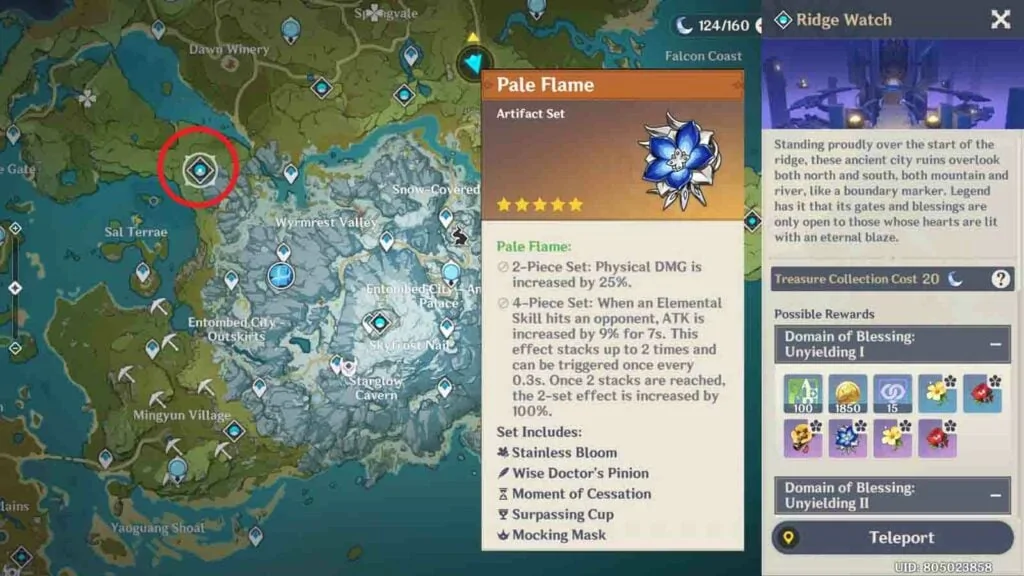 Physical DPS Zhongli is quite a rare sight, but works well in taking out hordes of enemies with one polearm combo.
In this Zhongli best build, you can utilize a four-piece Pale Flame artifact set. On top of bumping your physical damage up by 25% at two pieces, the full set adds a unique attack buff when using your elemental skill, Dominus Lapidis.
You can farm the Pale Flame set at the Ridge Watch domain, just south of Dawn Winery.
Shield Zhongli best build (Tenacity of Millelith)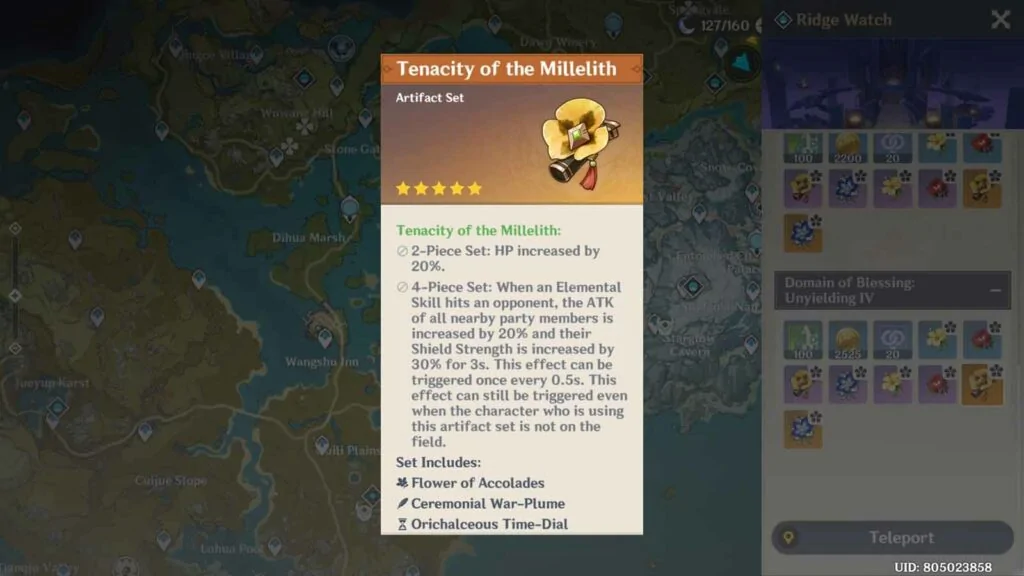 Zhongli works extremely well as the meat shield of your party. Players can equip him with a four-piece Tenacity of Millelith set that gives a substantial boost to both HP and shield strength.
In turn, Dominus Lapidis' jade shield will also benefit from the full set bolster, churning out a stronger defense in battle.
When picking out your artifacts, your best bet is to equip those with HP% and flat HP stats, as they'll further increases the strength of your jade shield.
You can farm the Tenacity of Millelith set at the Ridge Watch domain, the same location as Pale Flame.
Burst Zhongli best build (Emblem of Severed Fate, Noblesse Oblige/Archaic Petra)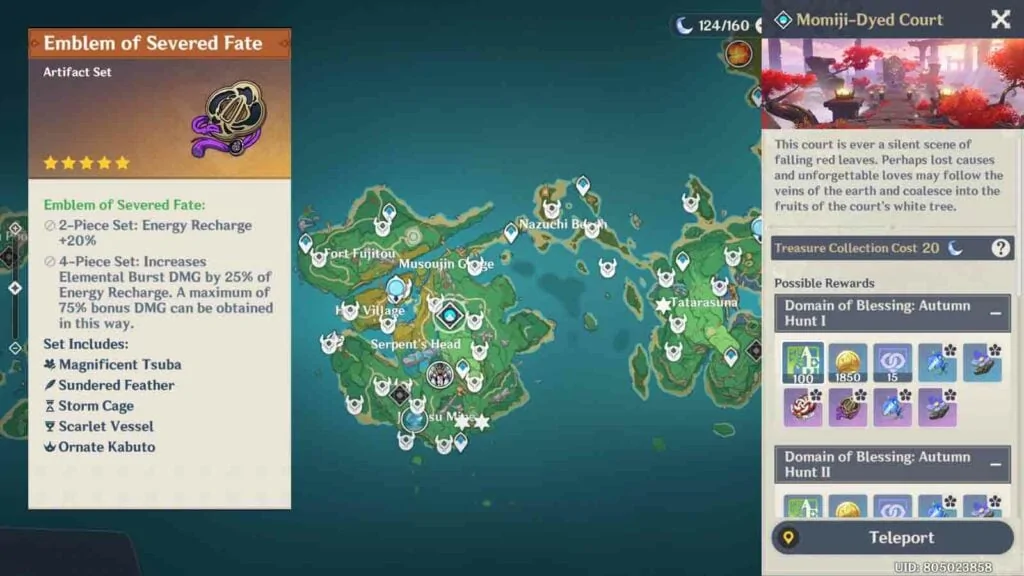 If you're looking for a Zhongli best build that shuts down the entire battlefield, then look no further.
The burst build puts all of his artifact buffs into Planet Befall. The go-to build is a four-piece Emblem of Severed Fate set, which lets your burst damage scale with Energy Recharge.
The emphasis on ER allows players to replenish Planet Befall during its 12-second cooldown and cast it more frequently compared to the other builds.
You can farm the Emblem of Severed Fate artifact set at the Momiji-Dyed Court domain, northeast of Serpent's Head on Yashiori Island.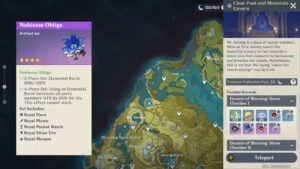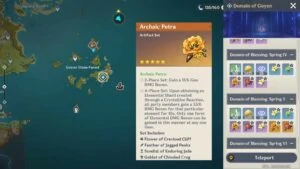 For a more standard damage buff to Planet Befall, you can also do a split artifact set of Noblesse Oblige and Archaic Petra.
Noblesse Oblige's two-piece set grants 20% more burst damage, while a two-piece Archaic Petra set gives a 15% Geo damage bonus.
The two artifact types can also work as four-piece sets if you want Zhongli to be a stronger support factor to your main DPS.
You can farm Noblesse Oblige at the Clear Pool and Mountain Cavern domain, northeast of Mt. Aocang, and Archaic Petra at the Domain of Guyun in Guyun Stone Forest.
---
---
Best weapons for Zhongli in Genshin Impact
Physical DPS Zhongli best build (Vortex Vanquisher)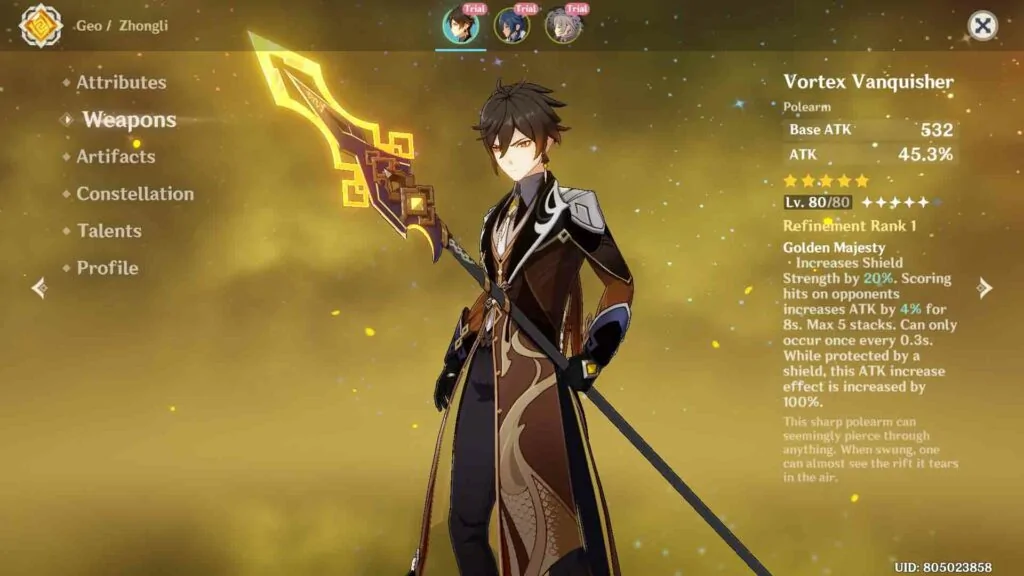 Vortex Vanquisher is Zhongli's paired banner weapon for good reason. Just like the Geo user's versatile kit, Vortex Vanquisher complements both playstyles of DPS and support.
Its passive, Golden Majesty, increases your attack by 4% with every successful hit on an opponent. Maxed at five stacks, button mashers will likely proc the full 20% damage bonus with a swift polearm combo.
The weapon also increases shield strength by 20%, giving the Liyue native better survivability when fighting multiple opponents at once.
You can wish for the 5-star weapon on the Epitome Invocation weapon event wish until February 15.
Shield Zhongli best build (Black Tassel)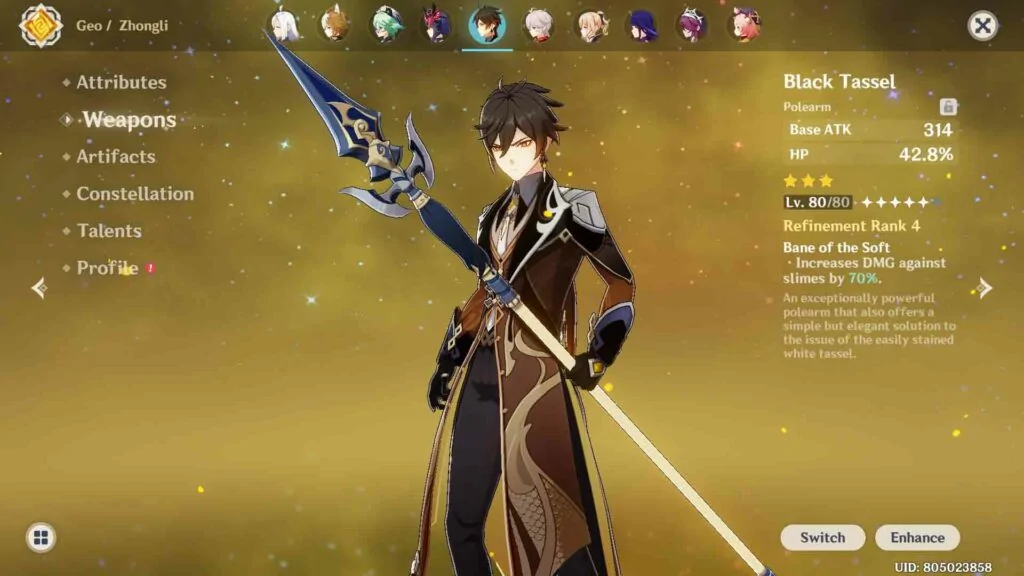 Black Tassel is an underrated weapon that synergizes well with Zhongli's elemental skill. The 3-star polearm has a scaling HP% stat that can make the jade shield unbreakable.
What's more, Dominance of Earth's HP-based damage bonus can work off of Black Tassel's HP boost to make your Planet Befall combos a bit more lethal.
You can get the Black Tassel weapon as a secondary roll in all event wishes available.
Burst Zhongli best build (Staff of Homa)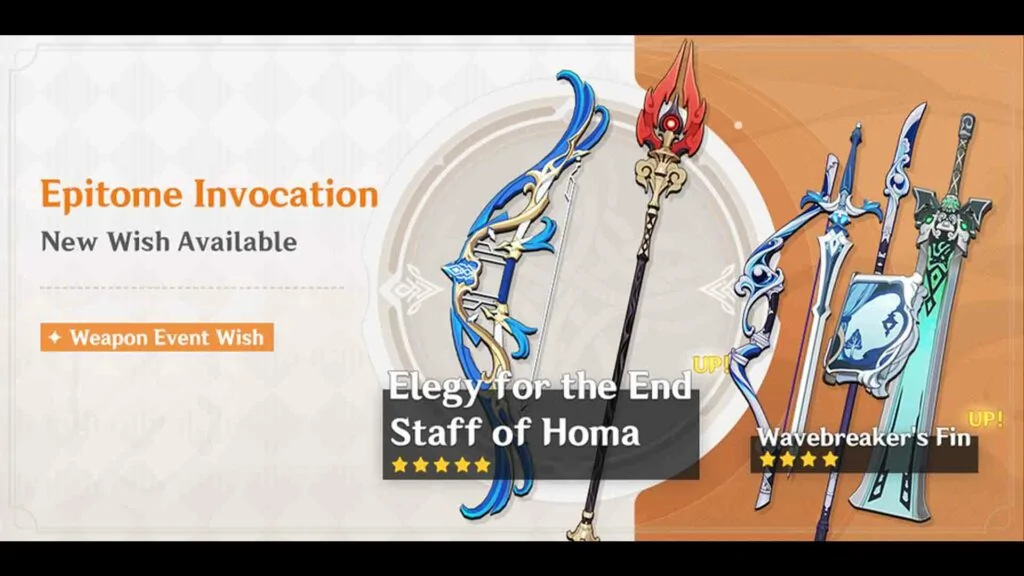 The Staff of Homa is your go-to weapon if you want Planet Befall to be the core of your playstyle.
Staff of Homa's refinement skill, Reckless Cinnabar, increases HP by 20% and converts 0.8% of max HP to bonus attack, which also goes hand-in-hand with Dominance of Earth.
With better damage scaling and a critical damage sub stat, this 5-star polearm is miles ahead of Black Tassel in providing a defensive, yet lethal weapon for the adeptus.
Follow ONE Esports on Facebook for more Genshin Impact news, guides, and highlights.
READ MORE: How to farm Zhongli materials Genshin Impact guide: Best locations and routes