XSET may have just pulled off one of the biggest upsets in Valorant Champions 2022. On Day 6 of the group stage, the North American squad took down the reigning Masters Copenhagen champions FunPlus Phoenix in a hard-fought 2-1 series.
The team looked eager to prove themselves after their early exit at Masters Copenhagen. XSET did not shrink under the pressure against FPX's strategic playstyle, and showed improved team coordination that allowed their star players Zachary "zekken" Patron and Matthew "Cryocells" Panganiban to shine.
The NA squad struck first by winning on Pearl 13-7. The second map, Fracture, saw Ardis "ardiis" Svarenieks leading FPX to victory 13-4 with an incredible Chamber performance.
XSET then won the series with an impressive 13-5 stomp on the final map, Breeze. With the best record in Group C, the NA squad became the fourth team to qualify for the playoffs behind Leviatán, OpTic Gaming, and DRX.
---
---
XSET finishes with the best record in their group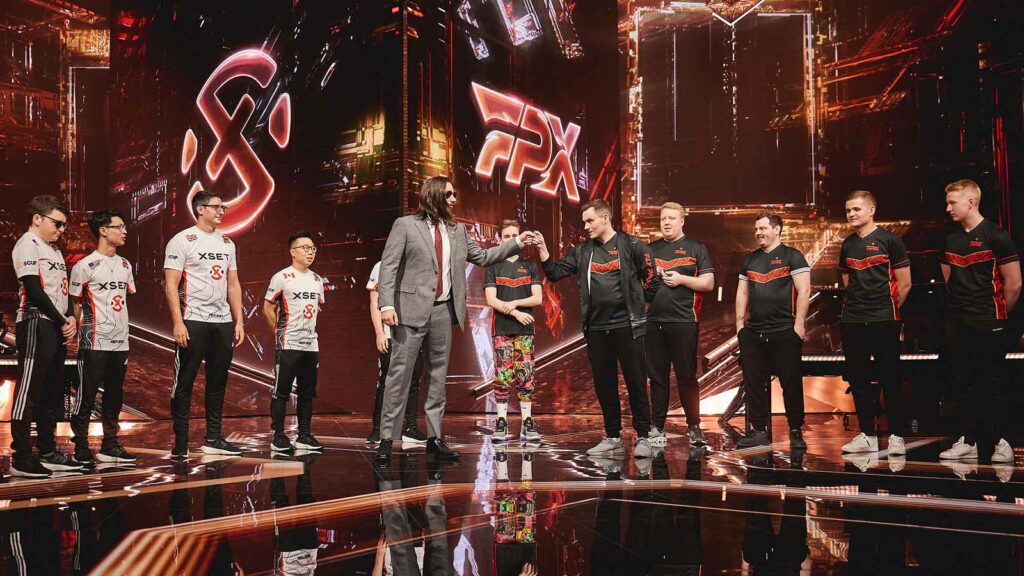 FPX's agent composition on first map Pearl was notable because they had ardiis playing Cypher instead of Chamber. Cypher's strengths lie in watching flanks and holding down sites, while Chamber excels in taking aim duels with his Rendezvous teleport.
After an even 6-6 score at halftime, FPX were unable to gain any momentum once they were on attack. The EMEA squad's offense fell flat, and ended up winning only one round on attack.
---
---
Ardiis on Chamber looked more at home in the following map Fracture, their map choice, pulling off 3Ks in many rounds. The 24-year-old also scored an impressive ace during the pistol round after halftime, and finished with a 29/10/1 KDA and a 438 Average Combat Score (ACS).
In the decider map of the series, XSET answered back with a convincing win on Breeze. The North American squad had a hot start with Cryocells, zekken, and their team captain Rory "dephh" Jackson lighting up the scoreboard.
XSET contested A main, Mid, and B main at the start of each round on defense. They constantly found early picks, which stopped FPX's pushes and forced the EMEA squad to regroup for a mid-round call.
It looked like FPX were about gain some momentum by executing an A main and Mid door push on the 10th round. However, zekken pulled off an incredible 1v3 clutch by defending the back of A site, which pushed his team to take a commanding 11-1 round lead at halftime.
---
---
In a post-match interview, the team's coach Don "Syyko" Muir called out doubters after their impressive victory over one of the tournament's favorites.
"We're here to win," he said. "We have two superstars in zekken and cryo, and the rest of the team are outstanding at supporting them and setting them up for success. We are a well-rounded team. Everybody on this team can be activated at any moment."
With the win over FunPlus Phoenix, XSET have advanced to the playoffs and will face off against the winner of 100 Thieves and Fnatic's Group D decider match on September 11, 1:00 a.m. GMT+8 | September 10, 10:00 a.m. PT | September 10, 5:00 p.m. GMT.
The match will be broadcast live on the official Valorant Twitch and YouTube channels.
READ MORE: XERXIA Esports foxz after Champions exit: 'Our aim could not match KRU'