FunPlus Phoenix put EMEA back on top of international Valorant, defeating APAC top seed Paper Rex 3-2 in one of the most hotly contested grand finals in Valorant LAN history.
Both teams came into the Masters Copenhagen grand final on opposite ends of the spectrum — one representing a region known for its slower, methodical playstyle, the other known for its fearless aggression and fast-paced gameplay.
FPX started the tournament on the backfoot, playing with Alliance's Mathias "SEIDER" Seider as a stand-in. The team fell to Fnatic in their opening playoffs match, before Dmitry "SUYGETSU" Ilyushin was able to rejoin his team in Copenhagen.
With their team finally complete, FPX tore through the lower bracket to advance to the grand final, where they showed just how prepared they were for PRX's unique style of play.
---
---
FunPlus Phoenix showed how to counter Paper Rex's aggressive style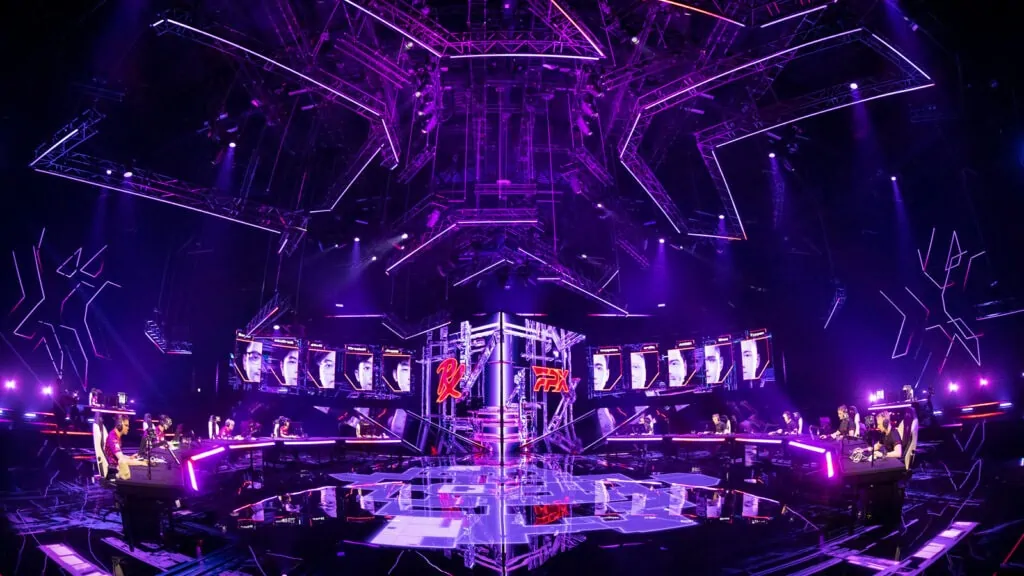 PRX unsurprisingly picked Bind as the first map, pulling out the Yoru pick that they had shied away from against OpTic Gaming. However, it did not appear to make a difference.
FPX were supremely prepared for the Southeast Asian team's aggressive set plays on defense, patiently waiting for the pushes they knew were coming.
In-game leader Kyrylo "ANGE1" Karasov was the one to shine on Bind, posting an 18/8/6 KDA and 321 Average Combat Score (ACS) — a stellar showing from the 32-year-old veteran and the oldest player in the tournament.
---
---
Bind would go the way of FPX with a 13-3 scoreline, a dominant performance against what many consider one of the world's best teams on the map.
"We need to prepare for any aggressive rounds at any point or moment and not be surprised when someone runs out at us at random times," ANGE1 had said in a post-match press conference after their lower bracket win over OpTic.
That approach was clear as day. While PRX were able to take Icebox and Haven, cracks in their game began to show on Fracture and Breeze.
On Fracture, FPX were exceedingly quick to trade players, often stacking choke points that they expected PRX to pressure. In Round 4, FPX shut down an A Main rush by PRX, who pushed through a one-way smoke by Omen.
SUYGETSU would be the one to end the map in style, finding four kills to take Fracture 13-7. Still sitting in attacker spawn, he held his ground and took down two PRX players pushing from A Main, followed by two more from B Main.
---
---
On the fifth map, Breeze, PRX pulled out a never-before-seen composition with Jason "f0rsakeN" Susanto and Wang "Jinggg" Jing Jie on Yoru and Neon respectively.
However, while the surprise composition initially helped give them a 9-7 lead, FPX dug deep to take six straight rounds and the map 13-9. FPX played an incredibly patient game, waiting for PRX to make a move before showing their hand.
On the final round, PRX looked like they might have found themselves a lifeline, with the man advantage in a 3v2 situation. But SUYGETSU once again showed why he has been a key difference maker for FPX — he found the heads of four PRX players, single-handedly pushing his team over the finish line.
---
---
Their championship finish marks a triumphant debut for a team that was considered a favorite to win Masters Reykjavik, but ultimately could not attend due to travel restrictions at the time.
On PRX's end, they can walk away with their heads held high. Jinggg, in particular, has been a star for his team, topping the server in the grand final with a 95/84/20 KDA and 283 ACS. He also sits atop the leaderboard in Copenhagen in terms of ACS, testament to his consistent showing so far.
Aaron "mindfreak" Leonhart has also impressed with his clutch performances. For all the talk of Andrey "Shao" Kiprsky's ice-cold clutches, mindfreak is the player with the highest clutch success rate in Masters Copenhagen at 35 percent.
Moving forward, both teams will be looking ahead to Valorant Champions in September, where 16 of the world's best teams will meet for the biggest Valorant LAN event of the year.
READ MORE: Sentinels add new analyst, ShahZaM calls him their 'secret weapon'