100 Thieves are off to a strong start at Valorant Champions 2022 with a 2-1 victory over Fnatic, putting rest to doubts about how the relatively inexperienced roster would perform on the international stage.
The team rode their Last Chance Qualifier momentum into their Champions opener, despite four members and both coaches testing positive for COVID-19 just days before the tournament.
The team missed their stage walkout and played the match from isolation facilities, but every member of the squad appeared perfectly in their element.
Even with less than a week of practice on Pearl, 100T still looked strong on Fnatic's map pick, taking the map 13-10. While Fnatic soon hit back on Bind, they could not overcome a 100T team that were firing on all cylinders as a single, cohesive unit on the third and final map, Haven.
---
---
100 Thieves triumph in Valorant Champions 2022 opener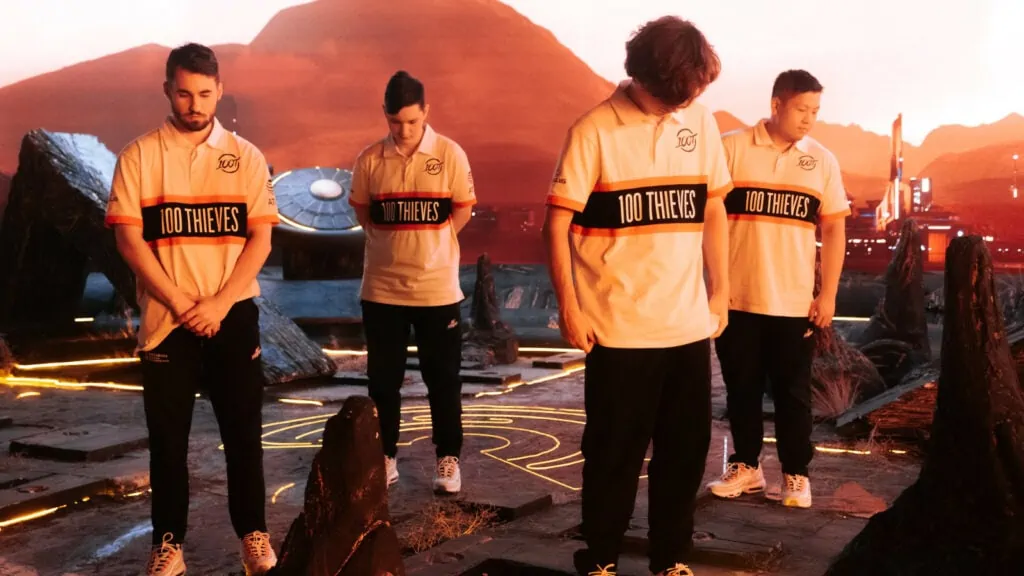 William "Will" Cheng was a key difference-maker in the series, topping the server with a 66/45/16 KDA and 300 Average Combat Score (ACS) on Chamber and Raze.
"Playing good for me is just playing confident," he said in a post-match interview. "When I play very confident, I kind of take over in the game with my comms and everything. I can take over games just like that."
100T were also prepared for Pearl, because they had an inkling that Fnatic might choose to play it. "We know that Fnatic usually like playing the newer maps as soon as they come out," he said. "But we didn't expect them to have it as the first pick, but we thought that maybe they would float it for third."
Even then, Pearl was a neck-and-neck affair. The first half was tied at 6-6, and both teams continued to trade rounds until 100T found the two rounds needed to take the map. Will proved integral in picking apart Fnatic's setups, finding six first kills to Emir Ali "Alfajer" Beder's three on Neon.
For an organization that went through a tumultuous start to the year with ignominious defeats and abrupt roster changes, their debut on the international stage as a brand new roster could not have enjoyed a better start.
Fnatic are a giant in competitive Valorant, and the famed duo of Nikita "Derke" Sirmitev and Alfajer have proven smothering to many squads in the EMEA region.
---
---
Sean "sgares" Gares and Daniel "ddk" Kapadia have clearly molded 100T into a well-oiled machine, fielding young, untested players with plenty to prove.
On Haven, 100T opened the map in style with a pistol round ace by Derrek "Derrek" Ha. While the first half was closely contested with a 6-6 scoreline, they soon stormed to a decisive attacking half, going 7-1 to eventually take the map 13-7.
The team appeared perfectly in sync with each other, pivoting from fast executes to slow pushes. Kills were quickly traded, with all players chiming in on the scoreboard.
100T will play DRX for a playoffs spot on September 4 at 2:00 a.m. GMT+8 | September 3, 11:00 a.m. PT | September 3, 6:00 p.m. GMT. The match will be broadcast live on the official Valorant Twitch and YouTube channels.
READ MORE: Leviatán kiNgg explains how they countered Paper Rex's aggression so well