Valorant Champions 2022 saw the crowning of a new champion from a new region. Brazilian representatives LOUD bested Masters Reykjavík champions OpTic Gaming 3-1 in the final to win the VCT world championship.
Besides playing host to epic matches, the tournament had its own sideshow with music and pro player walkouts that Valorant esports fans can't seem to get enough of.
In the opening match between Edward Gaming and Paper Rex, Benedict "Benkai" Tan dressed as a Turkish ice cream man, complete with a cute red and gold hat. Holding a cone with vanilla ice cream on top, he offered it to his opponent on stage, who politely declined. In Paper Rex's next match against Leviatán, he came out dressed as a construction worker with a hammer and drill in each hand.
In previous tournaments, Singapore's number one esports comedian has walked out on stage in a Viking costume, penguin outfit, T-Rex suit, and more.
Valorant clearly hits different, bringing a unique flavor to the esports scene. Compared to Riot Games' first esports title, League of Legends, flashy walkouts weren't a thing until VCT started, which follows an overarching theme every year.
Last year's theme was "The Art of Greatness". This year's theme was "Fearless Individuality," which featured subthemes in each Masters and Champions event that play into the overall idea.
At Valorant Champions 2022 in Istanbul, Turkey, ONE Esports spoke to Riot Games Executive Producer of Valorant Esports Events, Jean-Baptiste Blot, to find out how the tournament organizers worked with Valorant pros to bring out their distinct styles in the VCT.
---
---
A behind-the-scenes peek into Valorant pro player walkouts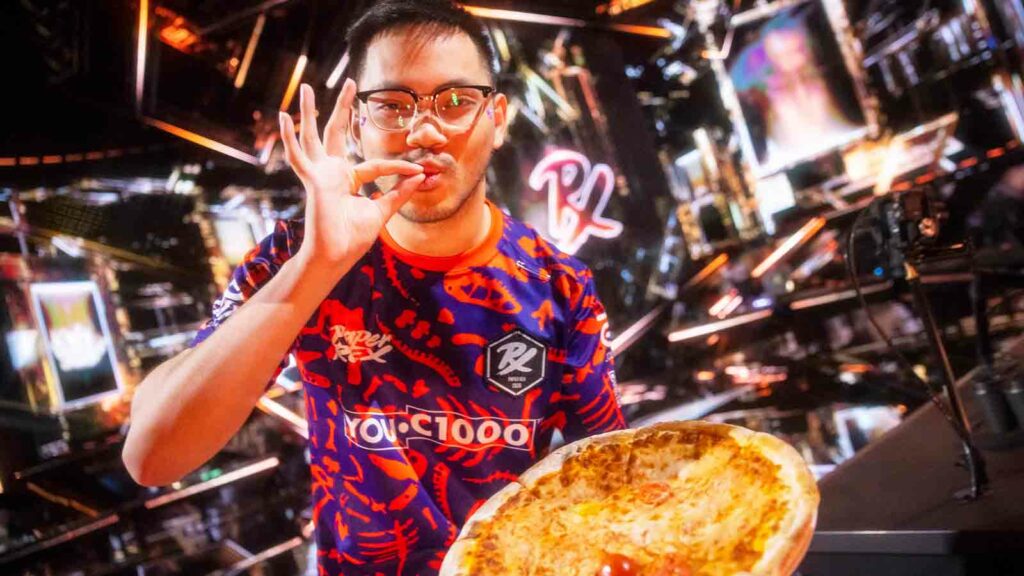 Valorant pros usually fly in early ahead of tournaments to acclimatize, practice, and film features and teasers with Riot Games.
Their Marketing and Features team then explains the year's chosen theme to the players and "builds these worlds around them." For instance, Masters Reykjavík 2022 was about facing your worst nightmares.
Copenhagen represented the next step in that idea. "Masters Copenhagen was really about overcoming that with false gods, true idols. You've made this person out to be a god, but maybe they're not truly a god — I can take them out," JB explained to ONE Esports. To end off the year, Champions' theme was "Fear None."
"You can see during the matches, we created those player cards, we had them change walkouts," said JB. "We really made stars out of Jaccob 'yay' Whiteaker, out of Pujan 'FNS' Mehta, out of Kim 'stax' Gu-taek, Kim 'MaKo' Myeong-kwan, out of Ardis 'ardiis' Svarenieks, and we created little mini songs which Jake 'Boaster' Howlett would rap. We really lean into the theme and reflect that back in our way."
---
---
During rehearsal, the crew would literally walk the players through the walkouts, talk to them about it, and show them how it's done. They then get to practice it once.
"But if they're lucky and they win, they continue to practice right?" JB laughed.
To Riot, Valorant is all about individuality and diversity. Next year's theme will still celebrate these values, with a focus on "discovering our new teams, and discovering the unapologetically global aspect of our sport," JB hinted.
VCT 2023 will kick off in February with a LAN tournament in Brazil showcasing all 30 franchised teams from the three major international leagues.
Teams that did not get selected for franchising can compete in the Challengers leagues next year, with a chance to move up to the international leagues through Ascension promotion tournaments.
READ MORE: Brazil is the only country to win a world championship in Valorant, CS:GO, and R6