Fnatic emerged triumphant in their first lower bracket match, eliminating regional rivals Team Liquid 2-0 convincingly at Valorant Champions 2022.
Fnatic and their Turkish player, Emir Ali "Alfajer" Beder, were cheered on by the live crowd in Istanbul. They took a dominant 13-6 win on their map pick Bind, followed by a commanding 13-7 victory on Team Liquid's map choice, Haven.
After the match in the post-game press conference, Jake "Boaster" Howlett explained how the crowd's reaction in the arena helped them maintain their momentum and secure a post-plant hold on Round 4.
---
---
The pro-Fnatic crowd in the arena assisted Boaster at Valorant Champions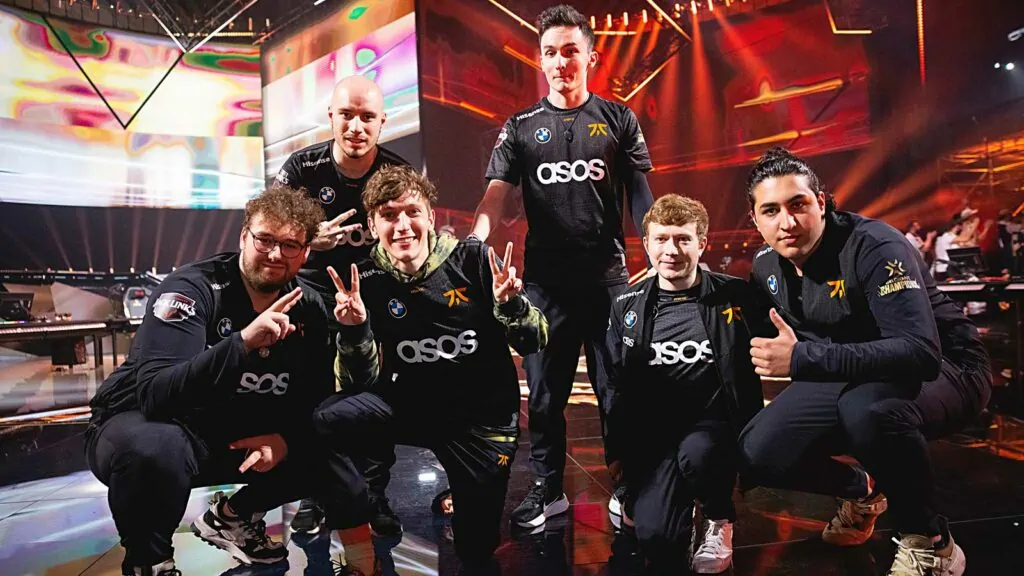 As one of the best teams on Bind with their double controller agent picks Viper and Brimstone, Fnatic took a quick 3-0 lead over Team Liquid.
Going into Round 4, Liquid were forced into a half-buy and started the round armed with a Vandal, two Sheriffs, a Ghost, and a Frenzy. Meanwhile, Fnatic opted to play default and waited for their opponents to make the first move.
Boaster secured the first kill on Nabil "Nivera" Benrlitom's Viper who pushed from A Showers. Liquid retaliated with an aggressive B Short push that removed Alfajer.
---
---
Fnatic then successfully planted the spike on A site at the cost of Nikita "Derke" Sirmitev and James "Mistic" Orfila. Boaster and Enzo "Enzo" Mestari answered back, killing another two Liquid players who were making their way towards the spike. This left Elias "Jamppi" Olkkonen as the last man standing for Team Liquid.
In an attempt to keep Jamppi away from the spike, Boaster threw a Brimstone Incendiary molly lineup from A Lamps, but it failed cover the entire default area where the spike was planted. Since the molly missed, Jamppi decided to stick the defuse.
A few seconds after, Boaster decided to swing out from A Lamps to check on the site, killing Jamppi who got the defuse more than halfway.
---
---
After the match, Boaster broke down the round and explained how the crowd made him realize he missed his Brimstone molly.
"I just remember in that situation saying, 'I have a molly Enzo, you can wait.' So I shot it, and it bounced off the roof but I wasn't sure if it was on the spike," he said. "So I was counting my Mississippis. It got confirmed by the noise from the crowd and I had to swing."
Boaster explained further and said that he was going to swing anyway because of his intuition that Team Liquid could be sticking the defuse.
The Round 4 win gave Fnatic a significant economical advantage, along with more momentum which they used to string together an 8-0 round win streak on Bind.
Fnatic will continue their lower bracket run when they face the loser of DRX and LOUD's upper bracket semifinal match on September 12 at 10:00 p.m. GMT+8 | 7:00 a.m. PT | 2:00 p.m. GMT. The match will be broadcast live on the official Valorant Twitch and YouTube channels.
READ MORE: FPX ANGE1: 'We change comps to make opponents waste their preparation'