The battle between OpTic Gaming and XSET at Valorant Champions 2022 ended with a heated exchange between the two North American teams.
After OpTic's hard-fought 2-1 victory in the upper bracket semifinal of the playoffs, XSET accused them of using tech pauses to disrupt the flow of the game in the post-match press conference. The final map, Pearl, was put on hold for 20 minutes because of a tech pause from OpTic Gaming.
Tech pauses in pro-Valorant matches occur when a player has a technical issue with their PC or equipment that hinders their ability to play at their best. XSET claimed that OpTic's tech pauses were intentionally made to stop their momentum in key moments of the match.
---
---
How did OpTic Gaming abuse their tech pauses, according to XSET?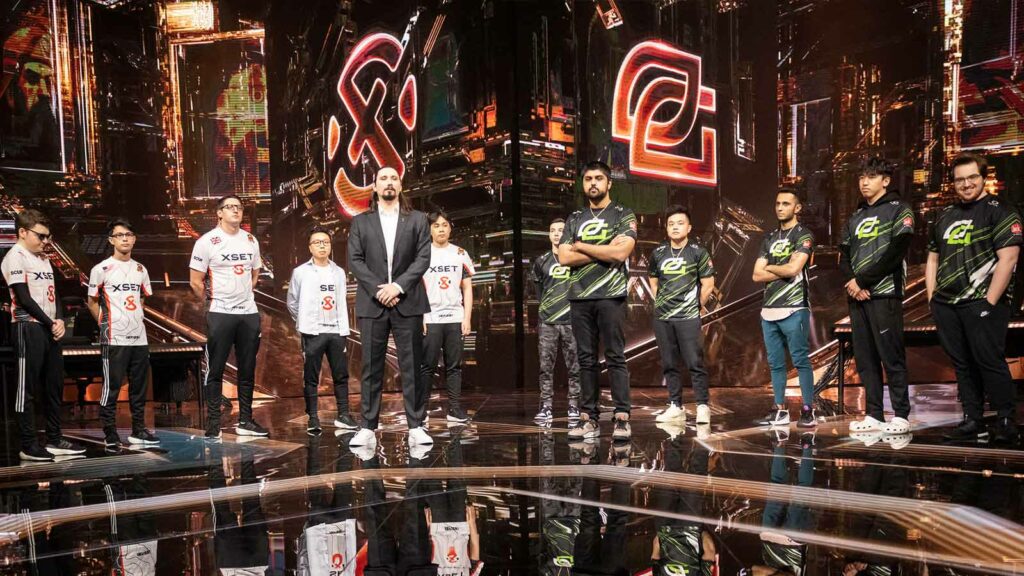 XSET's in-game leader Rory "dephh" Jackson believes that OpTic gained an advantage because of opportune tech pauses.
"The only mind game that OpTic used were finding ways to tech pause before big rounds," he said. "Seems like every time we play them, there is a tech pause. Obviously, a lot of these things are out of their hands. "
According to dephh, the tech pauses called by OpTic on Ascent in Round 24, and on Pearl in Round 11 robbed his team of their momentum, which ultimately affected the match's outcome.
---
---
"The tech pauses today just crushed our momentum and came at really bad times – after our timeouts and big round wins," he said. "It is very unfortunate, but also pretty sucky for a team that's pretty momentum based and we want to get rolling, and every other round we have to wait for 30 minutes."
XSET's coach Don "SyykoNT" Muir chimed in and said that OpTic's tech pauses were intentional and that he wants Riot Games to review the matter.
"That, in particular, is pretty frustrating. There is a gap in the ruleset that should be addressed by Riot Games specifically," he said. "We are going to have conversations after the fact, but it's no different when we play them online to where we play them here on stage."
"Tech pause when it's 12-11, tech pause after we get a win, tech pause after I call a timeout and I go on a 60-second spiel on what we're about to do. It is intentional and in my eyes, it is an abuse in the ruleset, and it needs to be fixed."
---
OpTic Gaming responds to XSET's accusations
In the following press conference, OpTic's in-game leader, Pujan "FNS" Mehta, and coach, Chet "Chet" Singh, addressed the claims made by XSET.
"Victor's PC was glitching," said FNS. "There were micro stutters on his PC monitor. Admins were trying to fix it, and then we had to go to the bathroom."
Chet rejects their North American rival's accusations and said, "There was no intention to screw them over or anything. The PC was actually not working well. Riot wouldn't allow that to happen."
Victor "Victor" Wong explained that was playing through the issue, and his teammate Jaccob "yay" Whiteaker shared that a tournament admin knew his PC wasn't working properly.
"We had an admin looking at Victor's monitor and even they said it was pretty bad," said yay. "I think in one of the last tech pauses on the round that we won, he somehow got an insane 3K."
---
---
In closing, FNS said, "We don't need to cheat to beat them, I assure you."
After the press conferences, OpTic continued to challenge XSET's claims on Twitter where Chet said they showed poor sportsmanship. Yay expressed his disappointment, tweeting, "I'm a little sad we're being accused of using technical pauses for advantage. We had an admin confirm the issue, and witness it."
Hours after both press conferences, XSET's dephh and SyykoNT issued their apologies on Twitter for their heated reactions after their loss to OpTic.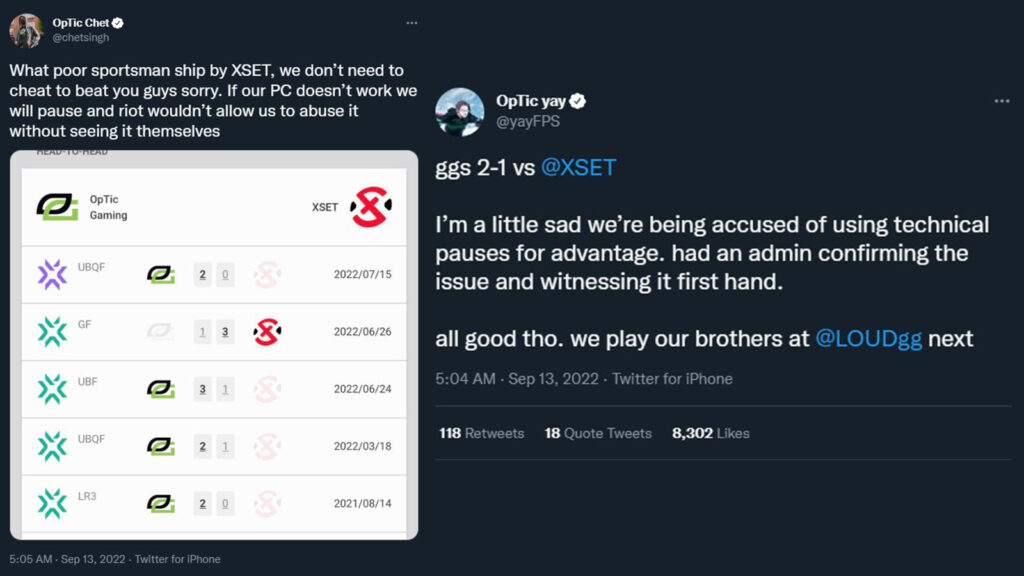 "To react like that in a press conference after our loss to OpTic wasn't acceptable and I take full responsibility for my actions," tweeted dephh. "Definitely a heat of the moment thing and something I regret. OpTic played great and deserved to win and I want to make sure those involved don't feel slighted. We cannot do anything else but apologize for reacting in that way."
"I also apologize for comments made in heat of the moment in the post-match conference," said SyykoNT on Twitter. "The timing of the tech pauses was frustrating but I don't want to minimize OpTic's win, they played well and gave us a tough loss."
Both teams are still in the running for the Valorant Champions trophy, with OpTic Gaming now set to face LOUD in the upper bracket final on September 16, at 10:00 p.m. GMT+8 | 7:00 a.m. PT | 2:00 p.m. GMT.
Meanwhile, XSET will continue their tournament run against FunPlus Phoenix in the lower bracket quarterfinal on September 14, at 1:00 a.m. GMT+8 | September 13, 10:00 a.m. PT | September 13, 5:00 p.m. GMT.
The match will be broadcast live on the official Valorant Twitch and YouTube channels.
READ MORE: DRX MaKo on facing Fnatic: 'They are weaker than they were last year'