Top squads of their region, LOUD and OpTic Gaming formed a rivalry that grew more heated throughout the year. They have already faced one another five times in 2022.
During the group stage, OpTic struck first with a 2-1 victory in Group B's winners' match. LOUD evened it up with a convincing 2-0 win in the upper bracket final. Both teams then settled their score in the final VCT match of the year.
LOUD emerged victorious and were crowned the Valorant world champions after they defeated OpTic Gaming 3-1. The Brazilian squad played great under pressure, winning two maps that went into overtime.
With their first-place finish at Valorant Champions 2022, LOUD took home US$300,000. They also took home the coveted Champions trophy, which they will be defending on their home turf when the VCT 2023 season kicks off at next year's first international event in São Paulo, Brazil.
---
---
Brazilian Valorant reigns supreme in Istanbul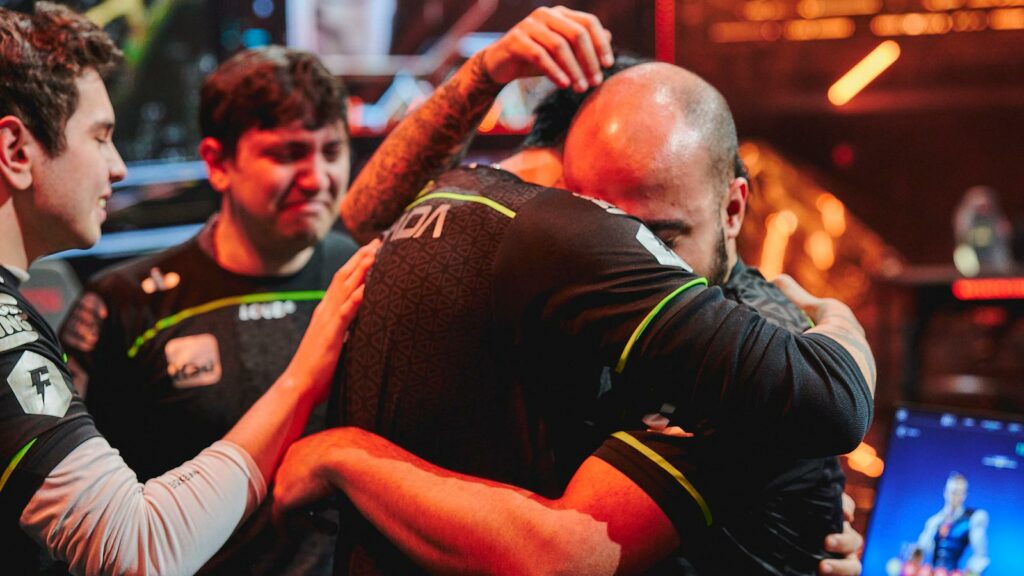 LOUD's comeback win on Ascent
After losing the first two rounds, OpTic answered back and won six straight rounds in a row. Jimmy "Marved" Nguyen came up big, securing impactful kills with lurk plays that caught opponents by surprise.
Despite Ascent being LOUD's map pick, OpTic took a slim 9-5 led with impressive pistol and buy-round wins after halftime.
With Pujan "FNS" Mehta and Marved clutching crucial rounds, it seemed like OpTic was bound to take Ascent after securing a 12-8 lead. However, LOUD rallied back with aggressive pushes on defense that earned them early-round kills. 
LOUD kicked their defensive play into high gear, denying their North American opponents access to both sites. The Brazilian squad went on a four-round win streak to force overtime.
Gustavo "Sacy" Rossi led his squad to victory, earning himself map MVP with a KDA of 32/14/16 and ACS of 313.
---
---
The Green Wall was impenetrable on Bind
On LOUD's map pick, Bind, OpTic dominated the first half which resulted in a commanding 10-2 lead. The key to OpTic's success stemmed from their A Short pushes. 
On Round 11 in particular, OpTic used Viper's Toxic Screen to take control of A Lamps, then faked Skye's Guiding Light flash into U-Hall that set up FNS for two kills.
---
---
LOUD attempted another comeback, stringing together four consecutive round wins after the half. However, it was lights out for the Brazilian squad with OpTic solving their defensive setbacks and winning the last three rounds to even the series 1-1.
---
LOUD wins a slugfest on Breeze
OpTic was off to a flying start on LOUD's second map pick, Breeze. OpTic used their double Operator strategy to bolster their defense to extend their lead to 6-1.
With OpTic on the verge of taking another overwhelming lead, LOUD showed resilience and won the last five rounds before the half to even score 6-6.
In the succeeding rounds, both teams looked evenly matched. They continued to trade rounds until OpTic became the first team to reach map point — until aspas' incredible Jett play carried his team into overtime.
---
---
LOUD eventually won the battle of attrition, taking a 2-1 lead after winning Breeze, 15-13. Aspas continued to make impact plays, catching OpTic off guard with his Operator purchase on the attack side in the second overtime.
---
A Brazilian team is crowned champions on Haven
On OpTic's second map pick Haven, it was LOUD who came out swinging and won the first three rounds. OpTic were able to regroup and keep the map close at halftime with a 7-5 score.
Then, LOUD's 17-year-old star Felipe "Less" Basso started fragging out on Chamber. In Round 14, Less faced a 1v2 situation with his team losing early game fights in different parts of the map.
---
---
Less kept their momentum going, hitting insane 180-degree shots that got him an ace on Round 16 after stopping OpTic's C Link and Garage push towards the A site.
---
---
LOUD then never looked back, winning six straight rounds en route to their first global Valorant tournament ever.
With the conclusion of the VCT 2022 season, all organizations, teams, and players will now transition into the new partnership program starting next year where franchise-approved teams will compete in three international leagues.
READ MORE: DRX eliminate Masters Copenhagen champs, clinch top 3 finish at Champions