Paper Rex have conquered their fear of Chinese squad Edward Gaming, clawing their way to a hard-fought 2-1 victory in their Valorant Champions 2022 opener.
While the APAC powerhouse has traditionally been regarded as the most aggressive Valorant team in the world, they appeared to have met their match in EDG.
The Chinese team did not back down in the face of their relentless aggression, instead matching them blow for blow in a rollercoaster ride where the first kill usually came mere seconds into the round. This was despite EDG playing with a last-minute substitute in Zhao "Smoggy" Zhang, after Qu "Life" Donghao was taken ill.
While PRX were the ones to eventually come out on top, EDG acquitted themselves supremely well in their international debut, showing virtually no hint of the LAN jitters they had been worried about.
---
---
There was never a dull moment in Paper Rex vs Edward Gaming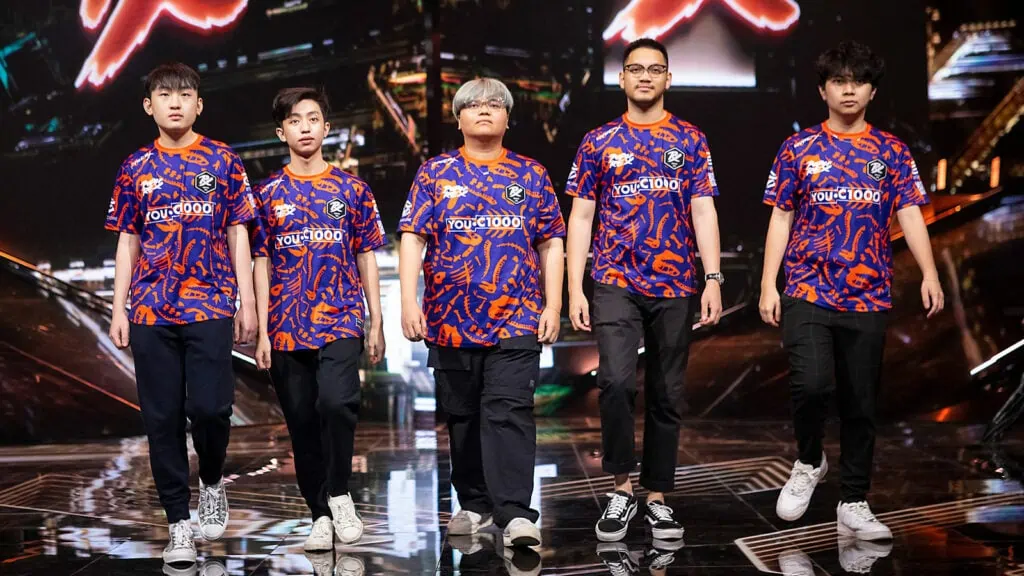 The series opened with a thriller on EDG's map pick of Pearl, the first time the map has been seen in competitive play. Both teams constantly battled for control of A Main and Mid, with kills and trades coming fast and furious.
However, while the Chinese team initially ran ahead to a commanding 0-5 lead, PRX soon appeared to figure out how their opponents were playing. They tied the match at 5-5, and the remainder of the game turned into an all-out brawl with neither team able to secure a significant lead.
The game also saw several nerve-wracking clutches from players on both sides. Guo "Haodong" Hao Dong won a crucial 1v2 in Round 5, sticking the defuse to close it out, while Aaron "mindfreak" Leonhart hit back with a clean 1v3 of his own to tie the half.
---
---
While PRX found themselves sitting on match point at 12-11, it looked like the map would be going to overtime because of their weak buy. However, against all odds, Benedict "Benkai" Tan and his team stole the round from under EDG's nose, off the back of two Tour De Force kills from Jason "f0rsakeN" Susanto on Chamber.
Icebox was an entirely different matter altogether. EDG took the map 13-5 in dominant fashion, often overwhelming sites with coordinated play and flawless trading.
EDG ranked first in terms of finding picks that were not traded, and trading deaths on their own team, according to Sentinels analyst Matt "Weltis" Liu, and it was abundantly clear why.
The series then went to Haven, where it was Wang "Jinggg" Jing Jie's turn to shine. The 19-year-old pulled out his signature Reyna, finishing with a 25/17/5 KDA and 338 Average Combat Score (ACS).
"Reyna is an agent that is well-suited to us as a team," said Benkai in a post-match interview. "We know when to use it and how to use it. When you put Reyna on a player like Jinggg, he just goes crazy with it."
"It is easily his best agent on the map. We don't really care whether people say it is a bad pick or not. We know it is good, that's why we use it."
---
---
Benkai himself was outstanding on Cypher as well. His Trapwire and Cyber Cage setups were integral in slowing pushes or helping him gain the advantage in post-plant situations. In Round 9, EDG looked like they would take an empty A site for free on the back of Fade's Nightfall ultimate — until they ran into Benkai's Trapwires.
PRX would go on to take Haven 13-8, setting themselves up for a meeting with the winner of the match between Team Liquid and Leviatán.
Paper Rex will play their next opponent on September 2 at 1:00 a.m. GMT+8 | September 1, 10:00 a.m. PT | September 1, 5:00 p.m. GMT. The match will be broadcast live on the official Valorant Twitch and YouTube channels.
READ MORE: TenZ drops limited edition apparel line and his very own manga