Sentinels' star player Tyson "TenZ" Ngo may not be at Masters Reykjavik this year, but his shadow still looms large.
At the inaugural Valorant Masters event in Iceland last year, TenZ put on a show for the ages, powering his team to a flawless championship run in which Sentinels did not drop a single map.
The duelist extraordinaire posted an Average Combat Score (ACS) of 290 across the entire tournament and 1.02 kills per round, a performance that remains unmatched at an international Valorant LAN today.
Masters Reykjavik 2022 will see the debut of several new teams and talents that look stronger than ever. As the tournament goes into full swing, the question now is: will someone finally be able to surpass TenZ's performance?
---
---
Will anyone surpass TenZ and make Valorant history at Masters Reykjavik 2022?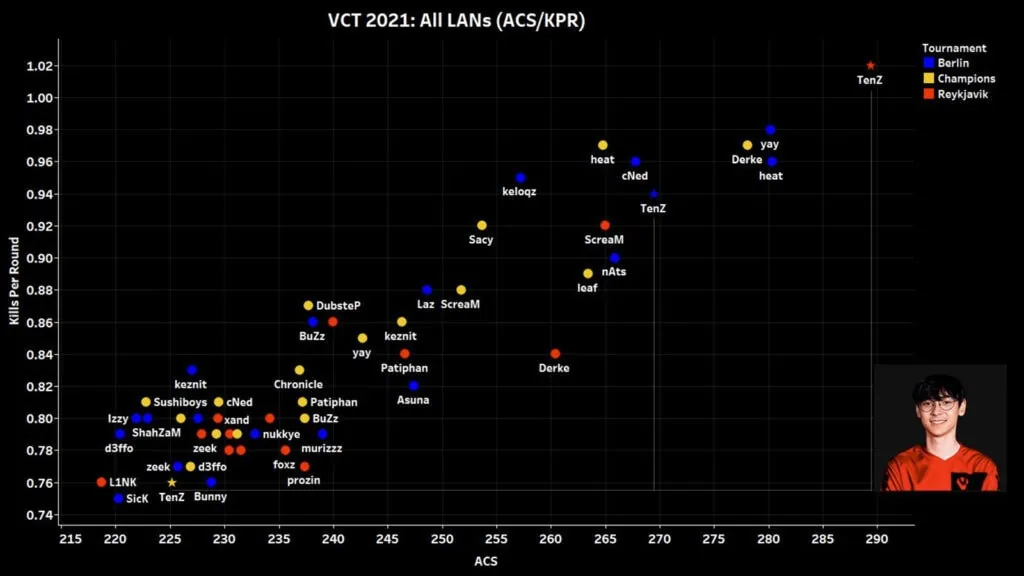 In a graph plotted by Run It Back writer Ominous, TenZ's performance at Masters Reykjavik last year looks almost like an outlier, both in terms of ACS and kills per round.
That's not to say that no one has come close to surpassing the bar set by the 20-year-old. At Masters Berlin last year, OpTic Gaming's Jaccob "yay" Whiteaker had an ACS of 280, just 10 shy of TenZ's record.
At Champions 2021, Fnatic's Nikita "Derke" Sirmitev notched a similarly memorable performance, topping the event with a 278 ACS and 0.27 first kills per round, making him the best entry fragger at the tournament.
Derke in particular is an explosive player who is looking like one of the best duelists in the EMEA region. In Fnatic's victory over M3 Champions (the former Gambit Esports) in the VCT EMEA Stage 1 Challengers playoffs, Derke dropped an incredible 46 kills in a single map on Split.
Another player to keep an eye on is Žygimantas "nukkye" Chmieliauskas, G2 Esports' Raze main. The 24-year-old Lithuanian was the top performer during VCT EMEA Stage 1, with a 258 ACS and 1.27 K/D ratio. He has consistently put up big numbers for his team, even when he flexes on Sova.
Fresh faces like LOUD's Erick "aspas" Santos and The Guard's Ha "Sayaplayer" Jung-woo will be looking to make their mark on LAN as well.
In fact, with his previous experience on LAN from his Overwatch days and the well-oiled machine of North American top seed The Guard behind him, Sayaplayer has everything he needs to outclass the competition.
He has also shown himself capable of pulling off seemingly impossible clutches when his team most needs it. In the grand final of the VCT NA Stage 1 Challengers playoffs, Sayaplayer won a 1v3 against OpTic Gaming to help The Guard clinch North America's top seed.
For the upcoming match schedule at Masters Reykjavik 2022, you can check here.
READ MORE: Who is LOUD Valorant, the Brazilian superteam poised to conquer Iceland?