Gambit Esports' Valorant team will resume their matches in the VCT EMEA Stage 1 Challengers Group Stage on March 16 under a neutral name.
The Gambit Esports Valorant roster had missed out on the previous two weeks of games, but the Russian esports organization has now decided to allow its players to continue their Valorant Champions Tour 2022 campaign as an independent team.
---
Gambit Esports will compete as 'M3 Champions' in VCT EMEA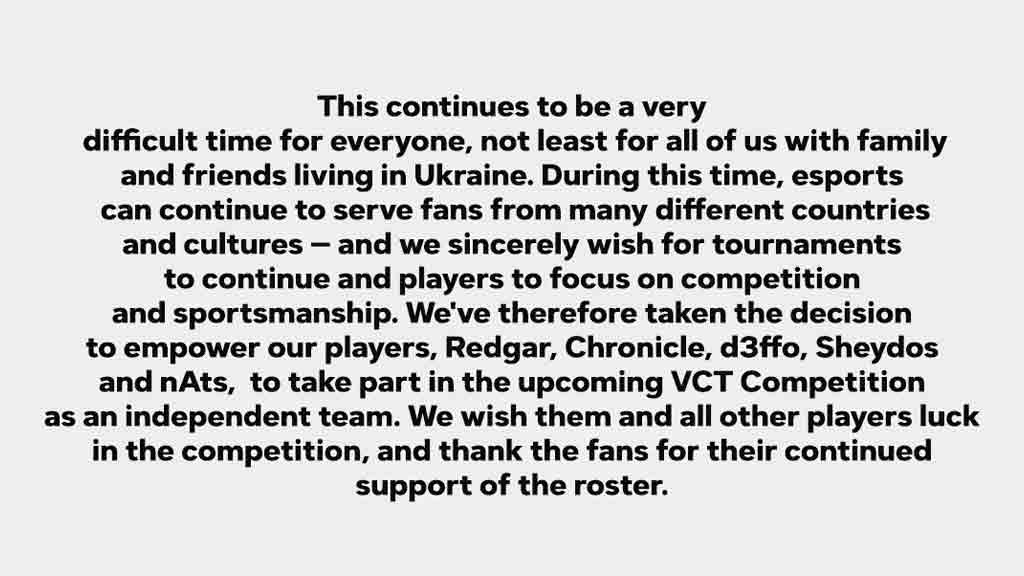 On February 25, Riot Games postponed all 2022 VCT EMEA Stage 1 Challengers Week 3 matches due to the ongoing Ukraine conflict with Russia. When the matches resumed on March 11, Gambit Esports was notably missing from the schedule.
Gambit Esports is allowing its players to compete as M3 Champions (M3C), a reference to their win at VCT Stage 3 Masters Berlin last year. M3C will function as an independent team with no ties to any Russian esports organization.
This echoes a similar move made by the organization in CS:GO. On March 11, Gambit said that its players would be able to compete in the ESL Pro League Season 15 under a neutral banner, after ESL banned it from taking part in Pro League because of apparent ties to the Russian government.
However, Riot has not made any official statement regarding its decision to leave Gambit out of the VCT EMEA schedule so far.
Riot acknowledged Gambit's decision on Twitter, saying that all the postponed matches would be scheduled for the upcoming days.
---
---
M3C Valorant roster
Timofey "Chronicle" Khromov
Nikita "d33fo" Sudakov
Bogdan "Sheydos" Naumov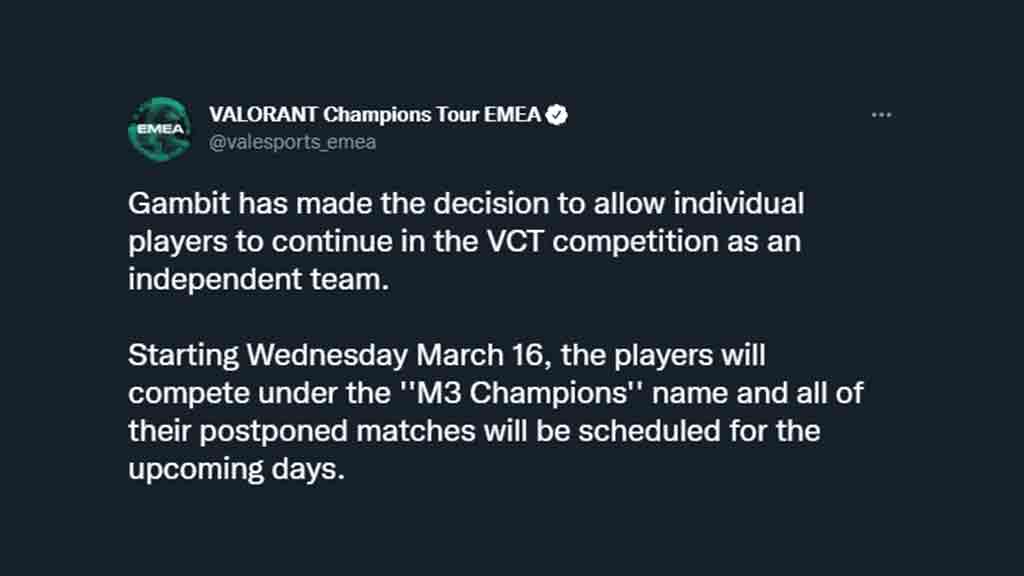 There are still five matches to be played in the VCT EMEA Stage 1 Challengers Group Stage to decide who moves on to the playoffs. Group A's tournament playoff spots are still up for grabs with all teams having similar match records. The lone exception is BIG, who have yet to score a win.
M3C has the fewest number of games played due to them missing out on the Week 4 and Week 5 games. They are set to face Natus Vincere, BIG, and LDN UTD in the coming days.
READ MORE: FaZe Clan is reportedly about to bench LarryBanks