Riot Games' first Valorant Champions event promised non-stop action that puts everyone on the edge of their seats, and it certainly delivered. 
The competition featured the best Valorant players in the world, with some exceptional and unbelievable plays you have to see for yourself to believe. From heart-stopping clutches to expert maneuvers, we saw these Valorant pros defy the odds.
Here are the top 10 best plays from Valorant Champions 2021's group stage and playoffs.
---
Top 10 best plays from Valorant Champions 2021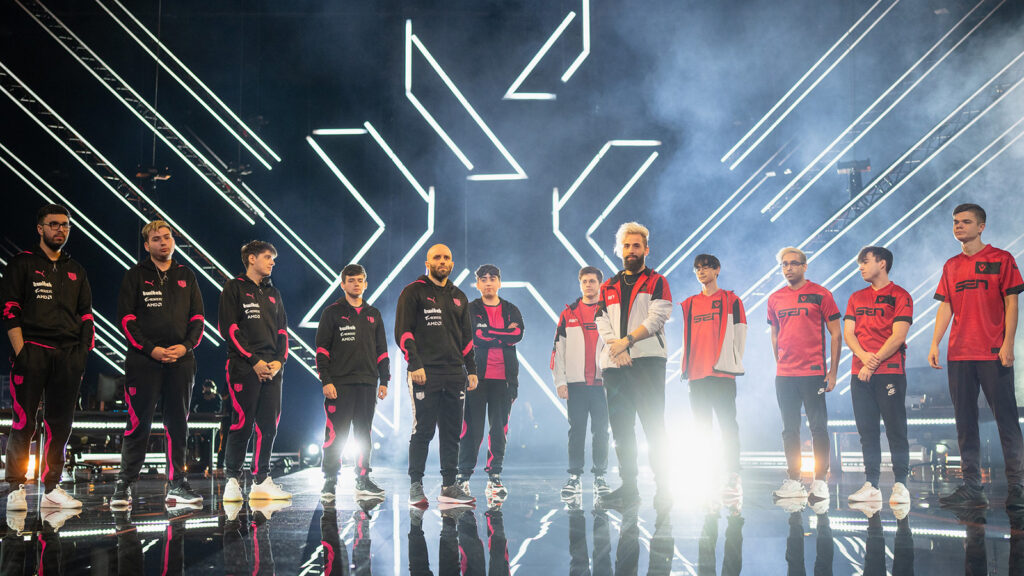 10. Gambit Esports' Redgar's ridiculous spray transfer
Gambit Esports' in-game leader Igor "Redgar" Vlasov showed he's more than just his team's shot caller. In a thrilling opening group stage match against Team Secret on Day 2 of Valorant Champions 2021, Redgar gave his team a much-needed round win on Bind.
With the match score tied, Redgar hit a ridiculous spray transfer, using a Vandal that dropped the last two Team Secret players and gave Gambit Esports the 7-5 halftime lead. The VCT Stage 3 Masters Berlin winners won the match 2-1, emerging victorious on Bind 13-6.
---
9. Team Viking's Sacy is a Sova god
Team Vikings proved they were one of the top teams in Valorant Champions after pushing Gambit Esports to the limit when they met in the winners' match on Day 4 of the tournament.
Gustavo "Sacy" Rossi put on an incredible performance against the Russian powerhouse squad. As Team Vikings' Sova main, he gathered so much information on Gambit Esports, and was also top frag for his team.
Sacy had one of the best Sova Hunter's Fury ultimates in the entire tournament, killing three opponents with it, eventually scoring an ace against Gambit Esports.  
The Vikings eventually lost the match, 1-2, after Gambit Esports' incredible comeback win.
---
8. Team Liquid's Jamppi is a jack of all trades
Team Liquid's Elias "Jamppi" Olkkonen had his own incredible Sova highlight against North American giants, Sentinels, during Day 4 of the group stage.
Jamppi showcased a little bit of everything against Sentinels on round nine on Breeze. As Team Liquid attacked the A-site, Jamppi killed two Sentinel players with his Hunter's Fury. He then secured his third kill with a precise Shock Dart that made the round a 2v2.
After planting the Spike, Jamppi secured his fourth kill using the Operator and closed out the round by out-aiming his last opponent with a Phantom. Team Liquid would eventually win the match, 2-1, against Sentinels.
---
7. Sentinels' TenZ is a headhunter with the Marshal
Sentinels' Tyson "TenZ" Ngo is deadly with almost anything in Valorant. There is one weapon he is particularly proficient at, and that's the Marshall. We saw this during Sentinels' elimination match against KRU Esports on Day 6 of the group stage
As his team got ready to push into C-site on Haven, Tenz entered for his team using a Marshal. He hit three unbelievable headshots that cleared the site for Sentinels.
Sentinels would eventually lose on Haven, and then on Split, which earned KRU Esports the biggest upset in Valorant esports history.
---
6. Sentinels' Zombsnation strikes again
Sentinels' clout king, Jared "zombs" Gitlin, had one of the best clutches at Valorant Champions against Team Liquid.
On Day 4 of the group stage, zombs found a way to overcome an unwinnable situation for Sentinels by surviving an impossible 1v3 on Sentinels' eco round.
With the Spike planted for cave on Breeze, zombs hit a precise Marshall shot against Team Liquid, turning the round into a 1v2. Zombs then finished it off by killing two Team Liquid players with just a Classic.
---
---
5. X10 Crit's Crws huge impact round
X10 Crit is another team that prevailed against the odds at Valorant Champions 2021.
All the players on the team stepped up, including Thanamethk "Crws" Mahatthananuyut who turned the tide for X10 Crit in their match against North American favorites Team Envy on Day 8 of the group stage.
With the match score tied 1-1, Crws won the 12th round for his team by killing three Team Envy players rotating to the A-site. He also used Breach's Rolling Thunder ultimate, which prevented Austin "crashies" Roberts from getting to the Spike.
X10 Crit pulled off an incredible 2-1 upset win and eliminated the VCT Stage 3 Masters Berlin finalist from Valorant Champions 2021.
---
4. Acend' Zeek is the new clutch king
Acend's Aleksander "Zeek" Zygmunt had the best clutch round win at Valorant Champions 2021. In the first game of the finals on Breeze, Zeek won an impossible round against Gambit Esports.
After the Spike was planted on the A-site, Gambit Esports looked unstoppable with the 4v2 numbers advantage. Zeek then hit a double headshot spray transfer, followed by another quick kill that gave Acend the advantage. 
Instead of sticking the Spike defuse, Zeek made the right call to let go of the defuse and hit another pixel-perfect headshot that gave Acend the 3-1 round advantage. Acend went on to win the series 3-2, and was crowned the first Valorant world champions.
---
3. Gambit Esports' nAts is a Viper god
Gambit Esports star player Ayaz "nAts" Akhmetshin continues to show why Viper is a top agent in Valorant. He proved this in their opening match against Team Secret on Day 2 of the group stage.
With the match score tied 1-1, nAts won a pivotal round on Bind by using Viper's Pit ultimate on A-site's U-hall.
Team Secret had the 5v3 numbers advantage during the post-plant, and decided to use KillJoy's Lockdown ultimate. The moment it went down, nAts decided to push the back of A-site, killing three enemies in a flash.
Wrapping around Team Secret's agents, nAts was able to kill the last two defenders to secure the ace. Gambit Esports eventually won the final map on Bind 13-6, which gave them the 2-1 series victory.
---
2. Team Liquid's ScreaM is the ultimate hard carry
Team Liquid's Adil "ScreaM" Benrlitom had one of the best rounds of Valorant Champions after he singlehandedly won it for his team against Acend on Day 10 of the tournament.
Acend was dominating Team Liquid in their semifinals playoffs match, winning the first map on Bind, 13-6. On the brink of elimination, ScreaM earned his team their first round win on Split by being the ultimate headshot machine.
Faced with a 1v3 situation, ScreaM cleared the B-site. What was even more impressive was that all of his kills were headshots. Despite ScreaM's heroics, Acend still dominated the series 2-0 against Team Liquid, winning on Split 13-6.
---
1. Gambit Esports' Chronicle transcends into an aim god
Gambit Esports and KRU Esports' semifinals match in the playoffs was the best series in Valorant Champions 2021. With both teams refusing to lose, Gambit Esports' Timofey "Chronicle" Khromov had to dig down deep to help his pull off another incredible comeback win against the surging Latin American squad.
As KRU Esports was only two rounds away from winning the series, Chronicle knew he had to stop his opponents at all costs. KRU Esports executed a fast B-site push with four players pushing from B-garden.
Instead of falling back and using Sova's agent abilities, Chronicle stood his ground and fought each KRU Esports agent entering the site. He won every single aim duel, including hitting a nasty 180 shot on the enemy Raze who used her Blast Pack to enter the site.
Gambit Esports went on to win their quintuple overtime match against KRU Esports, 18-16, which advanced them to the finals of Valorant Champions 2021.
READ MORE: Team Secret's Filipino dance entrances at Valorant Champions explained