T1 Faker is making history once more in the League of Legends Champions Korea (LCK) Summer Split.
In Week 4, three-time World Champion Lee "Faker" Sang-hyeok bagged his 500th LCK win after a nail-biting series against Gen.G, who led the league with a 6-0 record. Despite losing game one, T1 won the match with a reverse sweep.
The Summer season has been an eventful one for the boys in red. Just two weeks ago, the T1 squad set the record for the longest winning streak in the LCK at 24 matches. The previous record of 23 matches was also set by Faker with SK Telecom T1 in 2015.
T1 Faker secures his 500th win against Gen.G
T1 Faker had an incredible late game Baron steal as Lissandra in game one.
Choi "Zeus" Woo-je's Gnar and Mun "Oner" Hyeon-joon's Viego positioned themselves in the river near Baron, giving vision to their team. Once Whirling Death from Lee "Gumayusi" Min-hyeong's Draven managed to slice a few enemy champs, the duo engaged.
T1 Faker teleported to a topside ward and entered the pit with Glacial Path. The Lissandra player cast Ice Shard on Baron and managed to eliminate Han "Peanut" Wang-ho's Wukong in the process.
Equipped with Summoner's Spellbook, Faker swapped out Teleport for Smite and claimed the Baron at 487 health. After the miracle steal, the T1 mid laner utilized Frozen Tomb and Stopwatch's stasis in succession to buy enough time for his teammates to arrive.
---
---
In game two, Faker's Lissandra initiated a river skirmish that secured two kills.
As Gen.G tried to punish Oner's Lee Sin for taking the Scuttle Crab, T1 Faker got up close with Glacial Path, rooting them with Ring of Frost, then used Frozen Tomb on Son "Lehends" Si-woo's Tahm Kench.
The Tahm Kench player attempted to escape by devouring Peanut's Viego and casting Abyssal Voyage, but was interrupted by Dragon's Rage from Oner's Lee Sin. Gumayusi's Ezreal eliminated Lehends with a few auto-attacks and an Arcane Shift.
Peanut was looking to get away with a Heartbreaker and a Flash, but Oner was right on his tail. The Lee Sin player hopped to a nearby control ward and landed Tempest to secure the second kill.
---
---
---
Faker believes that there's still room for improvement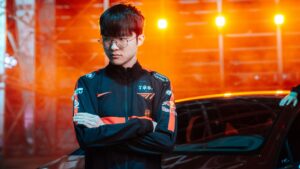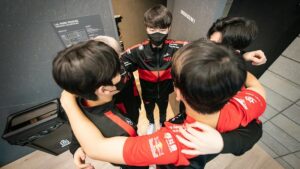 Although Faker didn't receive a Player of the Game award in the series, he still thinks it's a "win-win" situation. During the post-game press conference, he said that POG awards build the confidence of his teammates, and it makes him realize that he needs to work harder.
"I don't think I've shown my best performance just yet, I'll make sure to raise my performance to the top level. I'll work hard and diligently," said T1 Faker, according to an Inven Global translation.
Faker is the first player to win 500 matches in the LCK and is in the lead by a sizeable margin. DRX's Kim "Deft" Hyuk-kyu trails in second place with 371 wins while Gen.G's Park "Ruler" Jae-hyuk is in third with 341 wins.
T1 now holds a 6-1 record and will face Fredit BRION on July 10 at 8 p.m. GMT+9 | 7 p.m. GMT+8 | 11 a.m. GMT | 4 a.m. PT.
Fans can watch the 2022 LCK Summer Split on the official English and Korean Twitch LCK channels. Follow ONE Esports on Facebook and Twitter for more LoL news, guides, and highlights.
READ MORE: T1 Oner: 'I want to say that I'm the best Lee Sin player'