The Sad Mummy is now glad that he's got a friend in DRX BeryL.
Week 4 of the League of Legends Champions Korea (LCK) Summer Split saw a stunning performance from DRX support player Cho "BeryL" Geon-hee.
In game one against DWG KIA, BeryL picked support Amumu, a trending meta pick. During the post-game interview, the DRX player mentioned that he saw LPL teams playing the champion and wanted to try it out himself.
DRX BeryL wraps DWG KIA up with bandages in game one
BeryL established an early lead in the bot lane against Kim "Kellin" Hyeong-gyu's Yuumi and Seo "deokdam" Dae-gil's Ezreal. Just two minutes in, the DRX support helped secure first blood for Kim "Deft" Hyuk-kyu's Kalista.
BeryL landed a pinpoint Bandage Toss on Kellin, prompting Deft to start stacking Kalista's spears on the DK player. After getting ignited and exhausted, BeryL flashed away to safety as Deft casted Rend to eliminate the Magical Cat.
---
---
BeryL had another highlight play alongside top laner Hwang "Kingen" Seong-hoon on Gnar.
At the 18-minute mark, Kingen was kiting out three DK players who dove the bot lane turret. As DRX made their way to try to defend, Heo "ShowMaker" Su's Swain teleported in and attempted to zone them out with Demonic Ascension, prolonging it with stasis from Stopwatch.
Right as ShowMaker got out of stasis, BeryL locked him down with a Bandage Tossa and stunned all four opponents with Curse of the Sad Mummy.
Kingen's Mega Gnar then slammed them into a nearby wall while Kim "Zeka" Geon-woo's Corki rained bullets and missiles to bag the triple kill.
---
---
---
The DRX support explains why he chose Amumu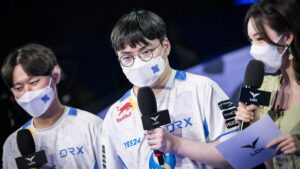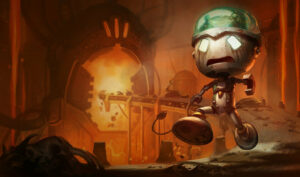 Following the game one victory, BeryL received the Player of the Game award with all 13 votes.
In the post-game interview, the DRX support elaborated on why he chose the Sad Mummy. As the team's final pick, Amumu was the best way to exploit the weaknesses of Ezreal and Yuumi. BeryL was also able to leave Deft alone in the bot lane and assist the other lanes.
"His charming point is that he's small so he's so cute," added BeryL.
DRX jungler and game two MVP Hong "Pyosik" Chang-hyeon chimed in by saying that he was "carried" since BeryL led by roaming and initiating skirmishes.
DRX now holds a 5-2 record and will face Gen.G on July 10 at 5 p.m. GMT+9 | 4 p.m. GMT+8 | 8 a.m. GMT | 1 a.m. PT.
Fans can watch the 2022 LCK Summer Split on the official English and Korean Twitch LCK channels. Follow ONE Esports on Facebook and Twitter for more LoL news, guides, and highlights.
READ MORE: The resurgence of Amumu support and when you should be picking him