With three League of Legends World Championships and ten LCK titles under his belt, T1's Lee "Faker" Sang-hyeok is undoubtedly an esports superstar. Clocking in almost a decade in the pro LoL scene, T1 Faker is a hyung (older brother) to his younger teammates.
During T1's vlog for the Mid-Season Invitational 2022 (MSI 2022), the LCK team spent a day hanging out in the city of Busan. Apart from taking pictures with their own cutouts and playing a dart game, Faker and the gang even ran into diehard T1 fans.
T1 Faker teaches Zeus how to be a superstar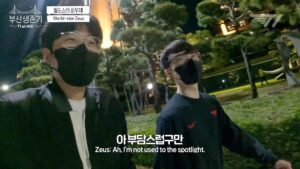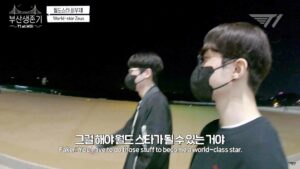 The team's youngest member, Choi "Zeus" Woo-je, was still learning the ropes on how to act as part of Korea's top LoL squad. When fans recognized them on the streets of Busan, the 18-year-old top laner quickly put his mask on, laughed it off, and picked up his pace.
T1 Faker had other things in mind for his teammate. To get Zeus to embrace the spotlight, the mid laner proposed that they play a game of rock paper scissors, with the loser having to jump from the sidewalk down to the beach.
Zeus passed on the request, and mentioned that it would just "draw attention", but according to the T1 veteran, that was the whole point.
"You have to do these things to become a world-class star," said Faker.
Faker is no stranger to attention-grabbing stunts that cemented his icon status throughout the years. At the Worlds 2015 finals between SK Telecom T1 and KOO Tigers, he did a front roll out of nowhere during the team's walkout to the main stage.
---
---
---
Keria keeps cool in front of superfans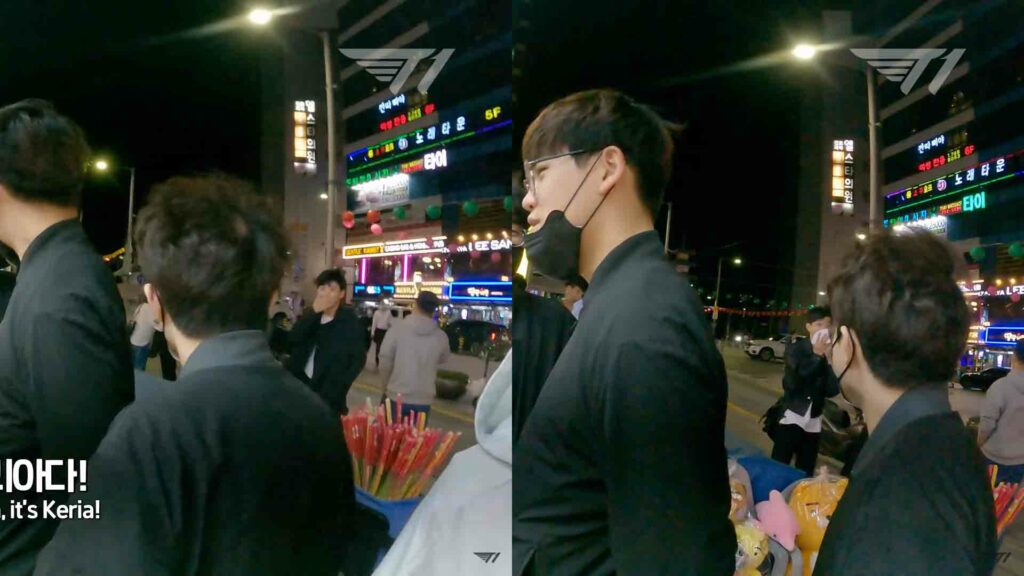 Support player Ryu "Keria" Min-seok played it cool when he was recognized during their street side dart game. As Lee "Gumayusi" Min-hyeong said the players' names and scores out loud to the game stall owner, two bystanders overheard the name "Keria" and turned.
The two were still unsure if it was actually the T1 support star until Keria turned and politely bowed to them. The two superfans reacted, putting their hands over their faces and screamed their lungs out.
T1 will face Saigon Buffalo Esports today at 8 p.m. GMT+9 | 7 p.m. GMT+8 | 11 a.m. GMT | 4 a.m. PST. Watch the MSI 2022 matches live on Riot Games' official channels on Twitch and YouTube.
You can watch the LCK team's full MSI vlog down below:
---
---
Follow ONE Esports on Facebook and Twitter for more LoL news, guides, and highlights.
READ MORE: Exclusive: T1 Faker on Heechul, books, and one character flaw he wants to improve