Week 2 of the League of Legends Champions Korea (LCK) Summer Split saw another dominating performance from reigning Spring champions T1.
The top-performing squad extended their winning streak to 24 matches by defeating DWG KIA, setting LCK's newest record for the longest win streak. The streak began back in the 2022 LCK Spring Split, where T1 had a flawless 20-0 run to win the first LCK Championship of the year.
The new LCK record is a special one for three-time World Champion Lee "Faker" Sang-hyeok, as he actually set the previous record of 23 matches with SK Telecom T1 in 2015.
Faker lands a five-man taunt with Galio against DWG KIA in LCK Summer Week 2
During game two of the record-breaking series, DWG KIA drafted a team composition that lacked a tank champion who could act as the frontline and engage in team fights. Faker capitalized on this by getting up close and using Galio's hard CC abilities like Shield of Durand and Hero's Entrance.
At the 28-minute mark, Faker spotted DWG KIA scouting out the river from fog of war. Out of sight, the mid laner flashed in and managed to taunt the entire enemy squad with Shield of Durand, prompting the rest of T1 to engage.
Ryu "Keria" Min-seok's Nautilus, Mun "Oner" Hyeon-jun's Lee Sin, and Jang "Nuguri" Ha-gwon's Gwen were hit by Tempered Fate from Kim "Kellin" Hyeong-gyu's Bard. During the ult's stasis, Faker protected the rest of his team with Hero's Entrance. As soon as Tempered Fate ended, Choi "Zeus" Woo-je's Camille eliminated Nuguri with a Tactical Sweep.
Faker and his squad hunted down the retreating opponents in the jungle, with the mid laner taking out Kellin with a Justice Punch. T1 bagged three kills from the skirmish and claimed the Cloud Soul.
---
---
Working with a Baron buff, the Cloud Soul, and a 5,000 gold lead, T1 aced DWG KIA in the final fight, and sieged the enemy base to secure the 2-0 victory and set the new LCK record.
Faker's efforts on Galio did not go unnoticed, as the mid laner went on to win the Player of the Game award with nine out of 13 votes. In the post-game interview, the T1 veteran reflected on breaking his own record from a few years back.
"It's been so long ago that I can't really remember it, but it still feels great to always make new history," said Faker.
---
---
T1 CEO Joe Marsh celebrates achievement on Twitter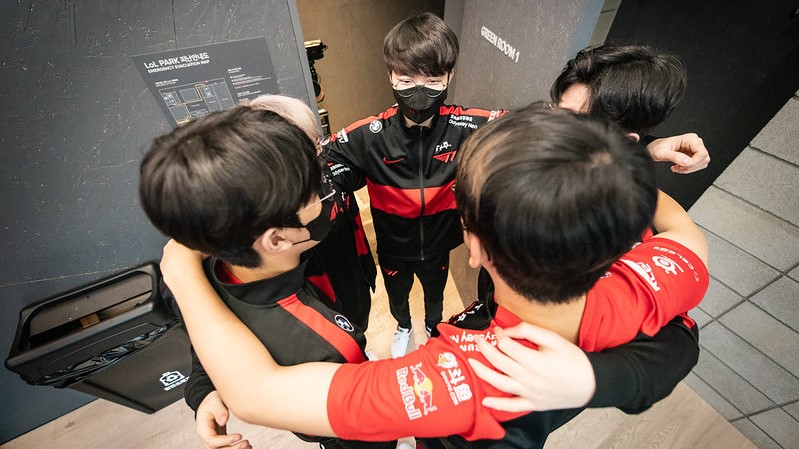 T1 CEO Joe Marsh praised the team for the clean win in a tweet, and was already contemplating the next goal of 25 matches. "I think it will be a challenge for T1, but we have faith in the players and coaches," said Marsh.
With another perfect week in the books, T1 now holds a 4-0 record and will face Kwangdong Freecs on June 29 at 8 p.m. GMT+9 | 7 p.m. GMT+8 | 11 a.m. GMT | 4 a.m. PT.
Fans can watch the 2022 LCK Summer Split on the official English and Korean Twitch LCK channels.
Follow ONE Esports on Facebook and Twitter for more LoL news, guides, and highlights.
READ MORE: DK ShowMaker on Gen.G Chovy: 'He's cracked, unbelievably good'