After weeks of playoff matches across the League of Legends pro circuit, 11 regional champions will appear at the Mid-Season Invitational 2022 (MSI 2022) in Busan, South Korea from May 10 to 29.
The MSI 2022 group stage draw is finally set, following the LCS Spring 2022 lower bracket final between Team Liquid and Evil Geniuses.
The group draw sets the stage for old rivalries and new ones. In Group C, the perennial clash between North America and Europe will play out once again, while in Group A, three upstart regions — the VCS, LJL, and LLA — will take on LCK champions T1.
---
---
MSI 2022 group stage bracket revealed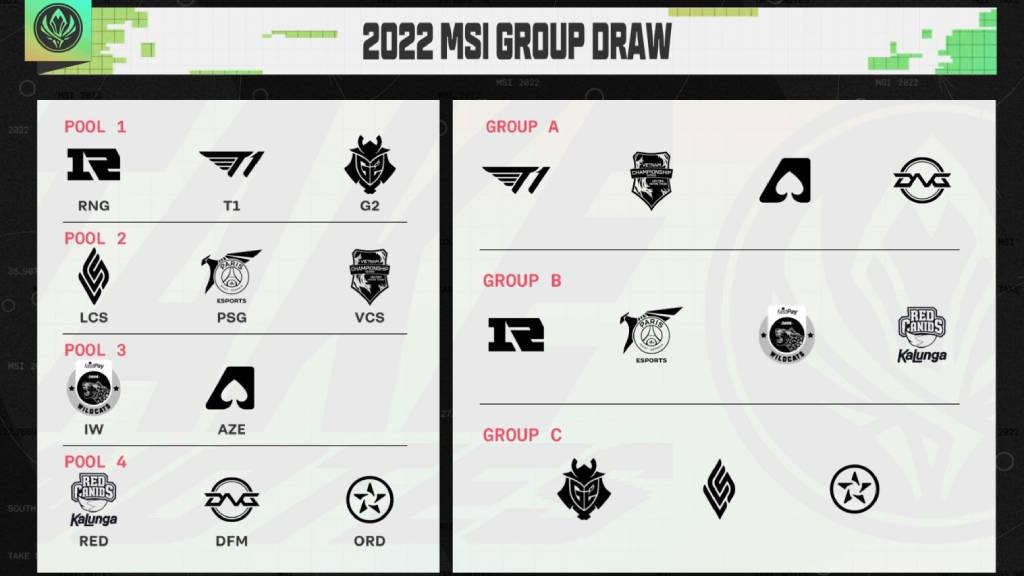 The 11 regions are seeded into four pools based on their international performance over the past two years. Due to the Russian invasion of Ukraine, the CIS region's LCL will not send a representative to MSI 2022.
The teams were then drawn into three groups, two containing four teams and one containing three.
Group A
Group B
Group C
The group stage games will take place from May 10 to 15 in a double round-robin format, and the top two teams in each group will advance to the Rumble Stage. Because Group C has only three teams, they will face each other four times.
The Rumble Stage runs from May 20 to 24, followed by the Knockout stage which will last until May 29.
All MSI games were originally slated to take place at the Bexco Exhibition Hall in Busan, but the group stage games will now be held at the Busan Esports Arena instead, according to an announcement by Riot Games.
Because the LPL representatives are unable to travel to South Korea, they will play remotely from either their team training facility or from the LPL Arena in Shanghai. To ensure fairness, all teams will practice and play their games with a 35ms ping.
READ MORE: Ranking all World Championship skins in League of Legends