T1 support Ryu "Keria" Min-seok capped off an amazing season with a 3-1 victory over Gen.G in the LCK final on Saturday to clinch the championship title and secure a spot at MSI 2022.
T1 announced one day after the final that the support player, along with three of his teammates, had tested positive for COVID-19.
Yesterday, Keria went on stream to talk to viewers about how he felt unwell during the triumphant 3-1 victory over Gen.G on Saturday.
T1 Keria thought his team could lose if the series went to game five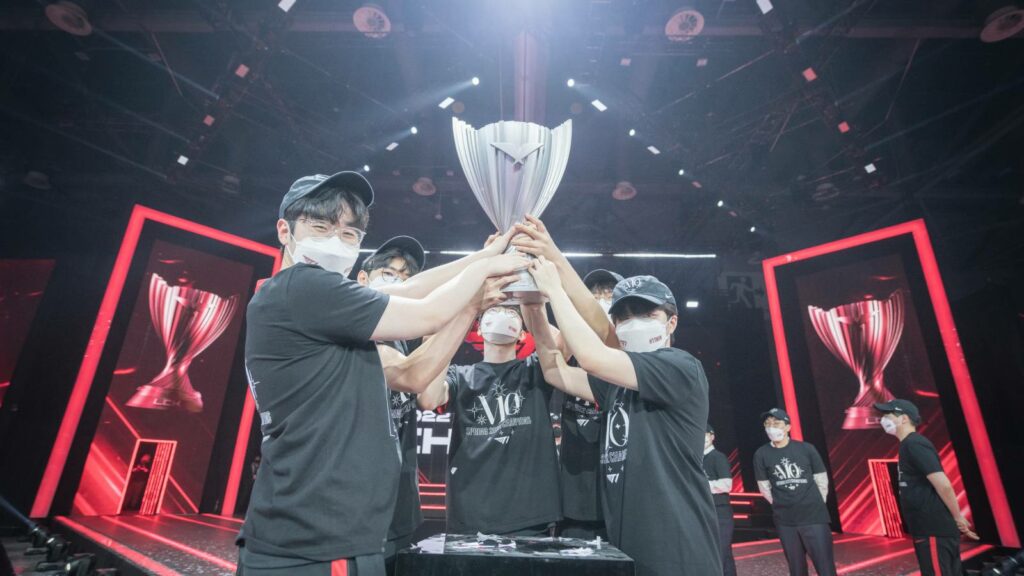 Keria had been feeling the effects of COVID-19 during the final, according to a Redditor's translation of his stream. The symptoms included muscle pain from his back to his toes.
"I was playing while feeling like I was on a timer in every game. I didn't have the confidence to last long," he said. "I thought we could lose if the series went to five games. In the middle of the series, brain fog started to arrive."
Despite feeling unwell, Keria put up a monster performance on Thresh in the deciding game four, roaming and giving control to his team on the top side of the map. T1 ended the series in just 27 minutes with a 20-4 score line.
Even though four T1 players were feeling unwell during the final, Keria thought it was peculiar that his teammate and bot laner, Lee "Gumayusi" Min-hyeong, was the only one who didn't catch the virus.
"We were together. Maybe he doesn't breathe?" he joked.
Although the support said he wanted to "enjoy the joy of winning" after the championship win, he could only think about going back home because of his poor condition.
T1 will represent the LCK region at the 2022 Mid-Season Invitational held in Busan, South Korea, from May 10 to 29.
READ MORE: TheShy reveals the real reason why he and Rookie went their separate ways