T1 took home the LCK Spring 2022 championship after a 3-1 victory over Gen.G in the final and qualified for MSI 2022.
From going undefeated in the playoffs to 18-0 regular season perfect streak, T1 have shattered multiple records this season and proven themselves as the undisputed best team in the LCK.
Now, T1 can add another record to the list, as their triumph was watched by a record number of fans online, according to Esports Charts.
---
---
The LCK Spring 2022 playoffs final broke records with over 1.37M peak viewers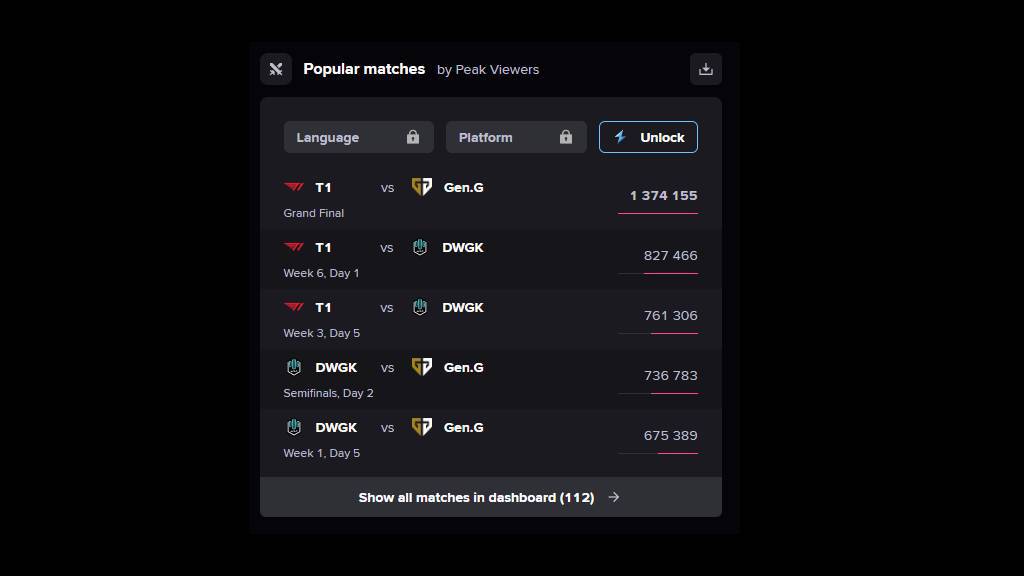 The final was watched by 1,374,155 viewers at its peak across various platforms, including Twitch, YouTube, Facebook, and AfreecaTV.
It broke the previous record of 1,315,849 peak viewers, set during the LCK Summer 2021 final between T1 and DWG KIA. These viewer numbers exclude platforms from China.
The matchup was highly anticipated by fans. On one side stood T1's dominant roster, filled with some of the most hyped players in recent history. Winning a title would cement Lee "Gumayusi" Min-hyeong and Ryu "Keria" Min-seok as the best bot lane duo in Korea.
It was also a chance for T1's long standing mid laner, Lee "Faker" Sang-hyeok, to win a record 10th LCK title together with four relatively new players on the scene.
On the other side, fans were eagerly looking at Gen.G, who could finally field its full roster after players were down with COVID-19 during the regular season. The final marked the first time the rosters could go head to head.
Gen.G also had a chip on their shoulders, as several players on the roster, including Jeong "Chovy" Ji-hoon and Park "Ruler" Jae-hyeok have not won a single LCK title even though they are considered among the best players in the world. Collectively, the players have been LCK final runners-up 13 times.
The final represented another opportunity for the roster, especially Chovy who finished second four times previously, to receive an accolade befitting their statures.
Eventually, T1 lived up to the hype, and secured the championship 3-1, giving Faker his 10th LCK title.
T1 will represent Korea at the Mid-Season Invitational 2022, which will be held on home soil in Busan, South Korea, from May 10 to 29.
READ MORE: Top 4 in LPL Spring playoffs decided, only one will go to MSI