Travelers, are you looking for something to tickle your brain beyond world puzzles and quests?
The search is over — HoYoverse has announced a new strategy card game which will soon be available in the Genshin Impact client.
The Chinese video game company confirmed that the Genshin Impact card game is already in development, featuring fast-paced gameplay similar to the likes of Wizards of the Coast's Magic: The Gathering Arena, Blizzard Entertainment's Hearthstone, and Riot Games' Legends of Runeterra.
Here's everything we know about the Genius Invokation TCG, including its release date and gameplay.
---
Genshin Impact card game 'Genius Invokation TCG': Release date
It will launch in version 3.3, which will be released on December 7.
(To be updated)
---
---
Genius Invokation TCG gameplay
In this new gameplay mode, players can invite characters, non-playable characters (NPCs), and friends to play a few rounds of the trading card game.
Based on the brief gameplay showcase during the version 3.1 special program, cards will have varying health indicated on the top left corner. Specific cards can cast ultimate skills as soon as they fill up their respective charge meters, indicated by the stars on the left side of the cards.
"This is mainly a PvE mode that's light and casual," explained Michael, the Head of Marketing in Genshin Impact Mainland China. "There are no rewards for PvP."
---
Genius Invokation TCG cards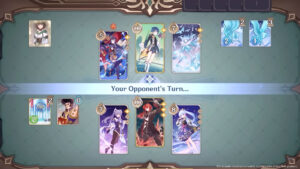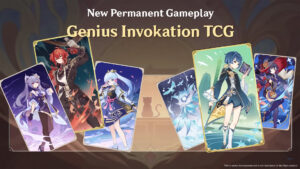 All cards can be acquired through gameplay.
Katheryne
Liben
Oceanid
Hydro Mimic Raptor
Hydro Mimic Ferret
However, this game mode is still under development and cards from the showcase are subject to change.
(To be updated)
Watch a short demo of the upcoming game mode here:
---
---
Follow ONE Esports on Facebook for more Genshin news, guides, and highlights.
READ MORE: Crit out, Elemental Mastery in: Why EM is no longer useless in Genshin Impact