Updated on December 7, 12:38 p.m. (GMT+8): Added link on how to play Genshin Impact TCG.
Updated on November 28, 5:54 p.m. (GMT+8): Added Genshin Impact card game lore, details about co-op mode, rewards, and gameplay.
Travelers, are you looking for something to tickle your brain beyond world puzzles and quests?
The search is over — HoYoverse has announced a new strategy card game that will soon be available in the Genshin Impact client.
The Chinese video game company confirmed that the Genshin Impact card game is already in development, featuring fast-paced gameplay similar to the likes of Wizards of the Coast's Magic: The Gathering Arena, Blizzard Entertainment's Hearthstone, and Riot Games' Legends of Runeterra.
Here's everything we know about the Genius Invokation TCG, including its release date and gameplay.
---
---
Genshin Impact card game 'Genius Invokation TCG': Release date
It will launch in version 3.3, which will be released on December 7.
---
How to play Genius Invokation TCG: Gameplay and rules
Click here for a more detailed Genshin Impact TCG guide, where we discuss the basics, types of cards, Elemental Dice, and more.
In this new gameplay mode, players can invite characters, non-playable characters (NPCs), and friends to play. The objective is to defeat all your opponent's character cards.
Based on the brief gameplay showcase during the version 3.1 special program, cards will have varying health indicated in the top left corner. Specific cards can cast ultimate skills as soon as they fill up their respective charge meters, indicated by the stars on the left side of the cards.
"This is mainly a PvE mode that's light and casual," explained Michael, the Head of Marketing in Genshin Impact Mainland China. "There are no rewards for PvP."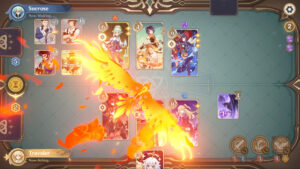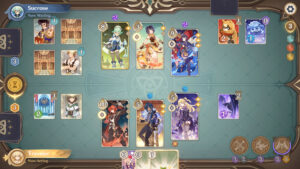 In the version 3.3 special program, Genshin voice actors Sarah Miller-Crews, Max Mittelman, and Patrick Pedraza revealed more of the card game's mechanics.
A constructed deck must contain character cards, which all have a normal attack, elemental skill, and elemental burst. When these character cards deal elemental damage to enemies, they will be affected by the cards' element. Players can switch to a character card of a different element and use their abilities to trigger an elemental reaction.
Aside from character cards, other card types include equipment cards, event cards, and support cards.
In the Genshin Impact card game, all actions such as attacking, switching characters, or playing a variety of other cards, require players to spend elemental dice. In each round, you and your opponent will roll eight elemental dice — pyro, hydro, cryo, electro, geo, dendro, anemo, and omni element.
For a character card to perform an action, players must roll either their corresponding element or the omni element.
Does the Genshin Impact card game have a co-op mode?
Yes, Genius Invokation TCG has a co-op mode where you can invite your friends to a duel. Upon reaching a certain level, you will unlock the matchmaking mode.
Genius Invokation TCG lore and legend
It is said that a young guy in Sumeru found an ancient "Casket of Tomes" in the attic. He opened it and discovered that the soul of an ancient TCG player called the Crocodile King had been captured inside.
It turns out that the Crocodile King was King Deshret's viceroy, who battled an opponent named the Ibis King. During the match, the Crocodile King fell prey to his opponent's scheme, and was sealed away in the Casket of Tomes.
After being unexpectedly released by the kid, the Crocodile King possesses him and helps him climb the ranks to become a legendary TCG player.
---
Genius Invokation TCG cards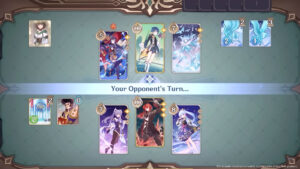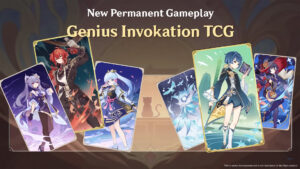 All cards can be acquired through gameplay.
Bennett
Diona
Xiangling
Katheryne
Liben
Oceanid
Cryo Hilichurl Shooter
Ice Shieldwall Mitachurl
Blazing Axe Mitachurl
Hydro Mimic Raptor
Hydro Mimic Ferret
Fatui Pyro Agent
Fatui Skirmisher – Cryogunner Legionnaire
Maguu Kenki
However, this game mode is still under development, and cards from the showcase are subject to change.
(To be updated)
Watch a short demo of the upcoming game mode here:
---
---
Genius Invokation TCG rewards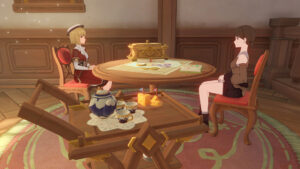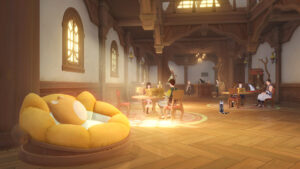 Travelers can earn player experience which will increase their player level in the TCG mode. Other rewards are as follows:
Lucky coins can be exchanged in the event shop for cards. It can also be used to unlock dynamic skins for certain cards.
Note that playing against your friends or other travelers will yield no rewards.
---
Follow ONE Esports on Facebook for more Genshin news, guides, and highlights.
READ MORE: Crit out, Elemental Mastery in: Why EM is no longer useless in Genshin Impact