Updated on August 14, 6:38 p.m. (GMT+8): Added TCG cards from version 4.0.
Updated on June 30, 5:24 p.m. (GMT+8): Added TCG cards from version 3.8.
Genshin Impact's card game mode, Genius Invokation TCG, introduced plenty of playing cards in version 3.3.
There are two types of cards in the game — character cards and action cards.
Character cards are the main cards used in Genius Invokation TCG. They provide players with unique elemental skills and act as their health bar during card battles. Aside from the usual 4-star and 5-star characters, a few monsters and bosses also make up Genshin TCG's character card pile.
Action cards, on the other hand, come with different effects. It has three categories — equipment, event, and support cards.
Equipment cards apply buff effects to characters. Some of these cards feature Genshin's most popular weapons and artifacts.
If you want to trigger an instant, one-time effect, use event cards. Event cards feature dishes and plenty of elemental resonance effects.
Support cards consist of non-playable characters (NPCs) and a few gadgets, used to continuously apply supporting effects.
---
---
How many Genshin Impact TCG cards are there in total?
There are a total of 241 Genius Invokation TCG cards, 53 of which are character cards while 188 are action cards.
Complete list of all Genshin Impact TCG cards
All character cards in Genius Invokation TCG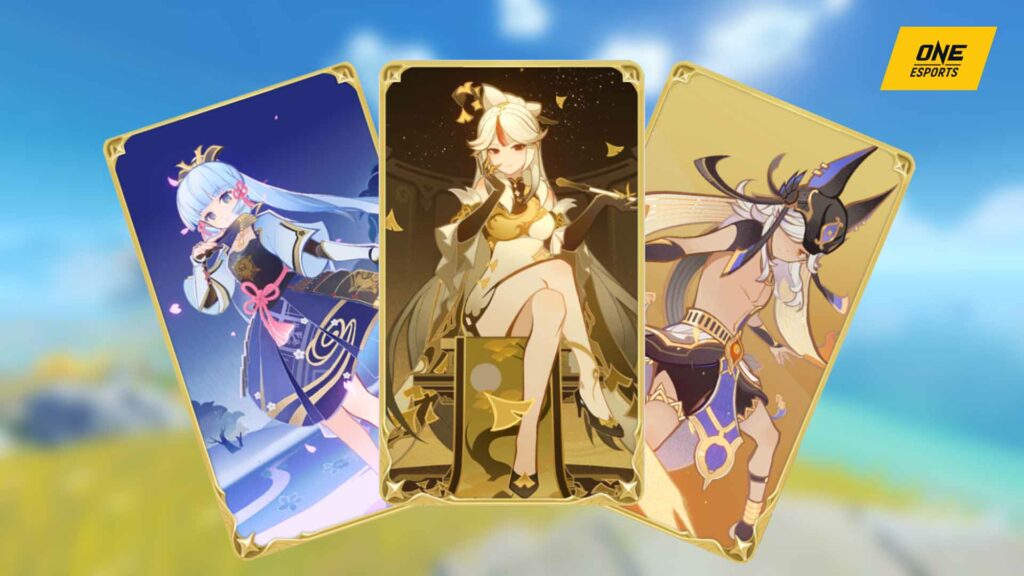 TYPE
GENIUS INVOKATION TCG CHARACTER CARDS
Characters
Albedo
Amber
Arataki Itto
Barbara
Beidou
Bennett
Candace
Chongyun
Collei
Cyno
Diluc
Diona
Eula
Fischl
Ganyu
Hu Tao
Jean
Kaeya
Kaedehara Kazuha
Kamisato Ayaka
Kamisato Ayato
Keqing
Klee
Kujou Sara
Lisa
Mona
Nahida
Ningguang
Noelle
Qiqi
Raiden Shogun
Razor
Sangonomiya Kokomi
Shenhe
Sucrose
Tighnari
Venti
Xiangling
Xiao
Xingqiu
Yanfei
Yoimiya
Zhongli
Monsters
Electro Hypostasis
Cryo Cicin Mage
Fatui Pyro Agent
Jadeplume Terrorshroom
Maguu Kenki
Mirror Maiden
Rhodeia of Loch
Stonehide Lawachurl
---
All action cards in Genius Invokation TCG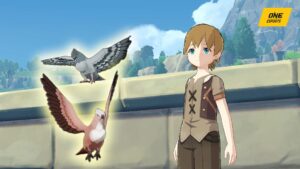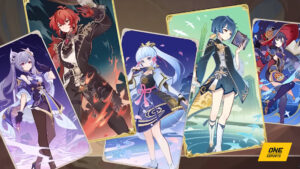 TYPE
GENIUS INVOKATION TCG ACTION CARDS
Equipment
A Thousand Floating Dreams
Abyssal Mayhem: Hydrospout
Adventurer's Bandana
Amos' Bow
Aquila Favonia
Arataki Ichiban
Archaic Petra
Awakening
Blizzard Strayer
Broken Rime's Echo
Bunny Triggered
Capricious Visage
Chaotic Entropy
Cicin's Cold Glare
Cold-Blooded Strike
Conqueror Of Evil: Guardian Yaksha
Crimson Witch of Flames
Crossfire
Deepwood Memories
Dominance Of Earth
Elegy For The End
Embers Rekindled
Embrace Of Winds
Engulfing Lightning
Exile's Circlet
Favonius Sword
Featherfall Judgment
Floral Sidewinder
Flowing Flame
Fruit of Fulfillment
Gambler's Earrings
General's Ancient Helm
Glorious Season
Grand Expectation
Heart of Depth
I Got Your Back
Instructor's Cap
Kanten Senmyou Blessing
Keen Sight
King's Squire
Kyouka Fuushi
Lands of Dandelion
Laurel Coronet
Lightning Storm
Lithic Spear
Lucky Dog's Silver Circlet
Magic Guide
Mask of Solitude Basalt
Mirror Cage
Mystical Abandon
Naganohara Meteor Swarm
Ornate Kabuto
The Overflow
Paid in Full
Poetics of Fuubutsu
Pounding Surprise
Proliferating Spores
Prophecy of Submersion
Raven Bow
Right of Final Interpretation
Sacrificial Bow
Sacrificial Fragments
Sacrificial Greatsword
Sacrificial Sword
Sanguine Rouge
Setaria
Shaken, Not Purred
Shimenawa's Reminiscence
Sin of Pride
Skyward Atlas
Skyward Harp
Skyward Spine
Steady Breathing
Stellar Predator
Stonehide Reforged
Strategic Reserve
Streaming Surge
Tamanooya's Casket
The Scent Remained
Thunder Summoner's Crown
Thundering Fury
Thundering Penance
Transcendent Automaton
Traveler's Handy Sword
Traveling Doctor's Handkerchief
Undivided Heart
Viridescent Venerer
Viridescent Venerer's Diadem
Wellspring of War-Lust
White Iron Greatsword
White Tassel
Wine-Stained Tricorne
Witch's Scorching Hat
Wolf's Gravestone
Event
Absorbing Prism
Abyssal Summons
Adeptus' Temptation
Ancient Courtyard
Blessing of the Divine Relic's Installation
Butter Crab
Calx's Arts
Changing Shifts
Covenant of Rock
Descent of Divinity
Elemental Resonance: Enduring Rock
Elemental Resonance: Fervent Flames
Elemental Resonance: High Voltage
Elemental Resonance: Impetuous Winds
Elemental Resonance: Shattering Ice
Elemental Resonance: Soothing Water
Elemental Resonance: Sprawling Greenery
Elemental Resonance: Woven Flames
Elemental Resonance: Woven Ice
Elemental Resonance: Woven Stone
Elemental Resonance: Woven Thunder
Elemental Resonance: Woven Waters
Elemental Resonance: Woven Weeds
Elemental Resonance: Woven Winds
Fatui Conspiracy
Guardian's Oath
Heavy Strike
I Haven't Lost Yet!
Joyous Celebration
Jueyun Guoba
Leave It to Me!
Lightning Stiletto
Lotus Flower Crisp
Master of Weaponry
Minty Meat Rolls
Mondstadt Hash Brown
Mushroom Pizza
Nature And Wisdom
Northern Smoked Chicken
Plunging Strike
Pulsating Witch
Quick Knit
Rite of Resurrection
Sashimi Platter
Send Off
Starsigns
Stone And Contracts
Strategize
Sweet Madame
Tandoori Roast Chicken
Teyvat Fried Egg
The Bestest Travel Companion!
The Legend Of Vennessa
Thunder And Eternity
Toss-Up
When the Crane Returned
Where is the Unseen Razor?
Wind And Freedom
Support
Chang the Ninth
Chef Mao
Chinju Forest
Dawn Winery
Dunyarzad
Ellin
Favonius Cathedral
Grand Narukami Shrine
Golden House
Hanachirusato
Iron Tongue Tian
Jade Chamber
Katheryne
Kid Kujirai
Knights of Favonius Library
Liben
Liu Su
Liyue Harbor Wharf
Master Zhang
NRE
Paimon
Parametric Transformer
Rana
Red Feather Fan
Rhythm of the Great Dream
Sangonomiya Shrine
Sumeru City
Tenshukaku
Timaeus
Timmie
Treasure-Seeking Seelie
Tubby
Vanarana
Wagner
Wangshu Inn
Xudong
Learn how to get dynamic character cards in Genius Invokation TCG, the easiest ways to get free Primogems, and how to play and win in Genshin Impact's card game.
Discuss stories like these with us — join the ONE Esports Discord community.
READ MORE: How to get dynamic character cards in Genius Invokation TCG