Behold, the best Ganyu builds in all of Teyvat!
Ganyu returns to Genshin Impact on the first banner rerun of "Adrift in the Harbor", ready to find a new home in exchange for hard-earned primogems of hopeful players.
The ice queen dominates the region of Liyue with her unique Frostflake arrows, but how do you actually build her?
Here's a quick guide of the strongest Ganyu best builds in Genshin Impact, including a rundown of her best talents, weapons, and artifacts.
Ganyu's Talent overview in Genshin Impact
Here's a quick overview of all the talents that are mentioned throughout the Ganyu best build guide:
TALENT
TALENT INFORMATION
Normal attack talent: Liutian Archery
Press: Perform up to six consecutive shots with a bow

Hold: While aiming, an icy aura will accumulate on the arrowhead before the arrow is fired.
Charge Level 1: Fires off an icy arrow that deals Cryo DMG.
Charge Level 2: Fires off a Frostflake arrow that deals Cryo DMG. The Frostflake arrow blooms after hitting its target, dealing AoE Cryo DMG.
Elemental skill talent: Trail of the Qilin
Leaving a single Ice Lotus behind, Ganyu dashes backward, shunning all impurity and dealing AoE Cryo DMG.

Ice Lotus:
– Continuously taunts surrounding opponents, attracting them to attack it
– Endurance scales based on Ganyu's Max HP
– Blooms profusely when destroyed or once its duration ends, dealing AoE Cryo DMG
Elemental burst talent: Celestial Shower
Coalesces atmospheric frost and snow to summon a Sacred Cryo Pearl that exorcises evil.

During its ability duration, the Sacred Cryo Pearl will continuously rain down shards of ice, striking opponents within an AoE and dealing Cryo DMG.
Passive talent: Undivided Heart (unlocked at first ascension)
After firing a Frostflake arrow, the CRIT Rate of subsequent Frostflake arrows and their resulting bloom effects is increased by 20% for five seconds
Passive talent: Harmony between Heaven and Earth (Unlocked at fourth ascension)
Celestial Shower grants 20% Cryo DMG bonus to active members in the AoE
Best artifacts for Ganyu in Genshin Impact
Melt DPS Ganyu best build (Wanderer's Troupe)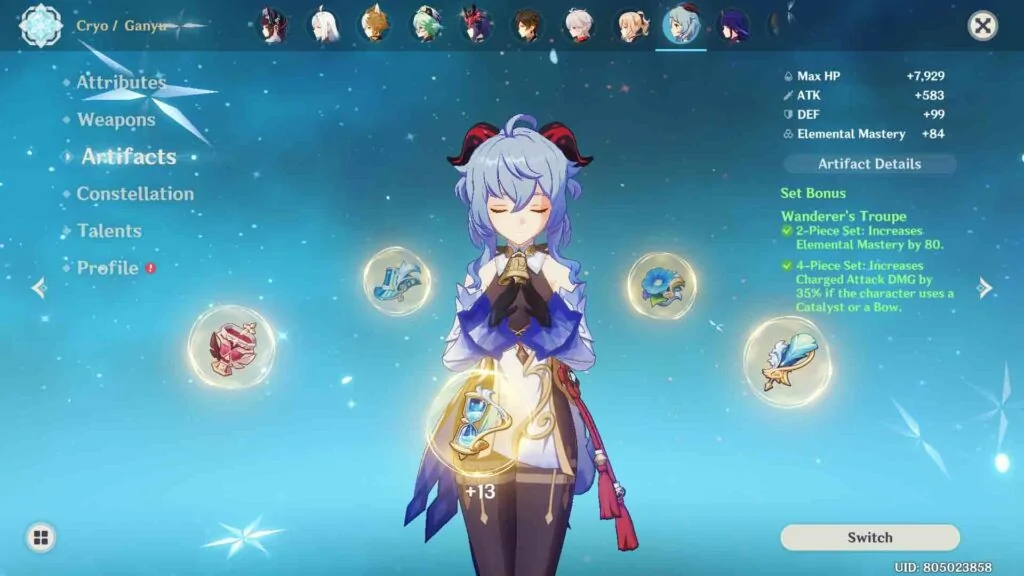 Despite being a commonplace drop in domains, Wanderer's Troupe is a reliable choice when used on Ganyu's Frostflake arrows.
At four pieces, the artifact set increases charge attack damage by 35% for Bow and Catalyst users. This works hand-in-hand with the extra damage coming from the bloom of the Frostflake arrows.
The set's two-piece bonus increases your Elemental Mastery by 80, acting as a solid buff for Melt compositions with Pyro characters like Xiangling and Bennett.
The main goal with this artifact set is to solely rely on the adeptus' charged attack to trigger Melt on your enemies. Your elemental skill and burst will be shelved for this build.
You can farm the Wanderer's Troupe artifact set from bosses at World Level 2 and above.
Freeze DPS/Burst Ganyu best build (Blizzard Strayer)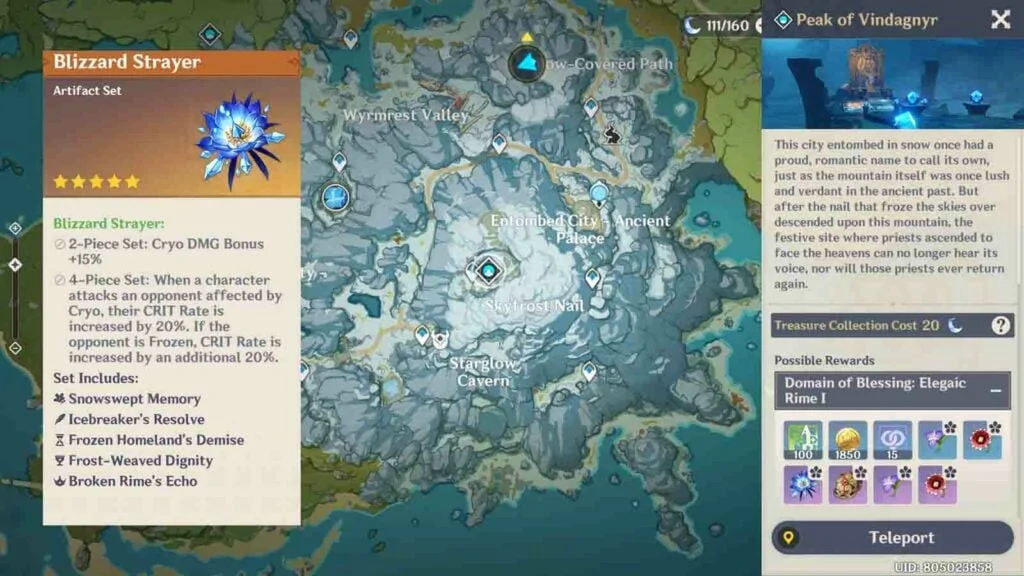 In contrast to the first build, freeze DPS and burst Ganyu emphasizes the elemental strength of her skill and burst.
Cryo damage will be your bread and butter in combat with these two builds. On top of giving a 15% Cryo damage bonus, the four-piece Blizzard Strayer artifact set can add a 20% or 40% critical rate bonus when your opponent is affected by Cryo or Freeze respectively.
This bonus also works well with Undivided Heart's critical rate bonus so players can focus on stacking their critical damage in terms of artifact stats.
Though the two builds both use Blizzard Strayer, there's a big difference in their playstyles. Freeze DPS focuses on applying AoE Cryo with the charged shot and Trail of the Qilin. Your main objective is to have Ganyu utilize Hydro characters like Xingqiu to lock enemies down in a neverending freeze reaction.
As for the burst build, you're applying Cryo with Celestial Shower and swapping in Pyro characters to melt opponents under the burst's AoE. Whilst standing in the AoE, you can use your elemental skill to activate the bonus of Harmony between Heaven and Earth.
You can farm the Blizzard Strayer artifact set at the Peak of Vindagnir in the middle of Dragonspine.
---
---
Best weapons for Ganyu in Genshin Impact
Melt DPS Ganyu best build (Amos' Bow)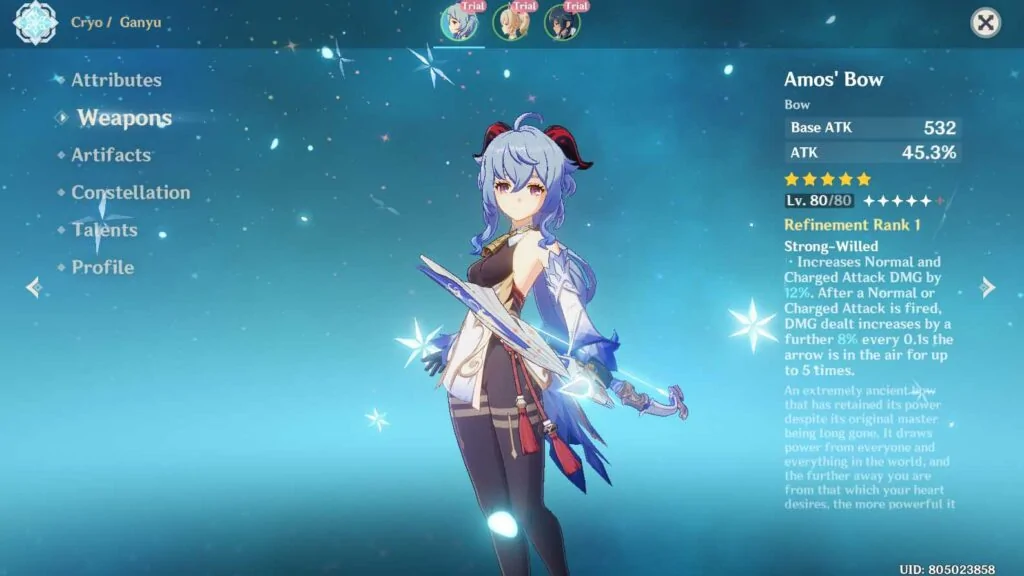 Amos' Bow is the perfect weapon for bolstering the damage of Ganyu's Frostflake arrows. The bow has an attack substat and increases the wielder's charged attack damage according to how long an arrow stays in the air.
You can wish for the 5-star weapon on the Epitome Invocation weapon event wish until February 15.
Freeze DPS Ganyu best build (Prototype Crescent)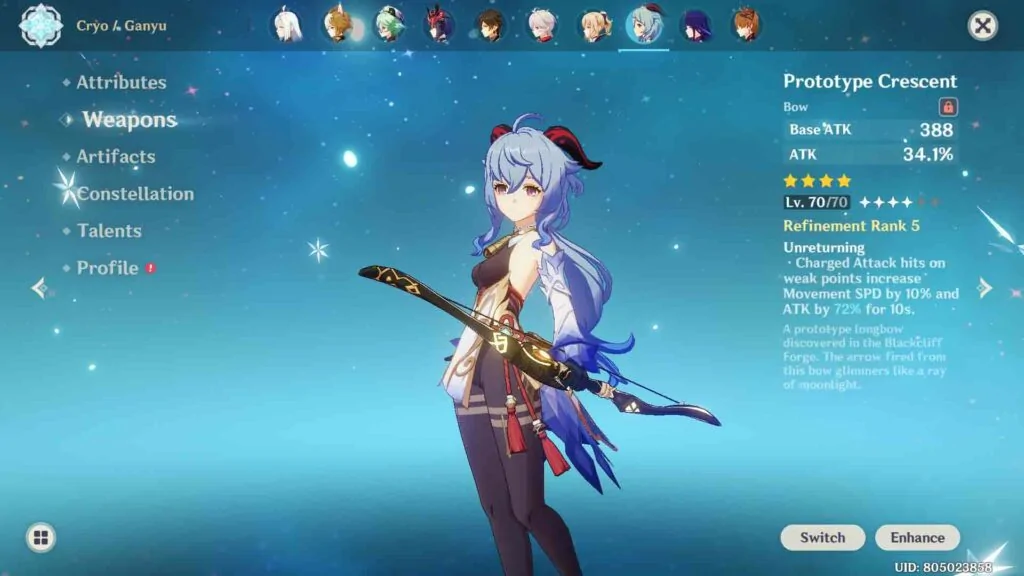 Prototype Crescent is a budget-friendly option for players who want to boost Ganyu's base damage and charged attacks.
Similar to Amos' Bow, this 4-star bow grants a ten-second attack bonus for a successful charged attack on a weak point. While this playstyle may slow your offense down for better accuracy, the blooms from your Frostflake arrows will still be the main component of your freeze combos.
You can forge the Prototype Crescent weapon at any blacksmith in Genshin Impact. Here are the requirements of Prototype Crescent:
Northlander Bow Billet
50 Crystal Chunks
50 White Iron Chunks
500 Mora
Burst Ganyu best build (The Stringless)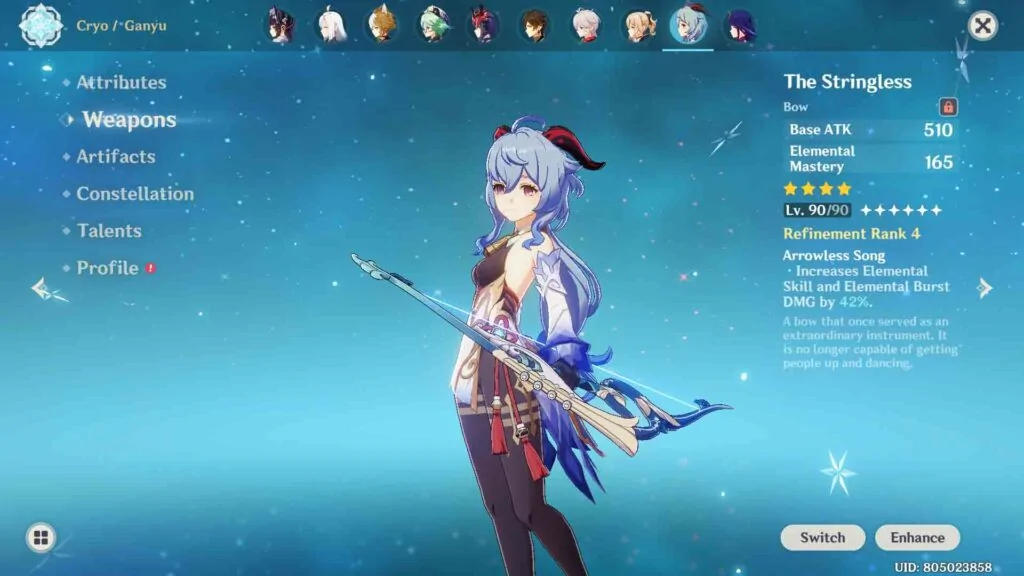 The Stringless is your best bet in increasing the power of Ganyu's elemental reactions.
The only bow here with an Elemental Mastery substat, the Stringless allows her skill and burst to pack a bigger punch than her Frostflake arrows. The weapon's passive, Arrowless Song, also amplifies the damage of her elemental talents.
If you already have a strong 5-star Pyro DPS like Diluc and Hu Tao, this burst Ganyu best build can provide the perfect scenario for deadly Melt reactions.
You can acquire the Stringless as a 4-star pull on all wishes available.
Follow ONE Esports on Facebook for more Genshin news, guides, and highlights.
READ MORE: How to farm Zhongli materials Genshin Impact guide: Best locations and routes