HoYoverse introduces a new and exciting trading card game mode in its hit online RPG, Genshin Impact.
Officially called Genius Invokation, the game mode allows players to build card decks that feature their favorite characters. If they prove their status as one of Teyvat's best card players, they have the chance to bring the likes of Diluc and Ganyu to life with dynamic character cards.
Here's a quick guide on how to unlock dynamic skins for character cards in Genshin Impact.
---
How to get dynamic character cards in Genshin Impact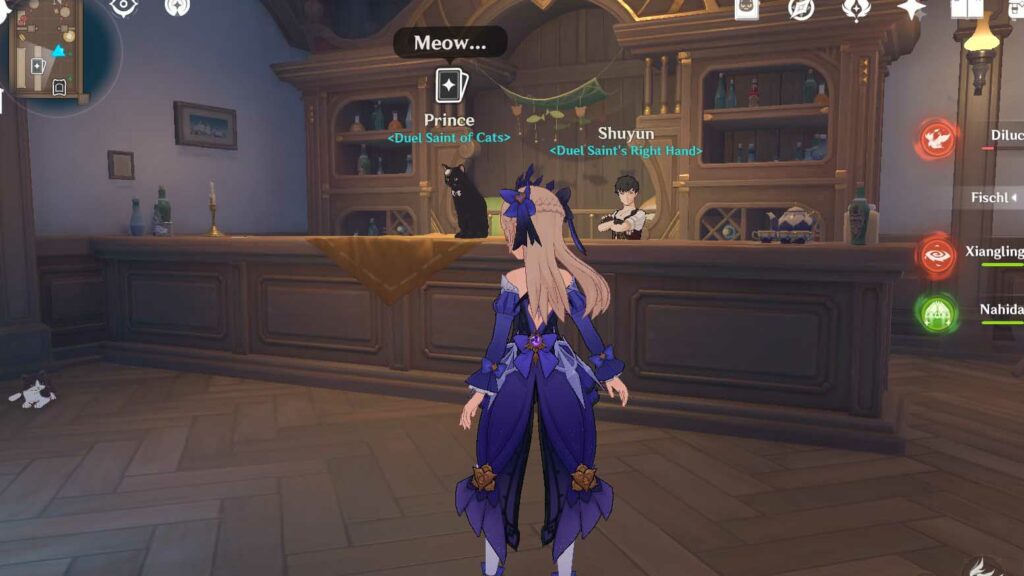 Dynamic skins are purchasable cosmetics that animate a specific card during a duel.
While action cards also have dynamic skins that add a nice shine to them, dynamic character cards contain more detailed designs where the subject is moving.
You can buy dynamic skins from Prince, the Duel Saint of Cats, at Cat's Tail in Mondstadt. To unlock Prince's Card Shop, you must first complete the "Battlefield of Dice, Cats, and Cards" tutorial quest.
Interact with Prince
Select the "View the Card Shop's Commodities" option
Open the Dynamic Skins tab
Do note that you can only buy dynamic skins once you've reached player level 5 in Genius Invokation.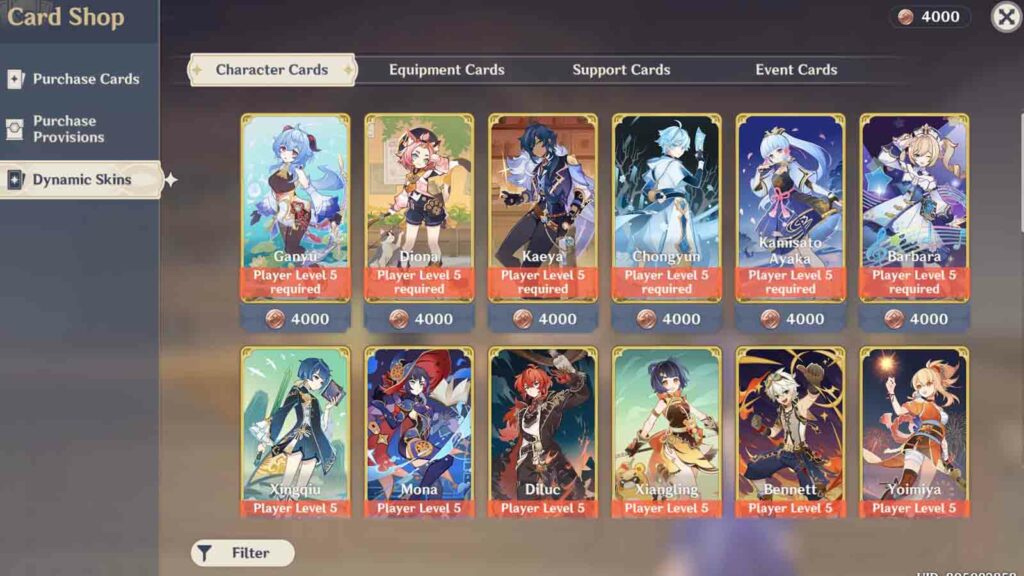 Price list of all the dynamic skins available
| | |
| --- | --- |
| CARD TYPE | PRICE IN LUCKY COINS |
| Character cards | 4,000 |
| Tier 1 weapon cards | 1,000 |
| Tier 2 weapon cards | 1,400 |
| Tier 3 weapon cards | 2,000 |
| Tier 1 artifact cards | 1,000 |
| Tier 2 artifact cards | 1,400 |
| Support cards | 1,400 |
| Event cards | 1,000 |
---
---
---
How to level up and earn Lucky Coins in Genshin Impact
Players can increase their player level or earn Lucky Coins in two ways:
Adventure Challenges
Guest Challenges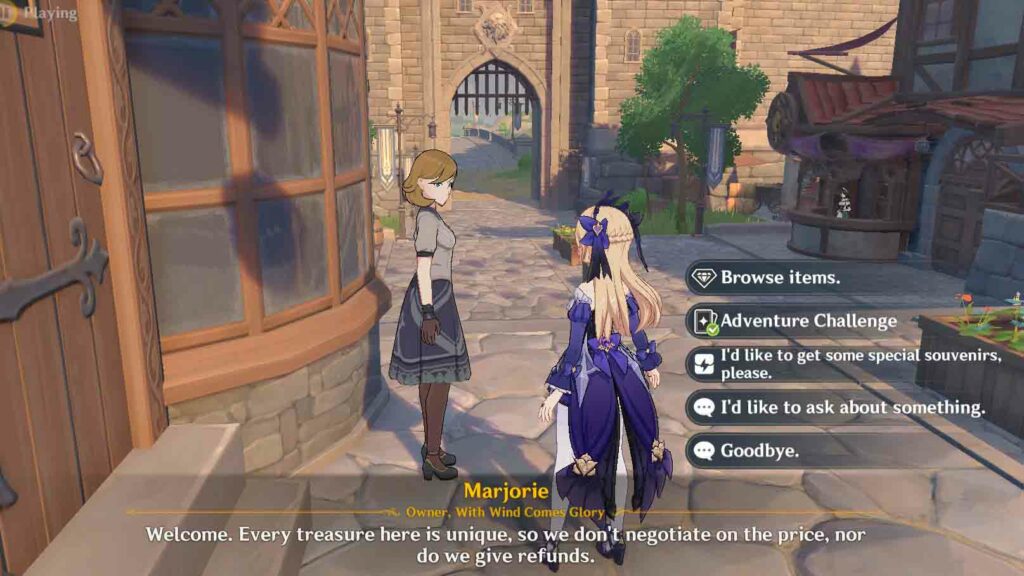 Adventure Challenges are overworld duels that put you against Mondstadt's NPCs. If you clear all three tasks in one try, the NPC rewards you with around 100 XP, 500 LC, and their own support card.
Adventure Challenges are marked by a card on your map. You can also use the Casket of Tomes in your inventory and select "Search for Player" to find a nearby Adventure Challenge.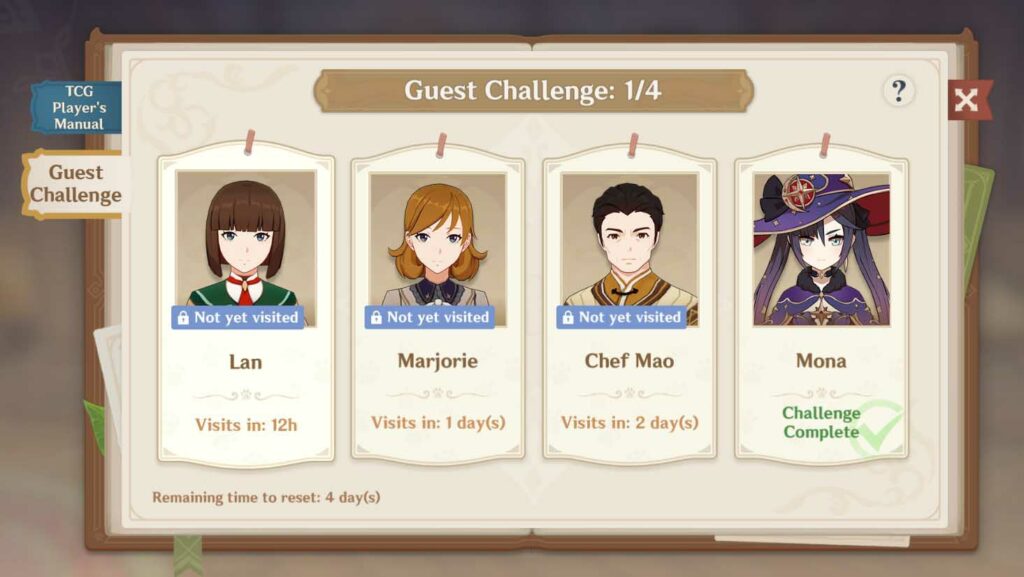 Guest Challenges are weekly duels inside Cat's Tail that usually reward you with 200 XP and 300 LC.
These kinds of challenges are unlocked once you've reached player level 2. You can check out your Guest Challenges by clicking on the cat journal icon near the top of your screen when inside Cat's Tail.
Learn more about how to play the TCG with this guide on how to play Genius Invokation.
Follow ONE Esports on Facebook and Twitter for more Genshin news, guides, and stories.
READ MORE: Genshin Impact card game Genius Invokation TCG: Release date, gameplay