Travelers are now trading their swords for cards following the release of Genshin Impact's new game mode, Genius Invokation TCG.
Genius Invokation allows players to build their own decks and fight head-to-head with Teyvat's finest card players. In addition to featuring cards of your favorite characters, your deck comprises common, buyable action cards that aid you in battle.
Here are five action cards that could turn the tides during a Genius Invokation duel.
---
5 best action cards to use in your Genius Invokation deck
The Bestest Travel Companion! helps you through bad dice rolls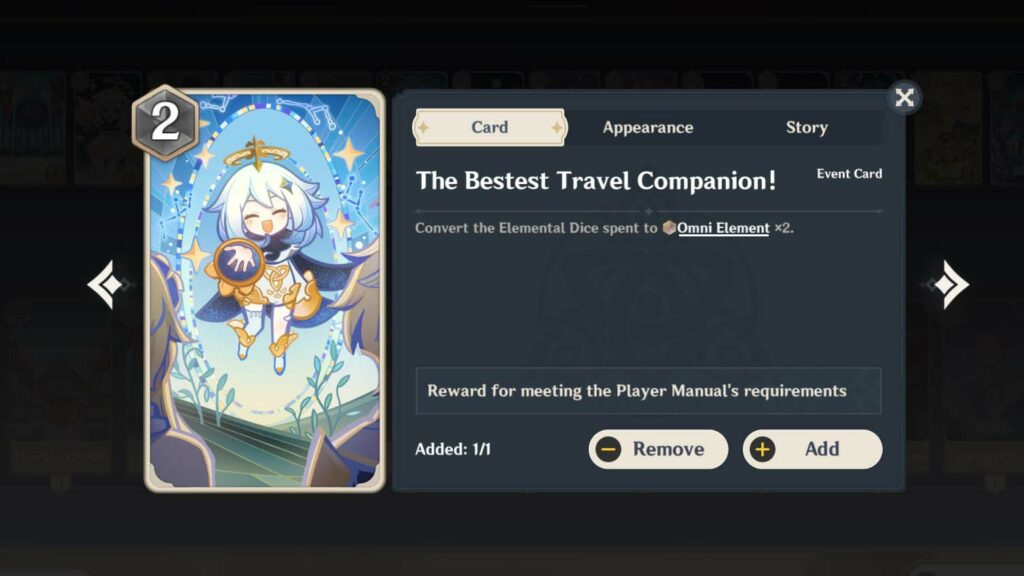 Card Description: Convert the Elemental Dice spent to 2 Omni Elemental Dice
Cost: 2 dice with unaligned element
With dice acting as your action currency, it's important that you get the proper element during the roll phase, but that's not always the case.
If you happen to get a bad roll, you can help yourself out by using the Bestest Travel Companion event card. This fast action actually has no cost since it converts two dice into Omni Elemental Dice. This allows you to continue the round with eight dice still available.
Strategize is a great way to bring out your best cards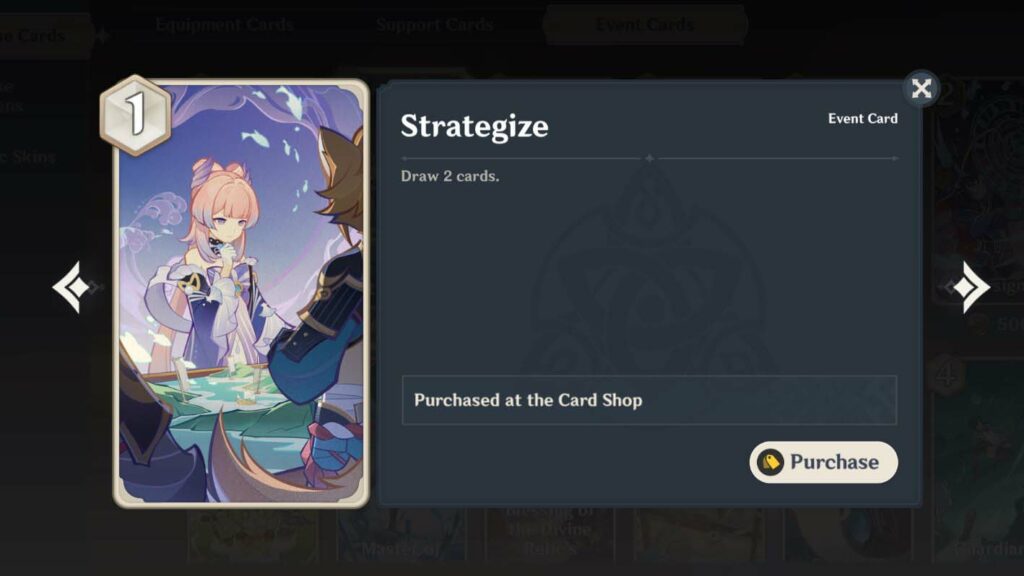 Card Description: Draw 2 cards
Cost: 1 die
The best way to gain an advantage over your opponent is to have the most cards in hand, and you can do this by using the event card, Strategize.
While the card is pretty straightforward, it gives you the chance to have your best cards at the ready. Since there are 30 cards in your deck, Strategize can help clear your deck to find that special trump card for an all-out attack.
Liben gives jaw-dropping deals in card battles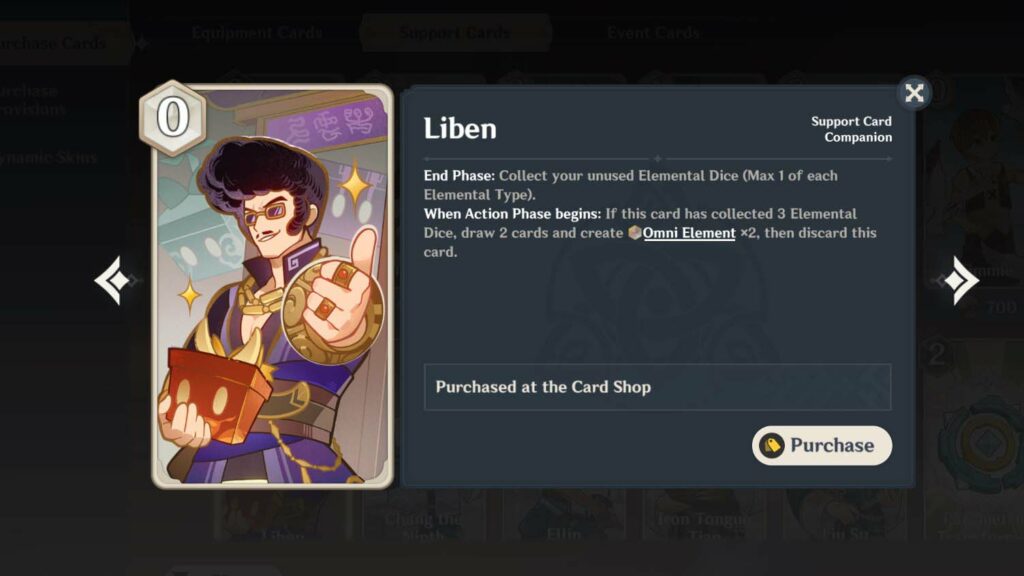 Card Description:
End Phase: Collect your unused Elemental Dice (Max 1 of each Elemental Type)
When Action Phase begins: If this card has collected 3 Elemental Dice, draw 2 cards and create 2 Omni Elemental Dice, then discard this card
Cost: 0 die
Returning with more than marvelous merchandise, Liben is now a zero-cost support card in Genius Invokation.
The flashy merchant grants you two cards and two Omni Elemental Dice for the price of three unused Elemental Dice of different types throughout different rounds.
While it looks to be a big investment, the support card prolongs the action phase in later rounds. With nine dice to spare, you can set up a flurry of attacks that's bound to take out an enemy character card.
---
---
Leave It to Me! is an excellent re-engaging tool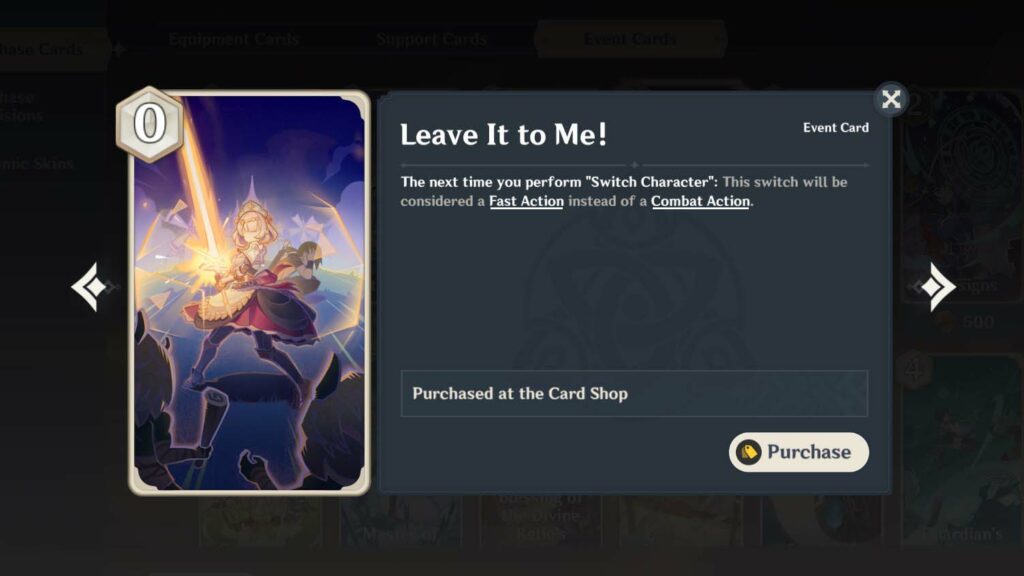 Card Description: The next time you perform "Switch Character": This switch will be considered a fast action instead of a Combat Action
Cost: 0 die
Leave It to Me! is the perfect move for aggressive card players.
The Noelle-inspired event card allows you to switch characters without giving the turn to your opponent. This is best used when two ultimates are ready so you can perform them in succession if you have enough dice.
You can also pair the card with Kaeya's ultimate, Glacial Waltz. Since Glacial Waltz will attack the opposing active character whenever you switch characters, you can get a quick Cryo attack in to set up a strong elemental reaction.
Changing Shifts will change your life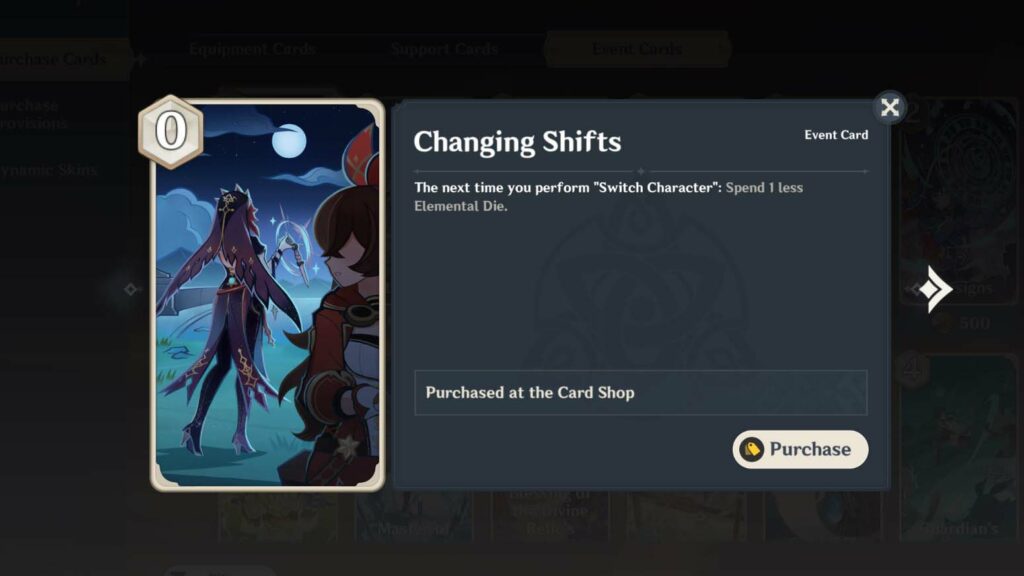 Card Description: The next time you perform "Switch Character": Spend 1 less Elemental Die
Cost: 0 die
We all love a good discount, and that's what Changing Shifts is all about.
This support card removes the standard one-die cost of switching characters, making it a crucial piece to an extended action phase.
Having no cost as an event card, Changing Shifts can be played earlier in a round to guarantee that you have enough dice for multiple attacks.
The best way to utilize this card is alongside Leave It to Me! This lets you switch once as a fast action with no cost, which could be useful when you're saving up dice for a killing blow.
Learn more about how to play the TCG with our guide to Genius Invokation.
Follow ONE Esports on Facebook and Twitter for more Genshin news, guides, and stories.
READ MORE: Genshin Impact card game Genius Invokation TCG: Release date, gameplay