The city of Mondstadt offers plenty of hangout spots for hungry and weary travelers, such as Angel's Share and Good Hunter. Both establishments have been featured in numerous story and event quests.
With the launch of a new game mode in Genshin Impact, another tavern around the city, Cat's Tail, just opened its doors to travelers, cat lovers, and card game players alike.
The Cat's Tail bar is known for its adorable cats and incredibly talented bartender, the 4-star Cryo support, Diona.
The bar's chill vibe and purr-etty interior have attracted Genius Invokation fans around Teyvat, eventually becoming the go-to place for TCG matches.
Find out how to unlock Genius Invokation TCG, Genshin Impact's card game, and gain access to Cat's Tail bar.
---
---
How to unlock Genius Invokation TCG, Genshin's card game
Genshin Impact's card game mode can be played inside the Cat's Tail tavern in Mondstadt.
This bar is located between Adventurer's Guild and Good Hunter and can be unlocked by starting on the TCG world quest.
Follow these simple steps to start playing Genshin Impact's card game mode:
Begin playing the "Battlefield of Dice, Cats, and Cards" world quest.
After finishing the first part of the dialogue, the Cat's Tail bar will appear on your map and you can finally go inside it.
Enter the bar and talk to Diona to start the TCG tutorial.
Finish the Genius Invokation TCG tutorial and quest to unlock the game mode.
Once you've unlocked Genius Invokation TCG, you can click on the Cat's Tail bar icon on your map to teleport straight inside the tavern and start playing the game mode.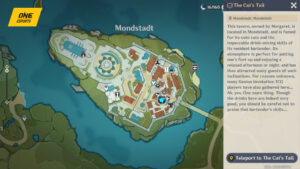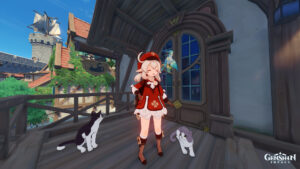 Upon entering the bar for the first time, you'll be greeted by Margaret, the owner of Cat's Tail, as well as dozens of felines purring and laying around.
Prince, a black cat who wears a minuscule fedora hat and bow, sits on top of the counter. He is the Duel Saint of Cats and is in charge of the card community. Travelers can talk to Prince (and his right-hand man, Shuyun) to claim rewards and access the Card Shop.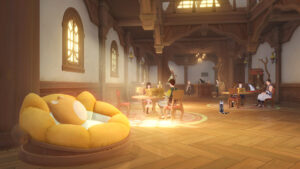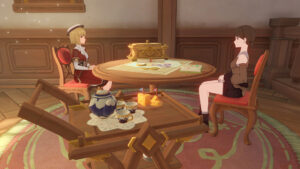 Learn the basics of Genius Invokation TCG, its gameplay, and rewards.
---
Follow ONE Esports on Facebook for more Genshin news, guides, and highlights.
READ MORE: Guide to Genshin Impact TCG Genius Invokation: How to play and win