Since entering the VCT NA Stage 1 Challengers as virtual unknowns, The Guard have enjoyed a breathtaking rise to the top of North American Valorant.
While their real test is yet to come at Masters Reykjavik 2022, they look poised to dominate, especially if they continue to display the same solid team play and ability to adapt.
This is a team of dark horses with immense promise, but 17-year-old wunderkind Trent "trent" Cairns has still managed to stand out. Trent was the missing piece for TGRD – after he joined the organization in January, something just clicked for the team.
TGRD have been on a constant path of improvement since then. In the Stage 1 Challengers playoffs, they beat powerhouses like Sentinels, Cloud9, and OpTic Gaming, eventually clinching the top seed in North America.
However, it wasn't too long ago that trent was struggling to be noticed by teams in the VCT.
---
---
From the outside looking in at the VCT
Warning: Strong language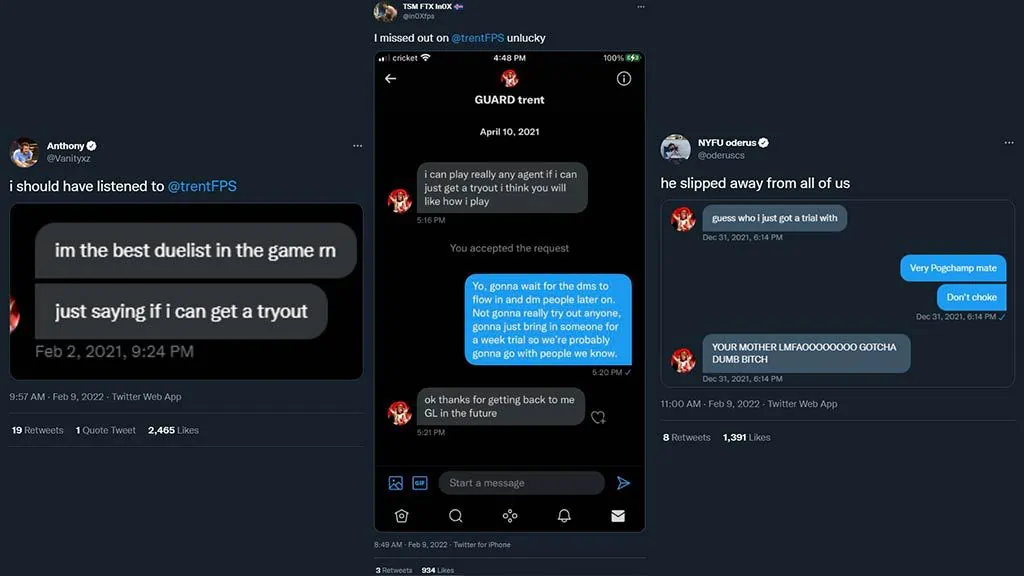 In early 2021, trent contacted multiple players, coaches, and organizations to ask for tryouts.
He reached out to players like Cloud9's Anthony "Vanity" Malaspina and the New York Fury's Chad "Oderus" Miller, requesting an opportunity to prove himself. However, few seemed willing to give an untested 17-year-old player a shot.
TSM FTX Academy head coach Theodor "in0X" Bjornsson told trent that they were probably going to go with "people [they] know", a sign of just how far removed trent was from even the amateur pro scene.
However, trent, who was still going by the moniker "Habib", would soon get an unexpected opportunity with a team that was also trying to break into the Tier 1 space.
In a scrim against TGRD, which was still putting together a fledgling roster in Valorant, he caught the eye of team coach Matthew "mCe" Elmore.
---
---
"Trent played Viper on Bind, which is our best map, and dropped 35 kills against us," said mCe. He played around their lurk timings and did everything he needed to, according to mCe. After the match, TGRD coach joked that they should try out trent.
Some time later, the team found themselves looking for a Sova player, after benching Harrison "psalm" Chang. MCe realized after looking at trent's statistics that he was previously a Sova main. "His Sova stats weren't bad at all," recalled the coach.
But when mCe brought up the prospect of practicing with trent, The Guard's members weren't thrilled at the idea and wanted to pass on him. By this time however, mCe was convinced that trent was the player they needed and pushed the team to give the youngster a chance.
Trent eventually signed with TGRD on January 17, and the rest, as they say, is history. TGRD stormed through the VCT NA Stage 1 open qualifiers, beating out rosters that had been together for far longer, such as Luminosity Gaming, Knights, and Akrew.
And after trent's stellar performance, it's safe to assume that the team doesn't have any regrets.
In fact, it's those who let him slip through their fingers that are now kicking themselves.
---
Trent outperforms North America's best in his first VCT event with The Guard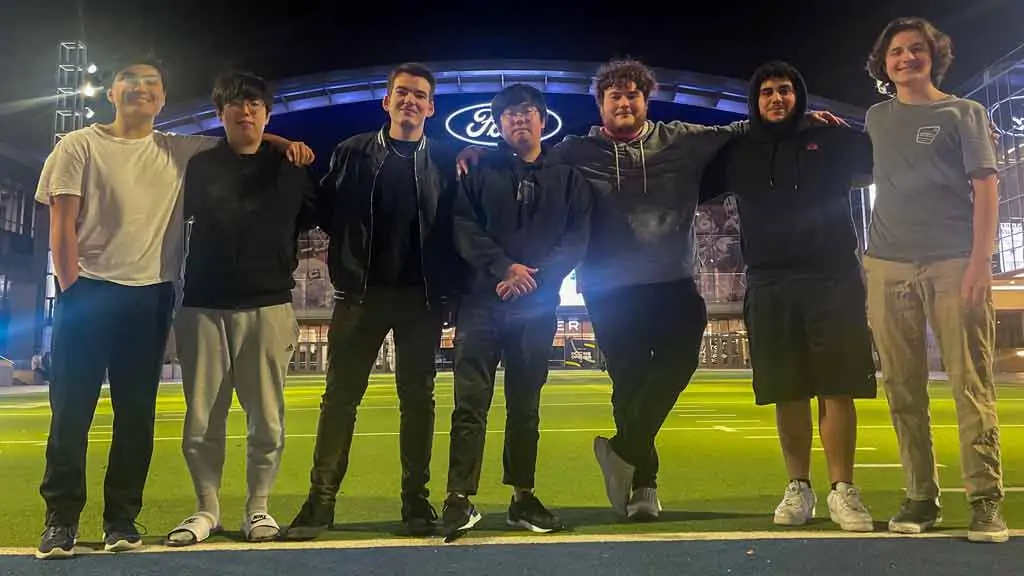 As it turns out, trent was just getting warmed up in the open qualifiers. He reached a new level of play in the VCT NA Stage 1 Challengers group stage, where he scored the third-highest Average Combat Score (ACS) of 240.8, behind only the region's top duelists like Cloud9's Nathan "leaf" Orf and Version1's Erik "penny" Penny.
As North America began to take notice, The Guard destroyed 100 Thieves in Week 2 with a statement 13-0 victory on Ascent.
Despite barely a year of competitive play under his belt, trent continued to display the poise of a far more experienced player, putting in big numbers against the best players in the region.
With the stakes raised in the playoffs, TGRD met every challenge head-on. They never let the pressure get to them, outplaying Sentinels in the upper bracket quarterfinals. This was the team's first win over Tier 1 competition and it wasn't even close – TGRD closed out the series 2-0, even finding a statement 13-1 victory on Icebox.
---
---
TGRD never took their foot off the pedal, even after a loss to OpTic Gaming sent them to the lower bracket. TGRD swept Cloud9 3-0 in the lower bracket final, finally avenging their group stage loss to vanity and his squad.
In the grand final against OpTic, TGRD had another opportunity for revenge. They took the series 3-2, a fitting end to an unlikely tournament run through the best that North America had to offer. This team of rookies had defied all expectations to clinch North America's top seed at Masters Reykjavik 2022, and trent was at the center of it all.
This was a player that had only received his first PC as a Christmas gift in 2019. Fast-forward two years, and he and his team are the new hope of the North American region.
The 17-year-old is a dangerous combination of perfectly-timed aggression and clever utility usage on Sova. And he's now looking to make his mark on the world stage in Iceland.
TGRD will make their LAN debut in their playoffs match against OpTic on April 16, 3:30 a.m. GMT+8 | April 15, 12:30 p.m. PDT | April 15, 7:30 p.m. GMT.
You can follow all Masters Reykjavik 2022 matches on the official Valorant Twitch and YouTube channels. For a look at the upcoming match schedule, you can check here.
READ MORE: OpTic Gaming Victor makes Neon look like a top meta pick