Updated (August 20): Added Raiden Shogun, Sangonomiya Kokomi, and Kujou Sara's weapons and voice actors
Want to learn more about all the upcoming Genshin Impact Inazuma characters in Teyvat? We whipped out this handy guide for you!
Ever since the Version 2.0 Inazuma livestream dropped weeks ago, fans have been dying to see all Genshin Impact Inazuma characters.
---
Presenting all the Genshin Impact Inazuma characters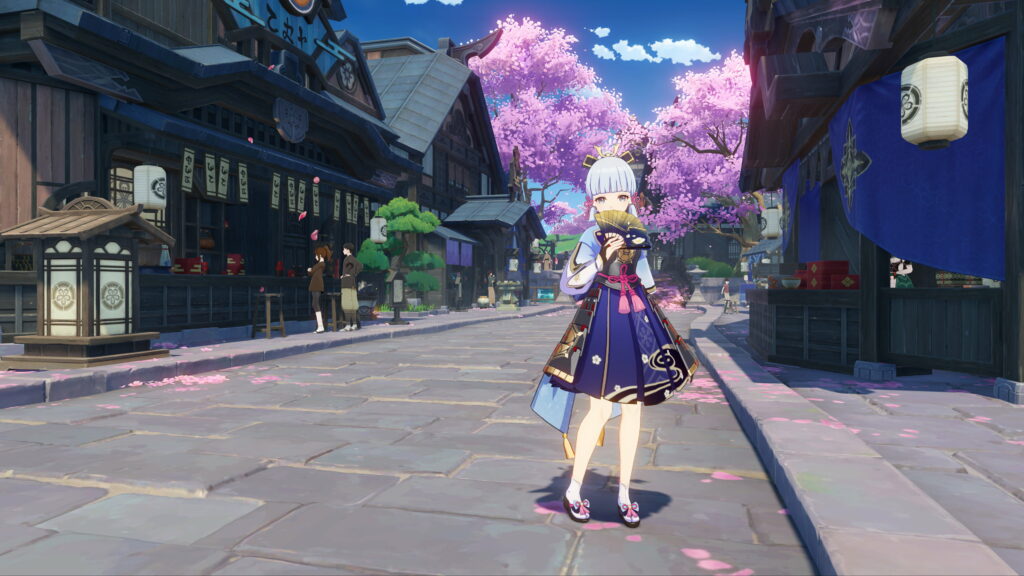 These new characters come in addition to Kazuha, Ayaka, Sayu, and Yoimiya, the four Genshin Impact Inazuma characters that the developers initially announced.
We also included a character that did not appear in the Inazuma livestream, but already surfaced in the 1.0 version. You may have even seen him previously roaming around Teyvat's Mondstadt region.
Here are all the eleven confirmed Genshin Impact Inazuma characters and what we know about them so far, from Scaramouche to Baal, we'll be seeing them around Teyvat soon!
---
Scaramouche, the 6th of the Eleven Fatui Harbingers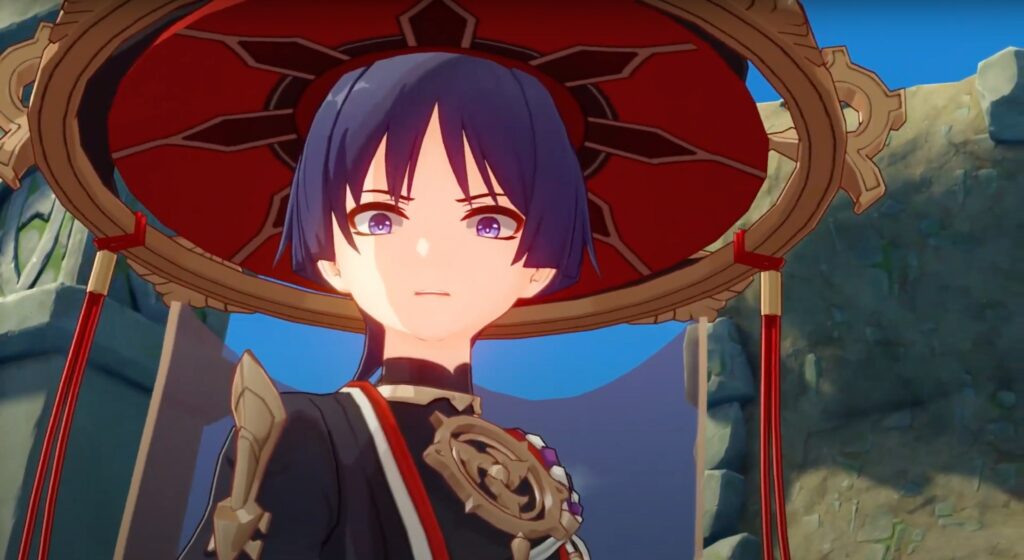 Scaramouche's element: Electro
Scaramouche's weapon: Catalyst
Scaramouche's voice actors: Kakihara Tetsuya (JP), Luyin (CN)
We first got a good look (and a few interactions) with Scaramouche during Fischl's Unreconciled Stars event, where he introduced himself as a vagrant from Inazuma while wearing a gigantic red hat.
Considering Scaramouche's politeness and calmness, who would have known that Scaramouche is the Sixth of the Eleven Fatui Harbingers of Teyvat, revealed with the help of Mona's powers?
Towards the end of the event, Scaramouche showed players his true colors, revealing a pair of yandere eyes as he scolded his Fatui servants.
Event though Scaramouche never showed up on the Inazuma livestream, several players are awaiting for his return as one of the playable Genshin Impact Inazuma characters.
---
Kaedehara Kazuha, the wandering samurai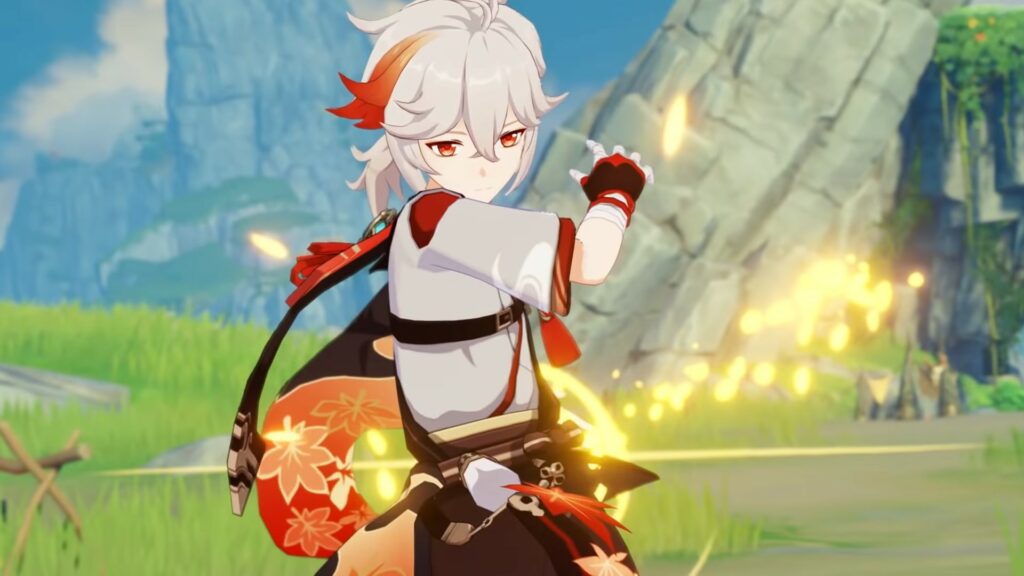 Kazuha's element: Anemo
Kazuha's weapon: Sword
Kazuha's voice actors: Mark Whitten (EN), Nobunaga Shimazaki (JP), Banma (CN), Kim Shin-woo (KR)
Kaedehara Kazuha is a five-star exiled samurai who has associations with Beidou's Crux Fleet. Kazuha fled from Inazuma to Liyue to escape the Raiden Shogun's Vision Hunt Decree, an order that seizes all visions in the Electro region.
---
Kamisato Ayaka, the Snowdance Heron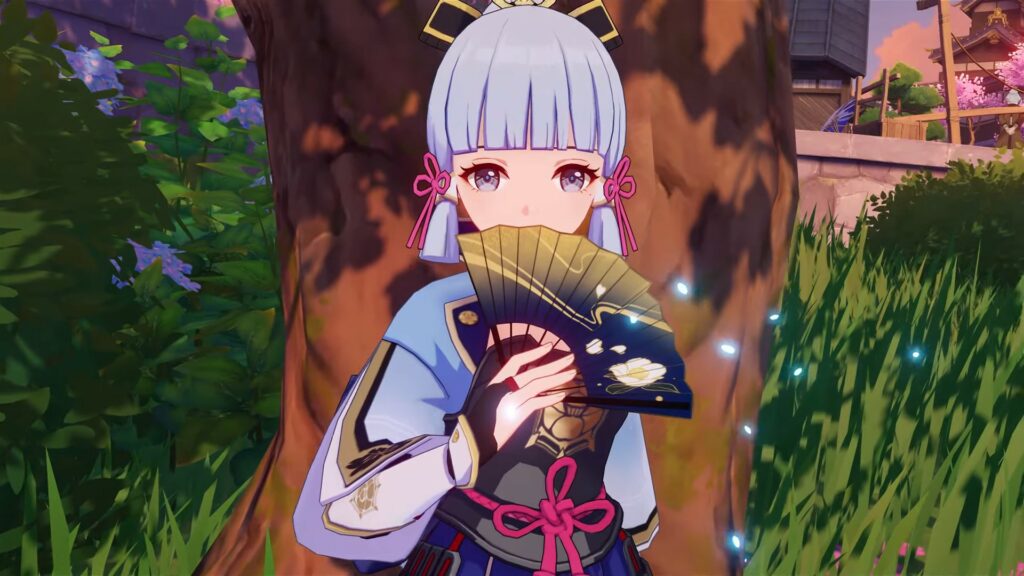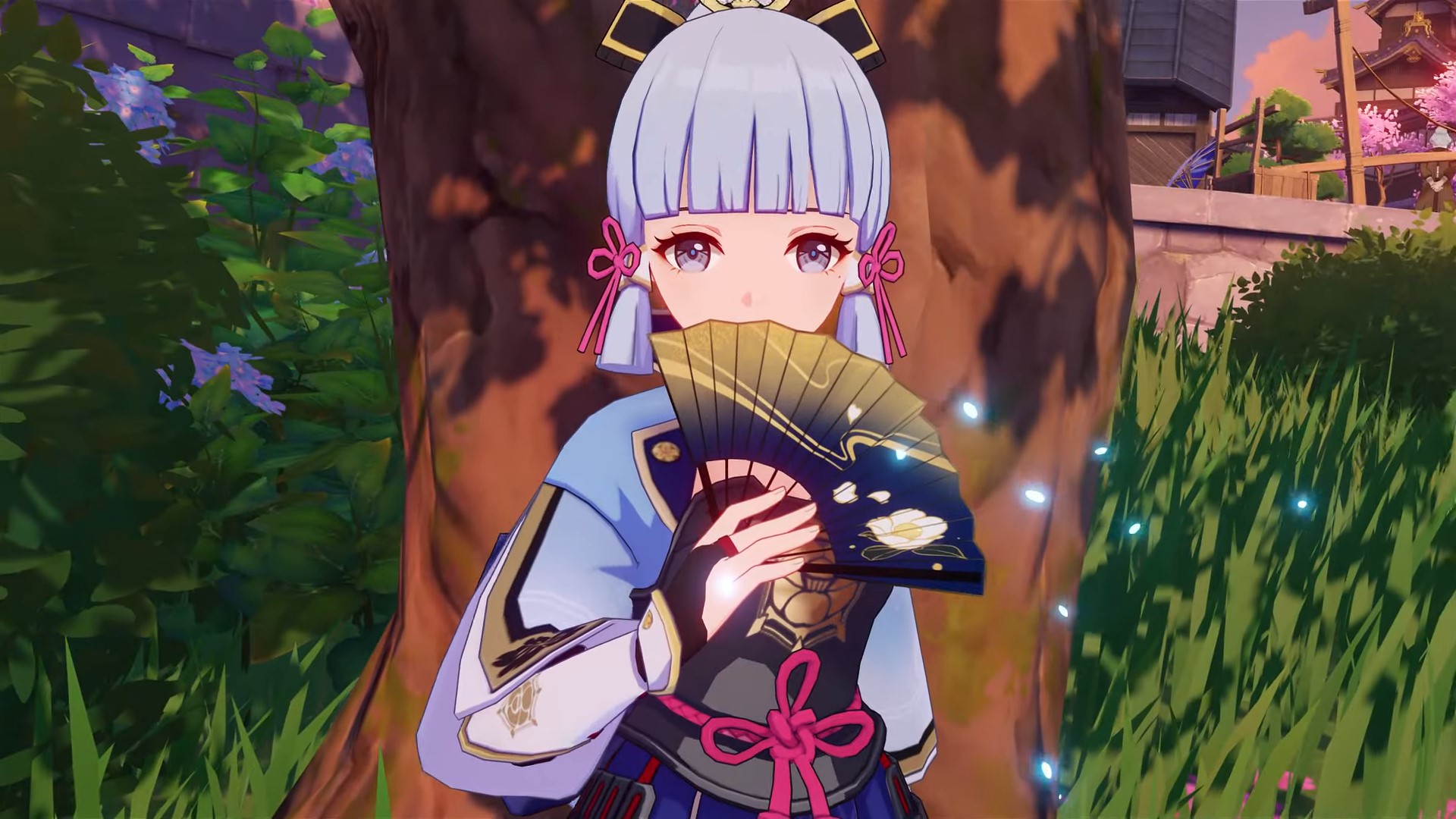 Ayaka's element: Cryo
Ayaka's weapon: Sword
Ayaka's voice actors: Erica Mendez (EN), Hayami Saori (JP), Xiao N (CN), Lee Yu-ri (KR)
Next on the list of Genshin Impact Inazuma characters is Kamisato Ayaka, a five-star Cryo character and the eldest daughter of the Kamisato Clan, a renowned clan in Inazuma city.
Ayaka is often compared to a snow crane not just because of her appearance, but also because of her gracefulness and modesty.
Out of all the Genshin Impact Inazuma characters, Kamisato Ayaka is the last closed-beta character released in the game.
---
Yoimiya, the Queen of the Summer Festival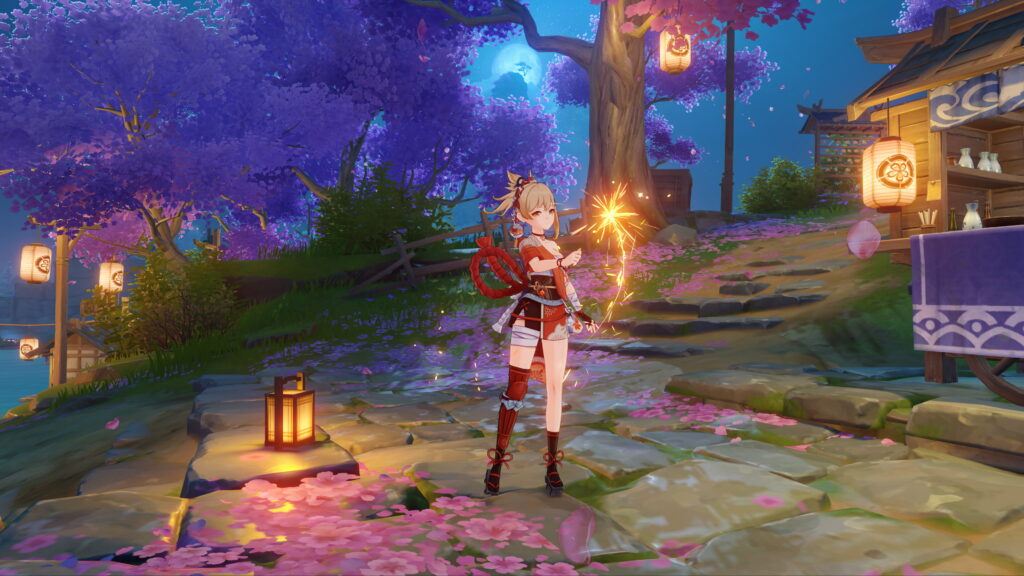 Yoimiya's element: Pyro
Yoimiya's weapon: Bow
Yoimiya's voice actors: Jenny Yokobori (EN), Ueda Kana (JP), Jinna (CN)
Known as the "Queen of the Summer Festival," Yoimiya excels in creating fireworks that symbolize people's hopes and dreams. Yoimiya is often compared to Mondstadt's outrider, Amber, because of their similarity in element and weapon.
---
Sayu, the pint-sized ninja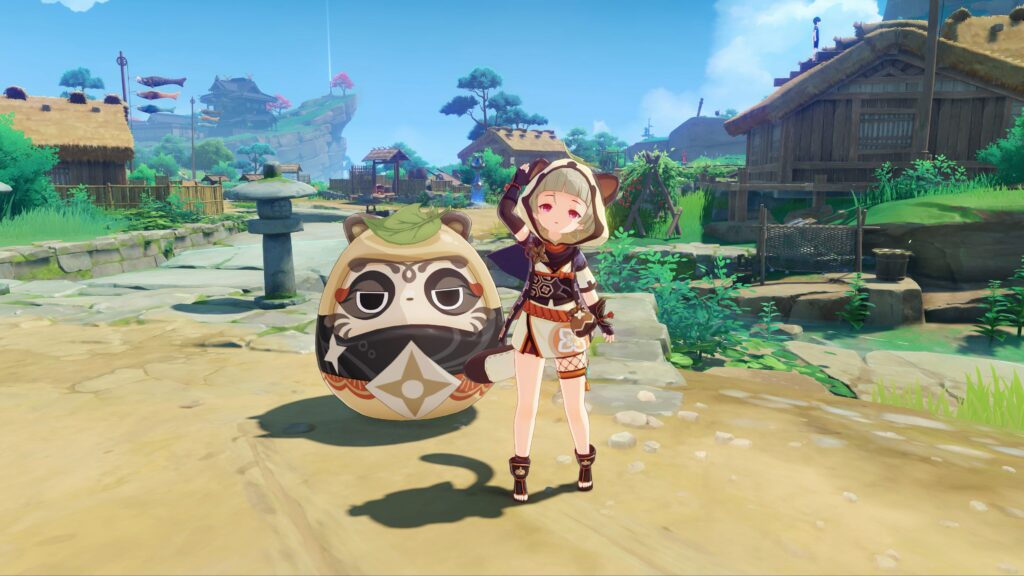 Sayu's element: Anemo
Sayu's weapon: Claymore
Sayu's voice actors: Lily "LilyPichu" Ki (EN), Suzaki Aya (JP), Sakula (CN)
Next on this list of Genshin Impact Inazuma characters is Sayu, a new four-star ninja character who wields an Anemo Vision and a giant claymore that's bigger than herself. The inspiration behind Sayu's costume design is a tanuki, or Japanese raccoon dog.
Sayu's passive ability lets players sneak up on animals without startling them. Aside from her passive, players are also excited to interact with Sayu in the game, since she is voiced by beloved OfflineTV star LilyPichu.
---
---
Thoma, the Chief Retainer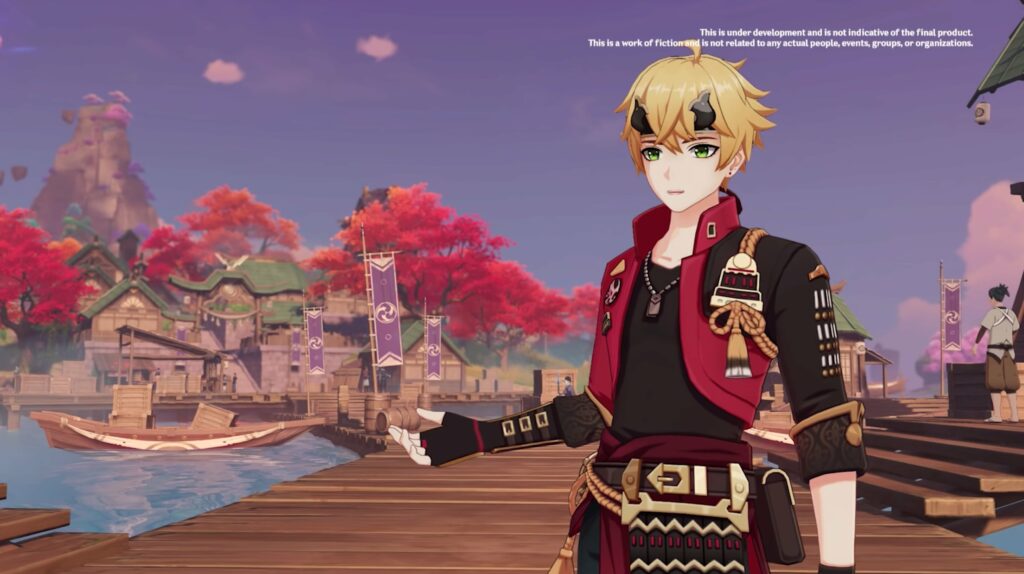 Thoma's element: Pyro
Thoma's weapon: TBA
Thoma's voice actors: Christian Banas (EN), Morita Masakazu (JP)
Thoma is the chief retainer of the Kamisato clan. He has close ties with Kamisato Ayaka, and even appears in her character teaser video. Thoma was described as observant and mature by the game's Head of Creative Concept and Writing Team, Xiao Luohao during the Inazuma livestream.
Thoma is also one of the first faces you'll see upon landing in Teyvat's new region, Inazuma.
---
Kujou Sara, the general of the Tenryou commission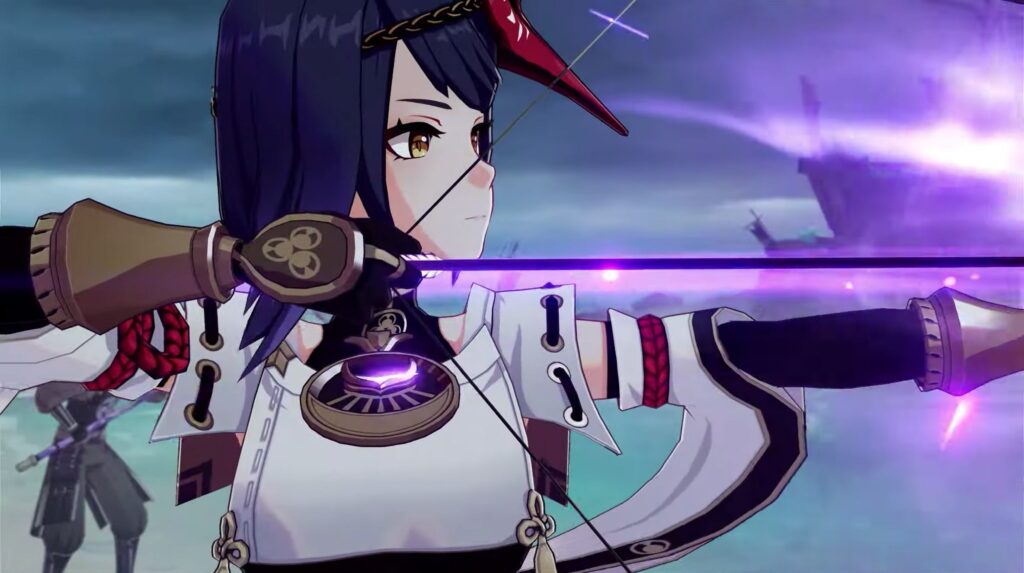 Kujou Sara's element: Electro
Kujou Sara's weapon: Bow
Kujou Sara's voice actors: Jeannie Tirado (EN), Seto Asami (JP)
Kujou Sara is the general of the Tenryou commission, the executive arm of the Raiden Shogun. She is very loyal to the Electro archon, and is in charge of leading Baal's Vision Hunt Decree.
---
Gorou, the general of the Sangonomiya troops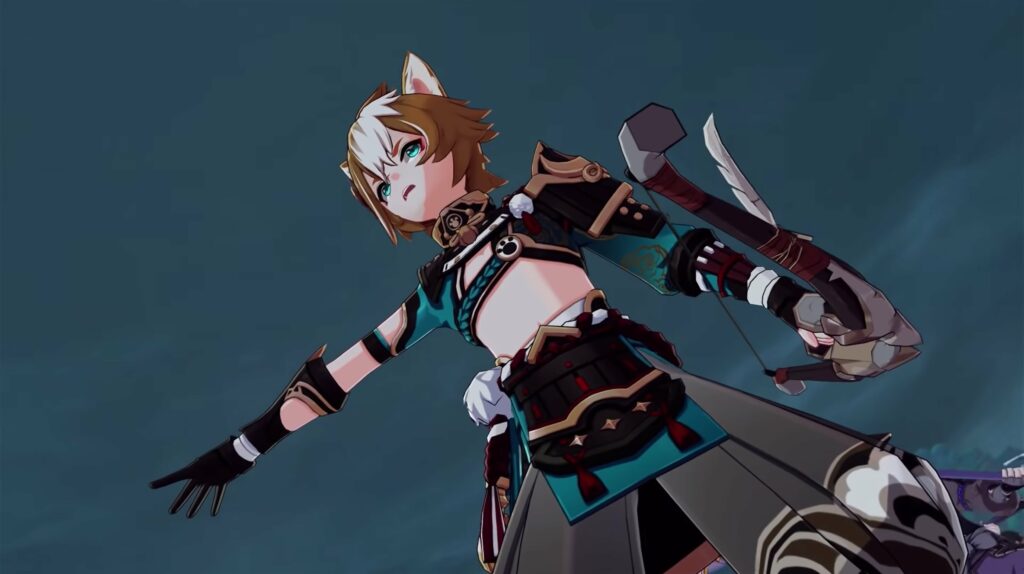 Gorou's element: Geo
Gorou's weapon: TBA
Gorou's voice actors: Hatanaka Tasuku (JP)
Another general on this list of Genshin Impact Inazuma characters is Gorou, the head of the Sangonomiya troops. Gorou was described by Luohao as "a character that stands his ground in combat and becomes more fierce throughout the battle."
---
Sangonomiya Kokomi, the brains of the forces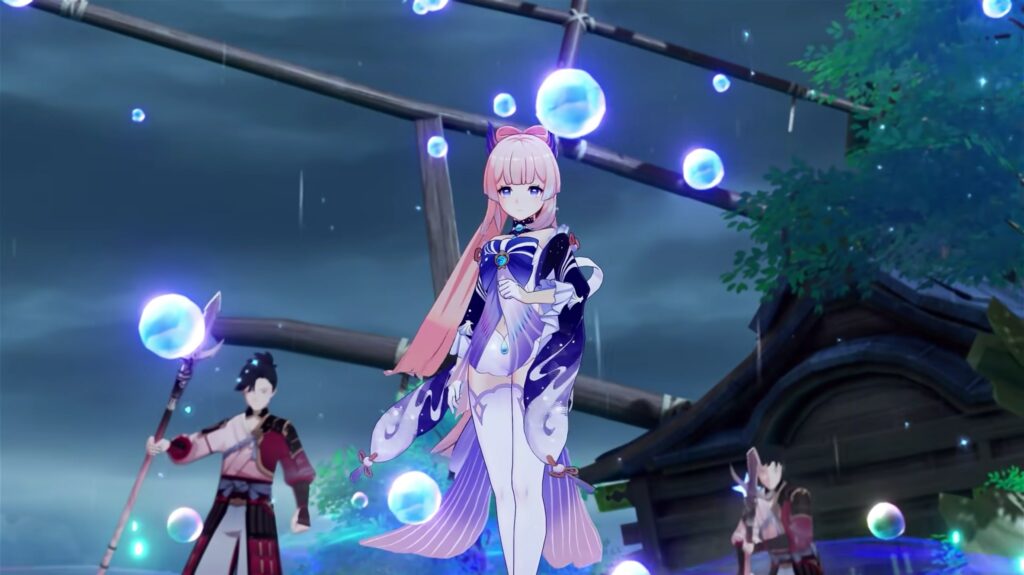 Sangonomiya Kokomi's element: Hydro
Sangonomiya Kokomi's weapon: Catalyst
Sangonomiya Kokomi's voice actors: Risa Mei (EN), Mimori Suzuko (JP)
Sangonomiya Kokomi is the leader of the Sangonomiya resistance. Genshin Impact's Sangonomiya Kokomi serves as a wise and resourceful military advisor in the story.
---
Yae Miko, the chief priest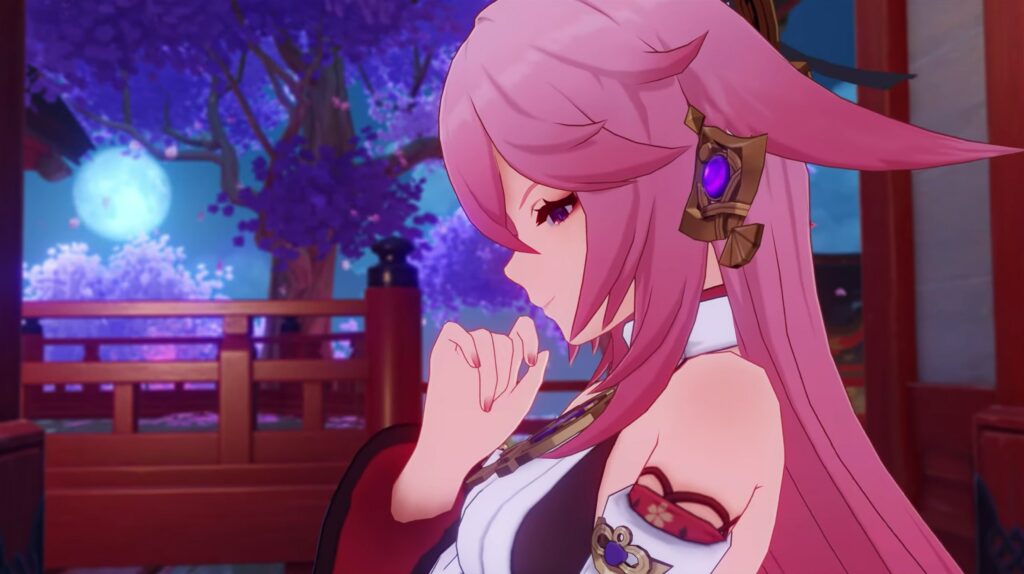 Yae Miko's element: Electro
Yae Miko's weapon: TBA
Yae Miko's voice actors: Sakura Ayane (JP)
Yae Miko is the Guuji of the Grand Narukami Shrine. Guuji is the Japanese term for a chief priest.
Yae Miko is an unpredictable lady who likes doing things in her own way as revealed in the Inazuma livestream.
Honkai Impact 3rd fans will notice the huge resemblance between Yae Miko and Yae Sakura, for both miHoYo characters are shrine maidens in their own titles.
---
Baal, the Raiden Shogun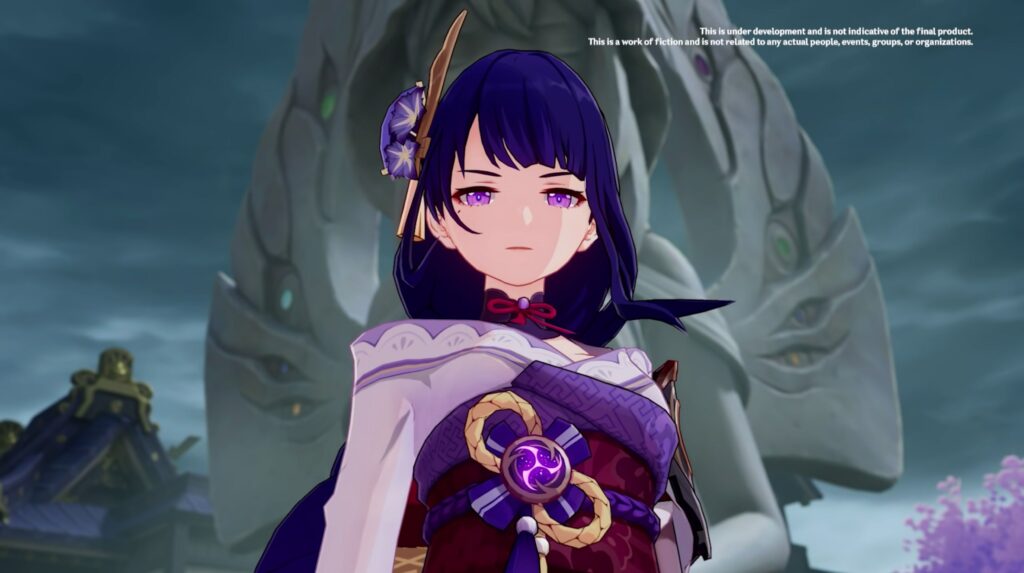 Baal's element: Electro
Baal's weapon: Polearm
Baal's voice actors: Anne Yatco (EN), Sawashiro Miyuki (JP)
Also known as the Electro Archon and the Raiden Shogun (God of Eternity), a huge part of the Inazuma update will center on Baal and her pursuit for eternity.
Baal appeared at the end of the Inazuma livestream, pulling out a sword from her chest, leaving fans with the mysterious words "You will be inlaid upon this statue."
Fans seem to be most excited for Baal out of all the Genshin Impact Inazuma characters in Teyvat, because of her unique sword-wielding action.
READ MORE: 5 easy ways to get free Primogems in Genshin Impact