North American organization Sentinels just can't catch a break. The team found itself shorthanded during its third VCT NA Stage 2 Challengers group stage match against regional rivals OpTic Gaming.
The famed Valorant team announced an hour before their match against the reigning Masters Reykjavik 2022 champions that Tyson "TenZ" Ngo would be unable to play after falling ill.
TenZ posted a day later that he and his girlfriend, Kyedae "Kyedae" Shymko, had tested positive for COVID-19.
---
---
Sentinels go 0-3 in VCT NA Stage 2 Challengers group stage without TenZ and SicK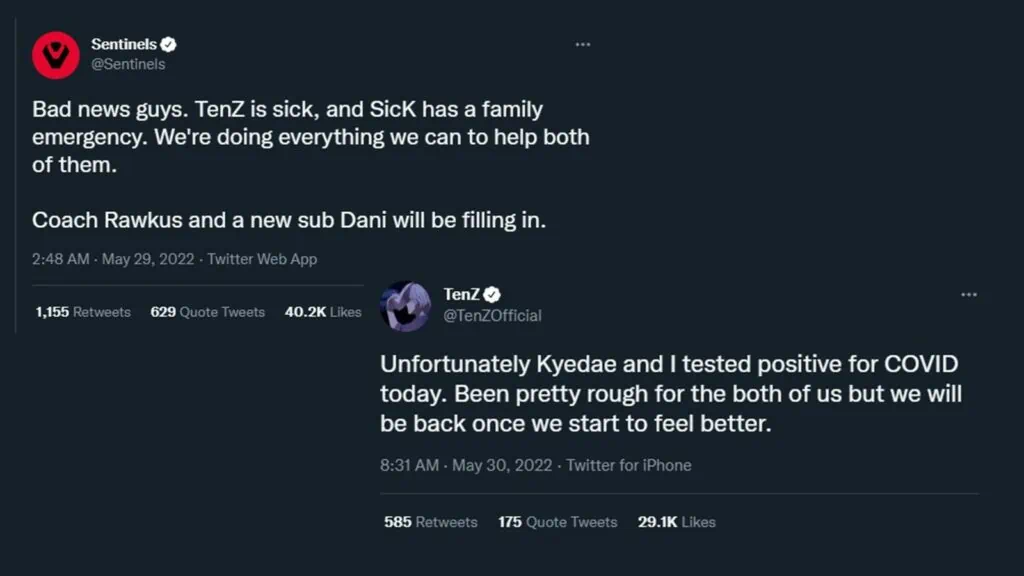 On top of that, Hunter "SicK" Mims was also absent due to a family emergency. As a result, Sentinels had their coach Shane "Rawkus" Flaherty and Dani "Dani" Hashweh fill in as substitutes.
The organization had originally approached former player Jared "zombs" Gitlin about playing as a stand-in, but the 23-year-old turned them down. On his stream, zombs said that he hasn't played a scrim in two months and did not feel comfortable substituting on such short notice.
The timing couldn't have been worse for Sentinels as the team had already lost their first two group stage matches against Luminosity Gaming and Evil Geniuses. The North American squad eventually fell 2-0 to OpTic, which placed them at the bottom of their group with a 0-3 record.
Due to the last-minute roster changes, Sentinels were forced to reshuffle their agent roles with Eric "Kanpeki" Xu playing Neon and Shahzeb "ShahZaM" Khan picking Jett on Fracture and Bind respectively. At the same time, Dani took over SicK's role as the team's controller on Brimstone and Omen.
---
---
On Fracture, Rawkus, who has also tested positive for COVID-19, showed moments of brilliance with an unlikely 1v3 clutch, but the team was ultimately outmatched against OpTic who took the map 13-5.
Sentinels attempted to bounce back on their map pick of Bind, a map they dominated in the VCT 2021 season.
Even though they were playing with two stand-ins, the team retained its penchant for showmanship, with Michael "dapr" Gulino baiting Jimmy "Marved" Nguyen into a knife fight knowing that they had already secured the round.
But despite winning the opening two rounds, Sentinels were still not able to overcome OpTic, who went on a 10-round streak to finish the half.
Dani had a promising VCT debut, notching several big frags against the top-ranked team in North America.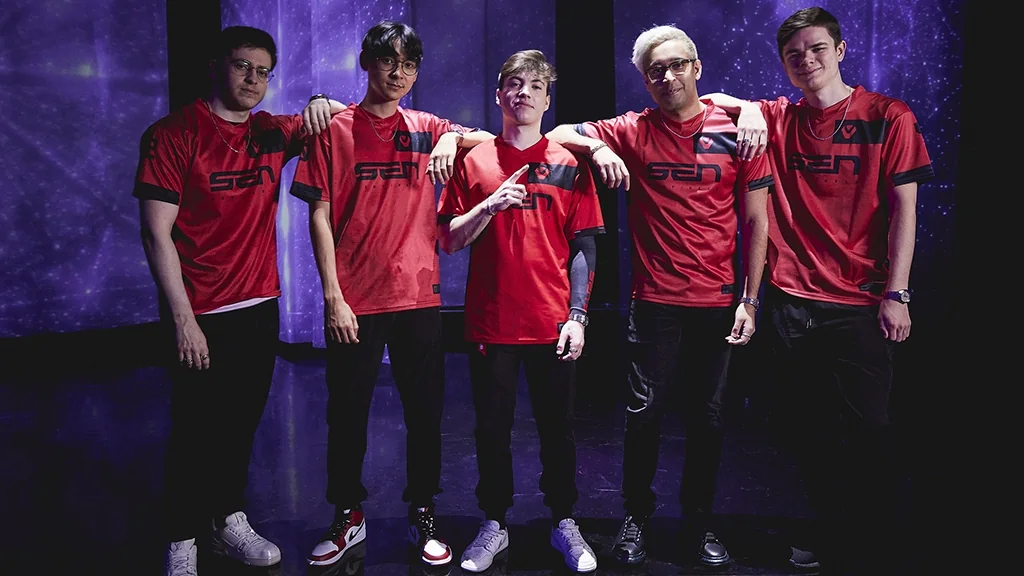 However, OpTic would not be stopped, eventually taking Bind 13-8 with Jaccob "yay" Whiteaker coming up clutch in the closing rounds of the game.
The Masters Reykjavik 2021 champions may be down 0-3, but they're not yet out of the running. While they're currently at the bottom of their group, they still have a chance to qualify for the playoffs if they win their next two matches against FaZe Clan and Cloud9.
Sentinels will play their next VCT NA Stage 2 Challengers group stage match against FaZe Clan on June 5, 4:00 a.m. GMT+8 | June 4, 1:00 p.m. PT | June 4, 9:00 p.m. GMT.
Fans can watch the match live on Valorant's official Twitch or YouTube channels.
READ MORE: OpTic Gaming's Marved explains what NA teams are doing wrong during practice