Paper Rex are charting new ground at VCT Stage 1 Masters Reykjavik 2022, becoming the first team to notch a win on Yoru on the international VCT stage.
As one of only two teams to consistently run a double duelist composition in Iceland, the Southeast Asian squad has impressed with their loose and aggressive play. Their playstyle is fearless and uninhibited, making for some truly chaotic moments that are incredibly fun to watch.
In their lower bracket playoffs match against EMEA top seed G2 Esports, Benedict "Benkai" Tan and his team came out swinging, taking the series 2-0 to lock their place in the top four at Reykjavik.
On the second map, Bind, Jason "f0rsakeN" Susanto once again pulled out his pocket Yoru pick, using his Gatecrash tether to constantly reposition where G2 was least expecting it. G2 had no answer to the interdimensional duelist, and f0rsakeN ended the map with a 29/13/4 KDA and 371 Average Combat Score (ACS).
---
---
Paper Rex f0rsakeN shows how to play the new Yoru rework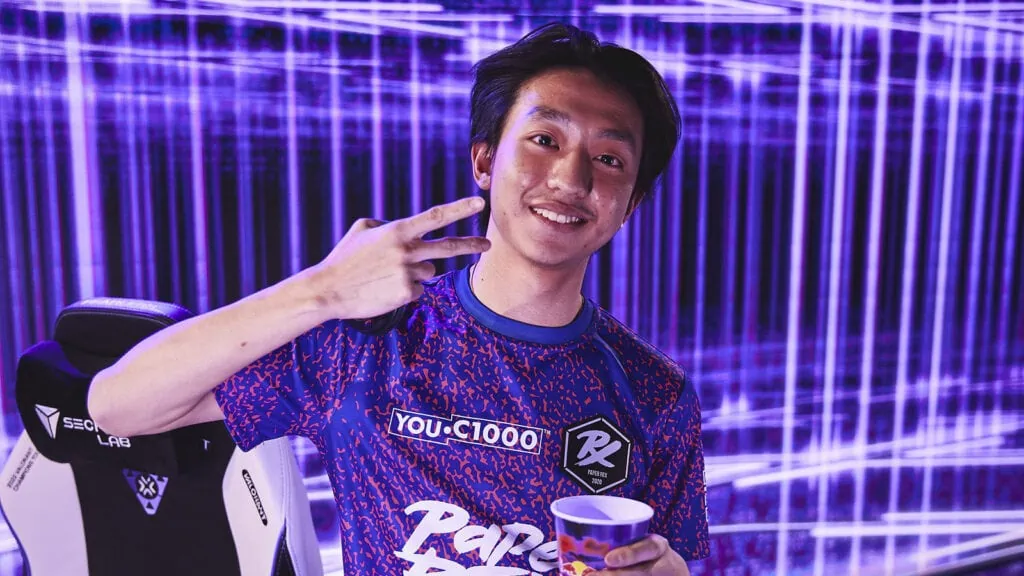 While the blue-haired duelist has struggled to find his place in the pro meta even after his rework in patch 4.04, f0rsakeN may have just cracked the code on how to play him, at least on Bind.
The 18-year-old used his Dimensional Drift ultimate to gather information or serve as a distraction for his teammates. In Round 11, he activated the ultimate to run into Johan "Meddo" Renbjörk Lundborg's Viper's Pit, forcing Meddo to back out of the pit.
He then threw out Yoru's Blindside flash, further adding to the chaos and creating space for Wang "Jinggg" Jing Jie's Raze to push into Lamps with a Judge.
---
---
After the remaining members of G2 had rotated off B site to back up their team on A, f0rsakeN teleported to his Gatecrash tether in A teleporter. This meant that he didn't produce the distinct sound of someone going through the teleporter, allowing him to run through B site and hold the G2 rotate through defender's spawn.
The rest of his team were close behind, taking the teleporter to set up a plant on B site. G2 were not expecting f0rsakeN to already be in their spawn, and he was able to find a pick on Aaro "hoody" Peltokangas, putting Paper Rex in a favorable 3v1 situation.
---
---
In Round 17, f0rsakeN similarly used Gatecrash to catch G2 off guard. He sent his tether into the teleporter at Showers, so Meddo and Auni "AvovA" Chahade did not hear him come through.
Both G2 players had no idea that he would be at Showers, allowing f0rsakeN to get an easy pick on AvovA as he was planting the spike.
Throughout the game, f0rsakeN successfully found significant value from every ability in Yoru's kit. He played off G2's contact with his Fakeout clone, swinging after the decoy was destroyed. G2 also appeared unprepared to play against the unorthodox pick, and the Indonesian player was constantly able to reposition between sites with ease.
He even went for a few Gatecrash and Blindside combinations deep into enemy territory, allowing him to close the distance with G2 and catch them by surprise.
"The way I think of Yoru is that he's not about getting the first pick. It's how you play with your teammates, for example with a stun combo or flash. If you can combine that with his teleport, I think he can be very powerful," said f0rsakeN in a post-match interview.
Paper Rex will now face Japan's Zeta Division on April 23, 4:00 a.m. GMT+8 | April 22, 1:00 p.m. PDT | April 22, 8:00 p.m. GMT.
You can view the full match schedule for Masters Reykjavik 2022 here. All matches are broadcast on the official Valorant Twitch and YouTube channels.
READ MORE: How OpTic Gaming's yay became the sentinel main teams fear at Masters Reykjavik