The upsets just keep on coming! Paper Rex (PRX) showed what they're truly capable of after they eliminated North America's top-seeded team The Guard from Masters Reykjavik 2022.
PRX's victory was an eye-opener for the Southeast Asian region. They looked sure-footed throughout, with Benedict "Benkai" Tan, Jason "f0rsakeN" Susanto, and Wang Jing "Jinggg" Jie putting together stellar performances. The Guard, in contrast, looked unconfident on stage, a far cry from their VCT NA Stage 1 Challengers championship run.
In an interview with ONE Esports after their incredible victory, PRX's Benkai raved about Jinggg's amazing play as their second duelist.
"Jinggg is such a cracked kid whose talent is just insane," he shared. "I feel like he carried us on a few games."
Paper Rex upsets and eliminates The Guard from Masters Reykjavik
The Southeast Asian squad got off to a hot start, taking a 6-1 lead against The Guard on Haven.
PRX's in-game leader Benkai made many great calls against The Guard mid-rounds, executing devastating lurk plays, disrupting The Guard's retake attempts by attacking on two fronts with the help of his teammates.
Benkai believes he's definitely improved as a player since he competed at Masters Berlin last year. "I know everyone has been telling me my talent peak is really high, and I just need to be more confident with my aim so I just tried to play more aggressive to build up my confidence," he said.
---
---
Two key contributors to PRX's success were f0rsakeN and Jinggg. They were their team's top fraggers on both Haven and Split.
F0rsakeN played without fear, constantly peeking at the enemy team since he knew he would be quicker on the draw with his Operator.
Jinggg had a with a breakout performance on Split, dropping an insane ACS of 385 and a KDA of 28/18/6 on Raze.
The rising Singaporean star even pulled off an unbelievable ace to end the half. After getting three consecutive kills, he activated Raze's Showstopper ultimate, which forced The Guard to run away.
PRX's Benkai believes that Jinggg is currently playing on the same level as f0rsakeN at the tournament, which is a strong statement.
F0rsakeN proved he is one of the best players in the Southeast Asian region by having the highest ACS of 290 and kill-death average of 1.36 during the VCT APAC Challengers Playoffs, according to vlr.gg.
He is a veteran player who has been competing professionally for six years, while PRX's rookie duelist has only been an esports pro for almost two years.
Benkai shares the strengths of PRX's double duelist comp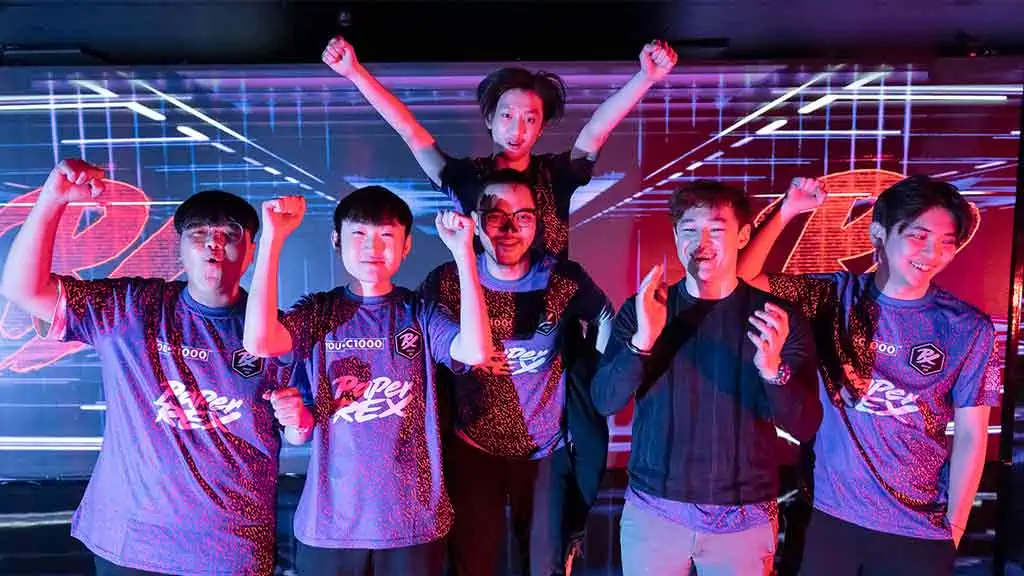 Aside from Ninjas in Pyjamas, PRX is the only team at Masters Reykjavik who have consistently selected two duelists in their matches. This unique agent comp is based on the team's aggressive playstyle that's very popular in Southeast Asia.
"In the APAC region, everyone just tries to out aim one another, and I feel that's our strength," Benkai explained. "When it comes to it, our aim always bails us out, so playing double duelist was a no-brainer for the team."
PRX proved they're capable of beating other top-seeded teams in the tournament by eliminating The Guard using their aggressive agent comp.
The Southeast Asian squad looks to build on their momentum in the lower bracket as they are set to face the loser of G2 Esports and LOUD's upper bracket semifinal match on April 19, 3:30 a.m. GMT+8 | April 17, 12:30 p.m. PDT | April 17, 7:30 p.m. GMT.
All matches are broadcast live on the official Valorant Twitch and YouTube channels.
READ MORE: Sentinels TenZ: 'DRX is better at using utility together than The Guard'