VCT APAC champions Paper Rex may have fallen slightly short against Korean juggernaut DRX in their quarterfinal playoffs match at Masters Reykjavik 2022, but they still put on a performance to be remembered.
Paper Rex Jinggg in particular was absolutely stellar on Haven, perfectly exemplifying Reyna's feast or famine playstyle. Unfortunately for DRX, Wang "Jinggg" Jing Jie was feasting on a buffet.
The 18-year-old was the backbone of Paper Rex's hard-hitting aggression on defense, finding picks and constantly going back for more. Reyna's Dismiss helped him reposition to safety, while Devour topped up his health so he could still take engagements.
---
---
Paper Rex Jinggg is only the second player to pick Reyna at Masters Reykjavik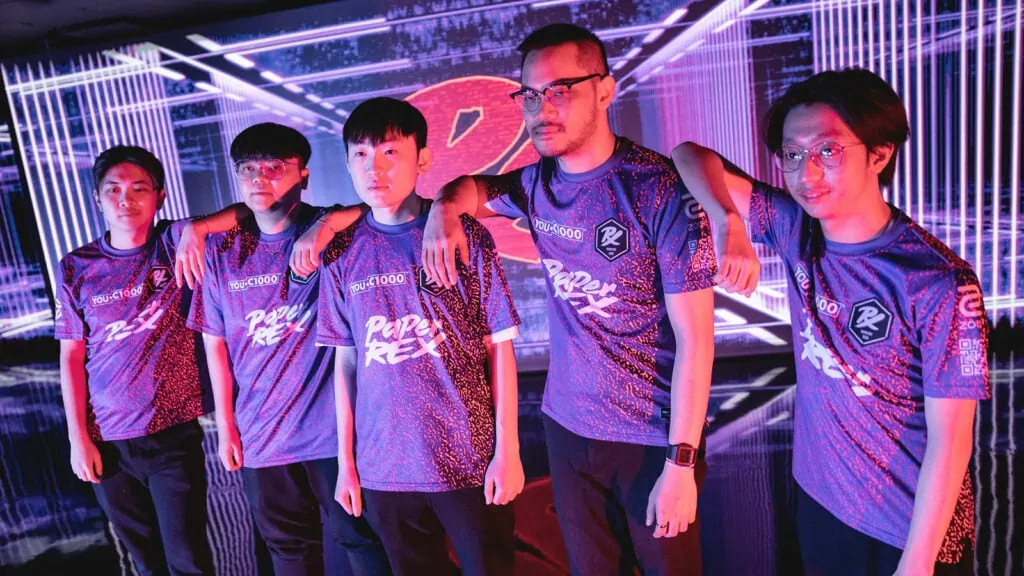 The Southeast Asian team's double duelist composition, featuring Jett and Reyna, was a harbinger of their fast-paced playstyle and willingness to take duels.
Reyna has largely fallen out of favor in the pro meta, because most of her abilities only benefit herself and don't do much to help her team set up a play. At Masters Reykjavik, Reyna currently has a measly pick rate of 5 percent, and Jinggg became only the second player to pick the Mexican duelist at the tournament, after Ninjas in Pyjamas' Walney "Jonn" Reis.
As it turns out, none of that matters if you're hitting your shots. Jinggg stopped DRX dead in their tracks on Round 23, dropping four quick kills to help Paper Rex take the map 13-10.
DRX had begun to set up to hit C, entering from both Garage and C Long. The initial engagements went DRX's way, with Kim "Zest" Gi-seok finding a pick on Aaron "mindfreak" Leonhart at C Cubby.
---
---
The rest of DRX found two more kills, with only Jason "f0rsakeN" Susanto answering back.
Jinggg was close behind, pushing out of Garage to take down Yu "BuZz" Byung-chul and Goo "Rb" Sang-min. Seeing Zest peek from C Long, he Dismissed and retreated behind C Box, where he was able to take a 1v1 duel with Kim "MaKo" Myeong-kwan at back site.
He then used Devour to replenish his health, before immediately re-peeking Zest and eliminating him.
---
---
Jinggg was integral to Paper Rex's defense on Haven, almost never giving the Korean team a chance to set up for a play. Paper Rex displayed exceedingly well-coordinated aggression, with consistent pressure on A Long and Short and smartly-timed flanks from mindfreak.
"When Reyna gets started, it's hard to stop her," Raze says, and Jinggg just showed us exactly why.
Paper Rex will play their next match against North American top seed The Guard on April 17, 3:30 a.m. GMT+8 | April 16, 12:30 p.m. PDT | April 16, 7:30 p.m. GMT.
All matches are broadcast live on the official Valorant Twitch and YouTube channels.
READ MORE: The Guard trent was once rejected by Cloud9 and TSM for tryouts