Sentinels TenZ has made no secret of the fact that he loves watching VCT APAC champions Paper Rex play.
Benedict "Benkai" Tan and his team have impressed at Masters Reykjavik 2022, using relentless aggression to disrupt their opponents' set plays early on in the round. They have shown a glorious disrespect for enemy utility, fearlessly pushing smokes to find kills and forcing teams to play according to their pace.
Jason "f0rsakeN" Susanto and Wang "Jinggg" Jing Jie lead the charge for their team, constantly prodding for holes in opponents' setups.
Other than Brazil's Ninjas in Pyjamas, Paper Rex is the only other team in Iceland to consistently field a double duelist composition. In a recent Masters Reykjavik 2022 watch party stream, Tyson "TenZ" Ngo gave his thoughts on Paper Rex f0rsakeN and Jinggg, and how they play off each other so successfully.
---
---
Jinggg is playing the star player role on Paper Rex, says Sentinels TenZ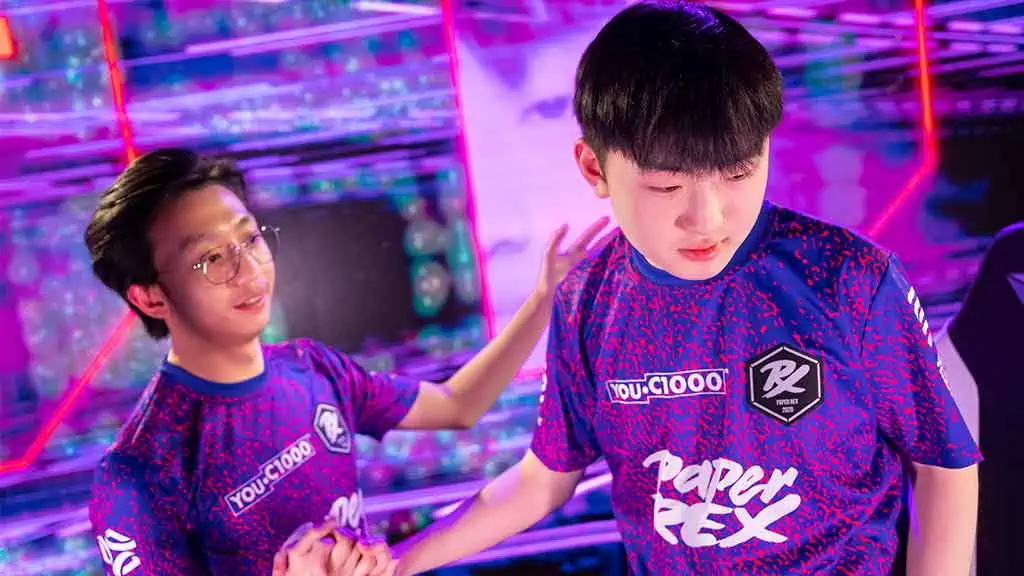 The Southeast Asian team's focus on individual play means that they rely on both duelists to blitz into bomb sites.
"F0rsakeN is the guy who is always taking the first fight," said TenZ. At Masters Reykjavik 2022, f0rsakeN currently has the highest first kills per round at 0.22, a testament to his success at winning opening duels.
"With the f0rsakeN and Jinggg combo, you have f0rsakeN creating space and getting all the information for Jinggg. He also offsets people's crosshairs, which allows Jinggg to run in and get the trades and multi-kills," he explained.
---
---
In fact, Jinggg is playing the star player role on Paper Rex now, according to TenZ. "He's getting trade frags off his entry," said TenZ, referring to the way Paper Rex's Raze and Reyna main plays off every first engagement that f0rsakeN takes.
This one-two combo lets Paper Rex take the fight to the enemy extremely effectively. While most teams focus on deploying utilities to set up their star duelist for entry picks, Paper Rex also uses f0rsakeN to set the stage for Jinggg to secure kills.
The numbers speak for themselves. Against both DRX and The Guard, Jinggg topped the scoreboard for his team, but he had only 14 first bloods to f0rsakeN's 24.
---
---
"You don't always see f0rsakeN pop off. He will do really good but scoreboard-wise you won't see him at the top all the time. That's just how the role works out," added TenZ.
Paper Rex are slated to play G2 Esports next on April 19, 3:30 a.m. GMT+8 | April 18, 12:30 p.m. PDT | April 18, 7:30 p.m. GMT.
You can view the full schedule for Masters Reykjavik 2022 here. All matches are broadcast live on the official Valorant Twitch and YouTube channels.
READ MORE: Zeta Division's SugarZ3ro is a god with the Shorty