Iceland has become the land of upsets as Japanese upstart Zeta Division continued their hot streak, eliminating Korean powerhouse squad DRX from Masters Reykjavik 2022.
After finding just five round wins in their group stage match against DRX only nine days ago, Zeta Division turned the tables against their Korean rivals in this series. The team came together with good reads on their opponents and excellent team play, defeating DRX 2-1 in the lower bracket.
Shota "SugarZ3ro" Watanabe, Tenta " TENNN" Asai, and Koji "Laz" Ushida have been a revelation in the tournament, showing that they have what it takes to compete with the very best. Together with Yuma "Dep" Hashimoto and Tomoaki "crow" Maruoka, the squad has shown monumental improvement with every opponent they play.
With this win, Zeta have sent home a team that many considered to be one of the strongest in the tournament. They continue to defy all expectations, and are now among the top four teams at Masters Reykjavik 2022.
---
---
Zeta Division eliminate tournament favorites DRX from the playoffs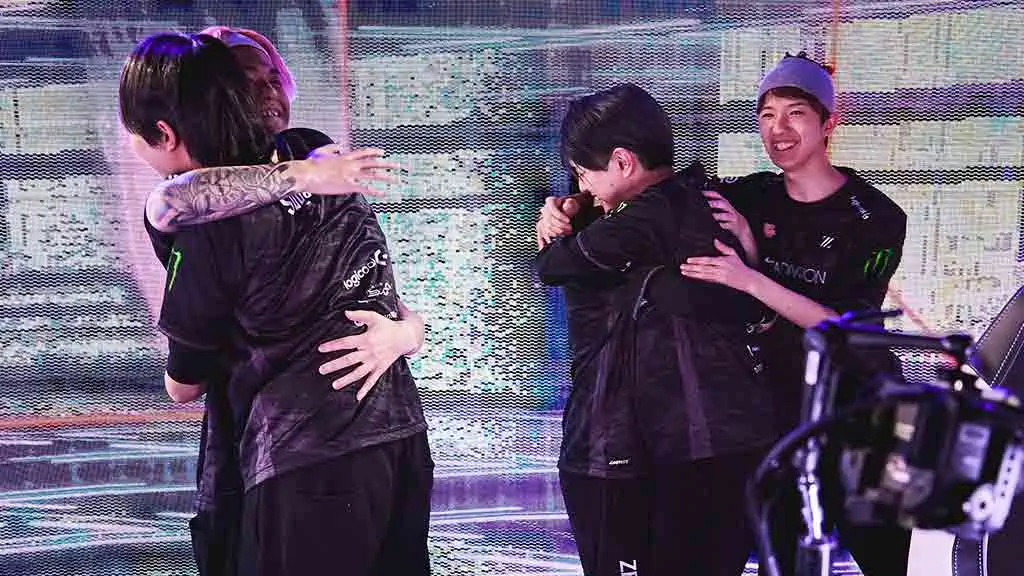 The first map was Icebox, a repeat of their first meeting in the group stage. Zeta appeared undeterred by DRX's 13-2 drubbing then, resolutely picking Icebox again. The map would turn into an all-out brawl, as both teams have historically high win rates on Icebox at 79 percent and 74 percent respectively.
The Japanese squad has shown great improvement since they began their journey in the group stage. They looked well-prepared against DRX, deploying counter-plays that prevented DRX from executing their post-plant strategies.
On defense, Zeta combined Viper's Snake Bite and Sova's Shock Bolt to stop DRX's plant from going down. Zeta were able to string together multiple rounds, ending the half with a commanding 8-4 lead, marking the first time DRX trailed at halftime in the tournament.
---
---
Laz stepped up on Chamber in the second half and was a constant thorn in DRX's side, picking their defensive setups apart with timely lurk plays. He finished as the map MVP with an Average Combat Score of 270 and 25/15/2 KDA.
---
---
Despite losing the following map on Ascent to DRX, Zeta's controller main, SugarZ3ro, showed that he is still one of the most clutch players at the tournament. He won a nail-biting 1v3 with just a Bulldog in Round 17, using Astra's Gravity Well to delay the defuse of the spike.
With DRX sitting at 12-9, he once again threw his team a lifeline by deploying Gravity Well to pull Yu "BuZz" Byung-chul off the spike, stopping the defuse.
---
---
It was TENNN's turn to shine on the deciding map, Split. He propelled Zeta over the finish line, topping the scoreboard as map MVP with an ACS of 345 and KDA of 21/11/1. He looked unstoppable on Raze, out aiming any opponent that was within his vicinity.
Thanks to TENNN's hot start, Zeta took a staggering 10-2 lead at the half against DRX. The Japanese squad did not allow their opponents to get back into the game, constantly working hard to control the map by utilizing Astra's and Viper's smokes.
---
---
After the match, Laz was the picture of humility and sportsmanship, thanking his Korean opponents for helping Zeta improve as a team.
"We have been practicing with DRX for a long time in Asia and we have learned a lot from them," said Laz. "We wouldn't have been here if it wasn't for DRX and we have so much respect for them."
Zeta Division is now set to face Paper Rex in the lower bracket. The two Asian squads will take the stage on April 23, 4:00 a.m. GMT+8 | April 22, 1:00 p.m. PDT | April 22, 8:00 p.m. GMT.
Will Zeta Division complete their Cinderella run? Or will Paper Rex put Southeast Asia on the Valorant map?
You can view the full match schedule for Masters Reykjavik 2022 here. All matches are broadcast on the official Valorant Twitch and YouTube channels.
READ MORE: Sentinels TenZ reveals what he really thinks of Paper Rex f0rsakeN and Jinggg