Southeast Asian powerhouse Paper Rex is continuing to make waves with unorthodox agent compositions, after a Masters Reykjavik 2022 showcase where they were the only team to use Japanese duelist Yoru.
Against Blitz Esports in the VCT Malaysia and Singapore Stage 2 Challengers group stage, Paper Rex pulled out an insane triple duelist composition on Breeze, featuring Reyna, Phoenix, and Raze.
The Stage 1 APAC champions proceeded to take the map 13-8 – and the series 2-0 – with a particularly dominant attacking half that saw them win nine straight rounds.
The triple duelist composition fit their playstyle perfectly, given their reputation for unrelenting aggression and double duelist setups at Reykjavik. The composition also looked even more daring because of the map, Breeze, where teams generally rely on agents like Viper, KAY/O, and Sova to create space.
---
---
Paper Rex are one step closer to running five duelists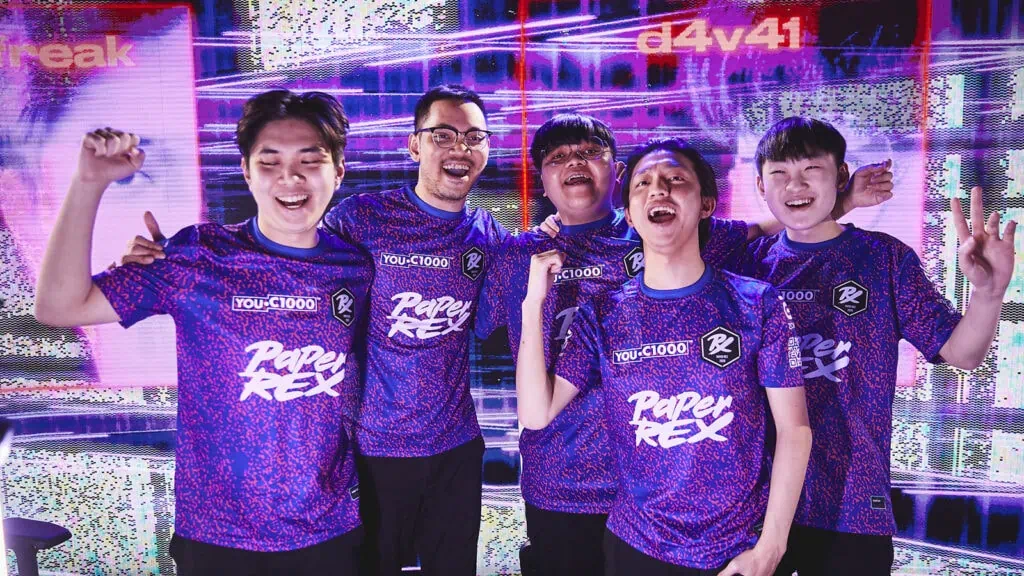 With star entry-fragger Jason "f0rsakeN" Susanto on Sova and in-game leader Benedict "Benkai" Tan on Phoenix, Paper Rex looked like they were deliberately trying to switch their roles up.
Nevertheless, the team continued to run it down on the attacking side as soon as the clock started ticking.
From fast A executes to using Phoenix's Blaze wall to rush mid, Paper Rex appeared unstoppable. On Round 4, the team stormed onto A site, using Brimstone's Sky Smokes to block off vision from Mid Doors and back site.
---
---
Benkai then activated Phoenix's Run It Back ultimate, flashing onto site and following Sova's Owl Drone in. While the ultimate was soon nullified by an Operator from Blitz Esports, that first contact was all Paper Rex needed to barrel onto A.
Wang "Jinggg" Jing Jie flashed back site with Reyna's Leer, while f0rsakeN pushed toward A Bridge and found three kills.
Paper Rex were fearless when it came to taking map control. A mid rush on Round 8 from Benkai netted an early kill on a player in B Elbow, while the rest of his team pushed from B Main and Elbow. Benkai was also able to find a second kill at Mid Doors, as Blitz pushed out from A to try to regain control of Mid.
However, you shouldn't expect the team to run this composition too frequently, especially when the stakes are higher. Paper Rex had already secured their spot in the playoffs before the match against Blitz, so the game was just a formality.
Paper Rex has been experimenting with several different agent compositions in Stage 2, including new initiator Fade. The team has also started to put either Jinggg or f0rsakeN on Chamber, an agent they did not play at all at Masters Reykjavik 2022.
Their perfect 7-0 record in the group stage secures them a spot in the upper bracket semifinals in the playoffs, where they await the winner of the match between Todak and Galaxy Esports.
READ MORE: How a former League of Legends coach is helping take NRG Valorant to the next level