Sage's Barrier Orb wall is nearly indispensable on Icebox, helping attackers secure a safe plant on B site.
On defense, it can be used to deny the spike plant as well, beyond simply walling off the default plant spot. In fact, the wall can serve as an effective counter to an enemy Sage who has already set her wall down.
Evil Geniuses' Jeffrey "Reformed" Lu showed off an incredibly creative Sage wall during their match against Sentinels in the VCT NA Stage 2 Challengers group stage, which completely stopped Hunter "SicK" Mims from setting the spike down.
EG went on to take the round, mowing down all five Sentinels players as they scrambled to plant the spike on B site with less than 10 seconds left on the clock.
---
---
They never saw that Sage wall coming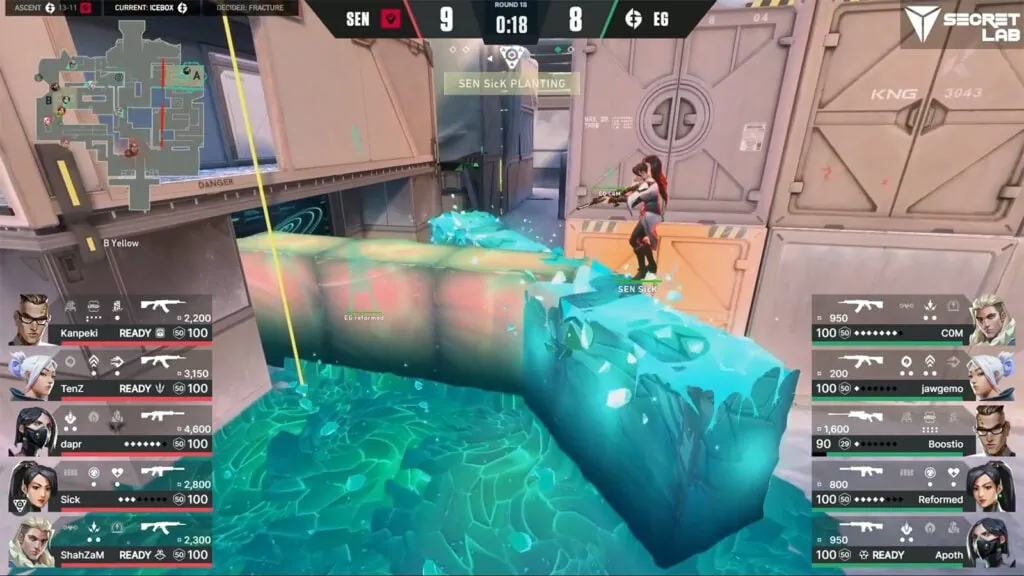 At the 20-second mark, SicK set down a vertical wall as Sage to block off B Orange before attempting to plant the spike. Reformed responded with his own Sage wall, which extended beneath SicK and raised him into the air.
This exposed SicK to Reformed, who was able to take him down from Lower B. With the clock ticking and their plant denied, Sentinels were forced to funnel onto site to pick up the spike.
---
---
EG were then able to eliminate the remaining players with a strong crossfire from Top B and Snowman.
The team eventually took the series 2-0 over Sentinels on Ascent and Icebox, a much-needed win in Week 2 of the Stage 2 Challengers group stage, especially after their earlier loss to Cloud9.
The win is also EG's first in the group stage this year, after going 0-5 in Stage 1. With the addition of Corbin "C0M" Lee and Vincent "Apoth" Le, the retooled roster looks poised to give the other teams in Group B a run for their money.
EG play their next match against Luminosity on May 28.
READ MORE: VCT Korea Stage 2 Challengers Group Stage: Schedule, results, teams, where to watch