Myanmar will have a new representative going into this year's Mobile Legends: Bang Bang Southeast Asia Cup 2023 (MSC 2023) in June.
Fenix Esports, a team that has yet to compete in any major international MLBB tournaments, had an outstanding performance at the MSC qualifiers, securing their spot as the sole representative of Myanmar in MLBB's official mid-season tournament.
---
---
Fenix Esports will represent Myanmar for the first time in a major international Mobile Legends tournament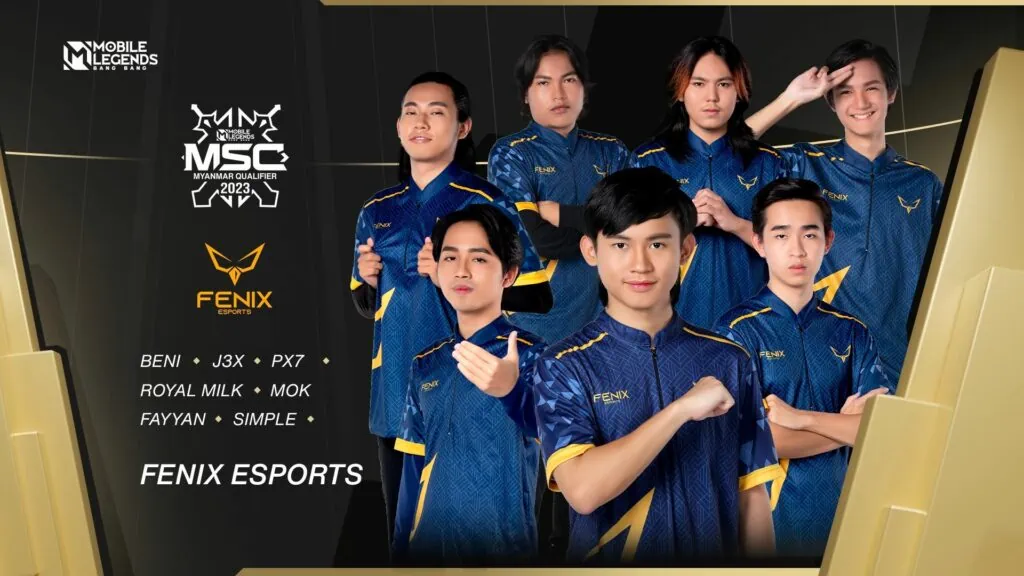 In the playoffs, Fenix Esports put on an impressive display by defeating fan-favorite Falcon Esports in their very first game, sending them to the lower bracket.
Falcon Esports had a lineup similar to the one that helped them qualify for both MSC 2022 and the M4 World Championship, where they caused several upsets and made it far into the playoffs.
However, their journey came to an end when they were defeated by AI Esports in the lower bracket final. This set up a thrilling grand final between Fenix Esports and AI Esports.
It was a back-and-forth affair for both teams in the grand final, with Fenix securing a comfortable 3-1 lead after four hard-fought games.
AI Esports extended the series to game six after an intense 18-minute battle in game five. In the final game, Fenix drafted a wombo-combo lineup of Atlas, Yve, and Beatrix, while AI Esports answered with a tanky lineup of Gloo, Fredrinn, and Khufra.
---
---
Although AI Esports looked dominant in the early game, securing fights with the setups of Fredrinn and Khufra, Fenix caught up thanks to Beatrix scoring a few kills to keep up.
It was anyone's game until the 20-minute mark in a crucial Evolved Lord fight. After Fenix killed AI Esports' Lylia and Khufra in their base, all five members of Fenix went to the Evolved Lord to secure the crucial buff.
AI Esports tried to contest but was unsuccessful, and with the Evolved Lord marching down in the midlane, Fenix was able to get a wipeout and win the series.
Aside from the slot at MSC 2023, Fenix Esports has also won the lion's share of the MMK10 million (about US$4,761.80) prize pool.
Follow ONE Esports on Facebook for more Mobile Legends: Bang Bang and MSC updates.
READ MORE: ONIC Esports secures back-to-back MPL ID titles with clean sweep