Several movies and shows based on video games premiered this year, but only one was recognized as the best by The Game Awards 2022's jury and audience.
Arcane, the League of Legends animated series, has won Best Adaptation at this year's The Game Awards, an annual awards ceremony hosted and created by Geoff Keighley.
The Best Adaptation category recognizes works that "faithfully and authentically adapt a video game to another entertainment medium," according to TGA's website.
Arcane bested Cyberpunk: Edgerunners, The Cuphead Show!, Sonic the Hedgehog 2, and Uncharted to win the coveted title.
---
---
---
Arcane wins Best Adaptation at The Game Awards 2022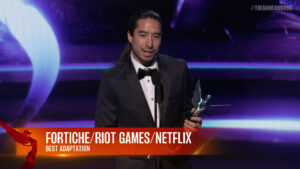 Arcane co-creator Alex Yee accepted the award on behalf of the show's production crew and staff.
"It's an incredible honor to be awarded by the video game community," he said. "It's been a long, long journey getting here."
He went on to thank Fortiche Productions, Netflix, and Riot Games.
TGA is the latest award-giving body to recognize the show's brilliance after The Emmys and Annie Awards, where it won every category it was nominated for. It also made history at The Emmys after winning Outstanding Animated Program, the first streaming show to do so.
Arcane is the television adaptation of Riot Games' flagship multiplayer online battle arena (MOBA) game, League of Legends. The series focuses on the tale of LoL champions Jinx and Vi — centering on their lives in Piltover and how they eventually become the champions League of Legends players have come to know.
Learn about Riot Games' shocking initial budget for the show, the anime that inspired the series, and how Harry Potter's Katie Leung became Caitlyn.
---
Follow ONE Esports on Facebook for more anime news.
READ MORE: SeeU's Rebecca cosplay charms with cute, chaotic cyberpunk energy