Riot Games' League of Legends animated series, Arcane, has it all — a compelling plot, colorful characters, a unique animation style, and top-notch music.
It's so good that it won multiple awards this year, bagging nine trophies at the 49th Annual Annie Awards and Outstanding Animated Program at The Emmys 2022.
Unknown to many, Riot Games' first anime series was actually inspired by older anime, as revealed by Arcane co-creators Christian "Praeco" Linke and Alex Yee in their Reddit AMA.
The production team wanted to show Vi and Jinx in their younger years as sisters, however, doing so would make "the show feel more 'kiddy.'" To solve their dilemma, they drew some inspiration from classic anime shows with regard to the series' tone in Arcane Act 1.
---
---
Arcane co-creators reveal the show's classic anime inspirations in Reddit AMA
"I remember calling Christian after having an epiphany that our tone could be like that of the edgier anime I appreciated growing up," Alex said in response to a fan's question about the show's mature tone.
"No idea why this didn't occur sooner, it just hadn't felt as much like League at the time. For me, anime straddled a tonal line unlike anything else at the time – the bridge from childhood to adulthood."
Arcane's tone was influenced by late 90s to early 2000s anime such as Hellsing, Berserk, Ghost in the Shell, Cowboy Bebop, Samurai Champloo, and Gungrave.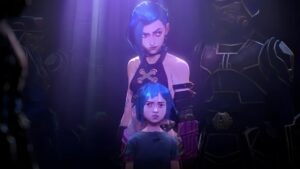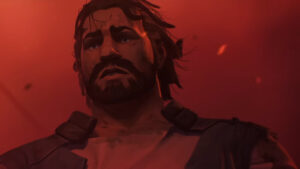 Arcane's opening scene at Bridge of Progress in Piltover can be compared to the dark, chaotic beginning of Cowboy Bebop's Asteroid Blues episode. In the scene, anime protagonist Spike Spiegel walks around town on a rainy day and recalls his recent mission after killing several men as part of his old job at Red Dragon Crime Syndicate.
With such mature themes presented at the beginning of the show, it got easier for Alex to find the story for the rest of the season. He constantly had second thoughts about it and "always wonder(ed) if this or that moment pushes too far."
"The scene where Singed injects Jinx with shimmer (made) us pause for a little while," he said.
Apart from classic anime titles, Arcane was also inspired by BBC Studios' Peaky Blinders. The British period crime drama influenced the show in terms of writing, especially since both co-creators are huge fans of the series.
Check out the full Arcane Reddit AMA thread here.
Learn more about Arcane season 1's ending, what we know so far about season 2, and an exclusive interview on how Harry Potter's Katie Leung became Caitlyn.
---
---
Follow ONE Esports on Facebook and Twitter for more news and updates on anime and culture.
READ MORE: Exclusive: From Hogwarts to Piltover: How Harry Potter's Katie Leung became Caitlyn