After transforming into Genshin Impact's foxy shrine priestess, Tsikyo is back at it again with her Kujou Sara cosplay.
The content creator previously cosplayed Yae Miko, the 5-star Electro catalyst user and the Raiden Shogun's dear friend.
She accurately portrayed the mischievous Genshin character through her selfies, posing amicably for the camera and mimicking some of Yae Miko's in-game idle animations while wearing her default red and white priestess outfit. She even pulled the Narukami shrine priestess while in full cosplay!
---
---
This time around, she shows her loyalty to the Almighty Shogun with a magnificent cosplay depicting one of Inazuma's loyal servants.
Tsikyo's perfect Kujou Sara cosplay deserves a Statue of Her Excellency doll
The Genshin Impact streamer showcased a dreamy side of the 4-star Electro bow user, tengu (a kind of yokai in Inazuma), and the adopted daughter of the Kujou clan.
Decked in the character's default outfit of black, gold, and white, Tsikyo brought Kujou Sara to life with a stern expression in her photos.
Kujou Sara is known for her serious and authoritative aura, always accomplishing her duties all in the name of the Raiden Shogun. She is a skilled and well-respected general of the Tenryou Commission, the executive arm of the Shogun.
---
---
Tsikyo's selfies showed off the intricate details of her cosplay, including the red tengu mask on the side of her hair, the Kujou Clan crest hanging on her neck, and even the streak of gray hair on her indigo bob cut.
She also carried a replica of Kujou Sara's signature weapon, the Hamayumi, a 4-star bow that increases normal attack damage and charged attack damage.
This is the same bow the charactewr used during the Archon quest Chapter 2 Act 2: Stillness, Sublimination of Shadow, where Sara and her Shogun Army fight against the Watatsumi Army. The Hamayumi also appears in Kujou Sara's character demo.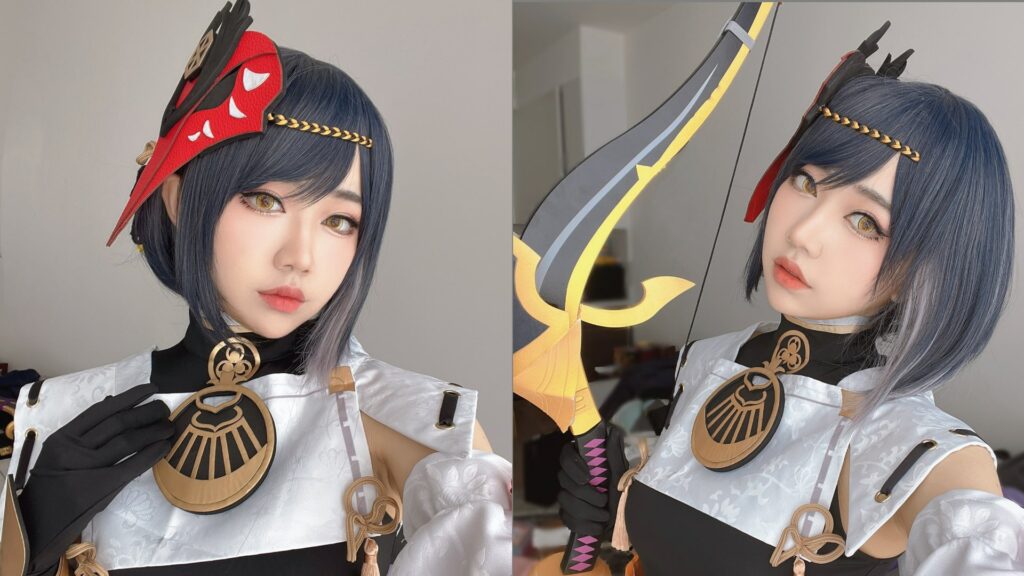 Tsikyo has cosplayed several other Genshin Impact waifus such as Ganyu, Jean, Keqing, and Yae Miko.
Fans can follow Tsikyo on her Instagram account (@tsikyocos) for more amazing cosplays.
READ MORE: Tsikyo transforms into the ultimate foxy waifu in adorable Yae Miko cosplay